Responsible tourism in Wild Taiga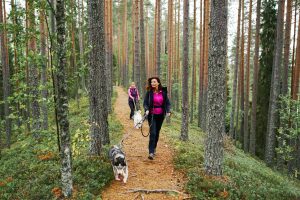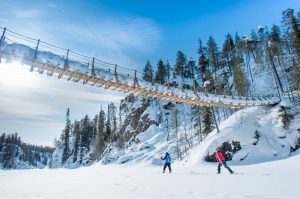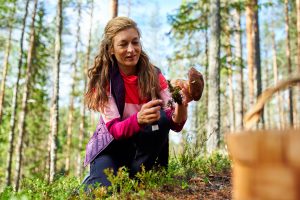 Responsibility is a key operational value of the tourism businesses in Wild Taiga. In Kuhmo, Suomussalmi and other areas, tourism and the production of recreational experiences are built around the natural environment, local culture and a combination of the two. Most Wild Taiga operators are small, family-run businesses that are devoted to nurturing the region's striking natural environment and rich cultural heritage. it is our wish that travellers to the region respect the principles of sustainable tourism and seek experiences responsibly.
Enjoy the nature without emissions
As part of our ecologically sustainable approach to tourism, we encourage the uptake of activities that do not involve any motorised equipment. As well as excursions completed under your own steam, we offer, among other options, husky safaris, horse-riding and reindeer sled rides. You will find all the summer and winter activities available in Wild Taiga in the Things To Do section of the website. Experienced and well-informed guides guarantee the safety of all activities and will instruct customers in how to respect nature whilst enjoying their chosen activity, for example, by informing customers about public rights of access and the principles of zero-waste hiking and camping. The region's unspoilt wilderness is the foundation of many local tourism businesses and it is important for us to work in balance with nature. No waste should be left, and no unnecessary impact made on the environment. Environmental responsibility also implies social responsibility and thus we offer accessible hiking and camping options for visitors. You will find accessible hiking routes throughout Wild Taiga, for example, in Hossa National Park.
Local food and crafts
Social responsibility also means supporting local values. The operations of many companies within the Wild Taiga network are based on close cooperation with local and regional operators and these companies favour the use of local products. The region's restaurants and cafés offer a wide variety of locally produced dishes, made from organically grown ingredients. Food found in near-by forests and lakes, such as berries, mushrooms, game and fish, feature in their menus. The organically grown products from Puukarin Pysäkki farm, wild nature gourmet courses hosted by Vanha Kurimo restaurant, the Embrace of Mother Nature Lunch held by Niittytupa restaurant at the Silent People art installation and the Hotel Kainuu's Kainuu Province Breakfast are all excellent examples of the local food offerings of the Wild Taiga network. Local products and handicrafts are the best souvenirs and you can buy them at the Kaesan Kotileipomo bakery in Kuhmo, at Kuutamo-Shop in Suomussalmi and at many other community shops.
Embracing the local culture
The folklore of the Kalevala epic and Karelian culture constitute a significant part of the intellectual cultural heritage of the region. Authentic cultural experiences are on offer for those setting out on a culinary tour of Karelian roadhouses or to attend the Sommelo Festival, where Finnish runosong and folk music are showcased. Local culture and history are on view during excursions, at places of interest and during events. At Juminkeko, the Information Centre for Kalevala and Karelian Culture in Kuhmo, travellers will get to know the Finnish national epic Kalevala. Kuhmo's position as the home of Kalevala was reinforced in 2019 when UNESCO made Kuhmo a designated City of Literature. You can find out more about the cultural offerings of Wild Taiga here.
Perseverance with constant development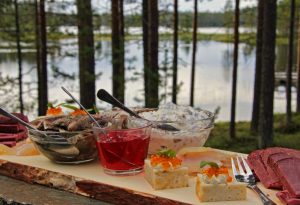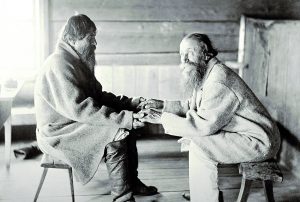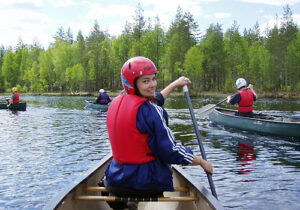 Wild Taiga was first acknowledged for its work in sustainable development as early as 2008 when the region won the Finnish national competition in the European Destinations of Excellence (EDEN) project. In choosing of the winner, special attention was paid not only to sustainable initiatives but also to the role of local culture and way of life in the destination. In 2016, Wild Taiga won second prize in an innovation competition organised by the EDEN network for the improvement of the Pajakkakoski rapids. The region's most recent accolade, awarded in recognition of the region's acts of social responsibility, came in 2019 when Wild Taiga was awarded a prize for promoting LGBT travel, the spearhead event of which was the "Rainbow Winter Week" travel package offered by Hotel Kalevala in Kuhmo. In 2022 and 2023, Wild Taiga has been nominated for Europe's Responsible Tourism Award in the World Travel Awards competition.
We strive for constant development in our operations. In March 2019, Wild Taiga was chosen from among dozens of destinations as a pilot area for the Sustainable Travel Finland Programme, organised by Visit Finland. Our accomplishments in sustainable tourism and our comprehensive approach to ensuring responsible practices across our operations were instrumental in securing this selection. The development path offered by this programme includes a survey of each company's social, economic and ecological responsibilities and plans for further development. Learn more about the Sustainable Travel destinations and companies in Finland.
Sustainable Travel Finland programme in the Arctic Lakeland area
Arctic Lakeland is providing tourism businesses in the area with sustainability training. In our workshops, led by the most knowledgeable Visit Finland Academy trainers, we have taken a hands-on approach to sustainability. Our workshops cover topics such as leadership, time management, food, communication, inclusive tourism, well-being at work, climate change and its impact on the tourism business, reducing carbon footprint, and ethical animal tourism – all from the point of view of responsibility. We encourage our companies to undergo the Visit Finland Sustainable Travel Finland programme for them to be able to show all the work they have done for sustainability.
The following companies in the Wild Taiga network have already embarked on their Sustainable Travel Finland development path: