Workation in Wild Taiga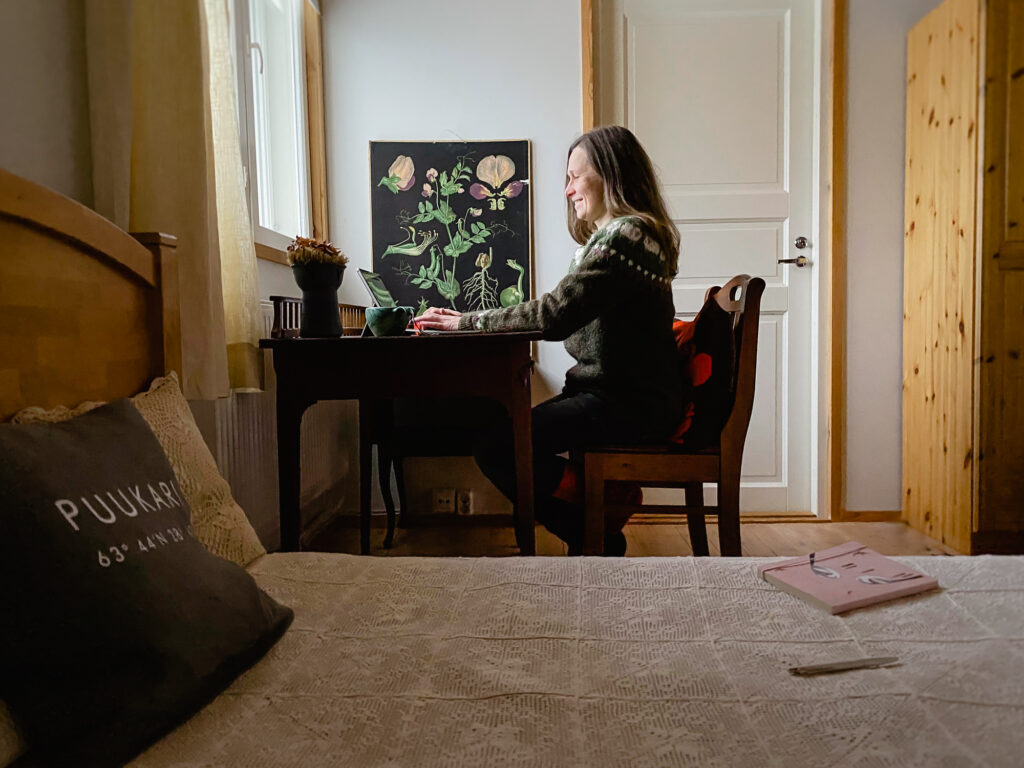 Puukarin Pysäkki – Karelian Guesthouse and Restaurant
Come to the forest-covered hilly landscapes of North Karelia and get inspired by the spectacular natural scenery! You will surely be tempted to stay a bit longer in the cosy surroundings of the Guesthouse Puukarin Pysäkki. Prices for remote work packages:
Two days: EUR 149 per person
Four days: EUR 249 per person
Six days: EUR 419 per person
The price includes lodging, breakfast, dinner, a well-equipped workspace, fast internet connection and free use of the wood-heated sauna. Remote workers have at their disposal a fully-equipped kitchen where they can brew a nice cup of coffee or tea.
We provide you with a carefree telework travel package!  If needs be, you can move your reservation to a later date without incurring any additional charges.  Our accommodation contract is a handy option for companies and allows us to agree on your staff's accommodation billing schedule according to your wishes.  You can also book a whole cottage for an extra charge. Don't hesitate to contact us, and we will tailor a package to meet your needs.
www.puukarinpysakki.com / majatalo@puukarinpysakki.fi / +358 50 344 3824
Hotel Kalevala
In Hotel Kalevala and its surroundings, you can be assured to find a peaceful setting for teleworking. Located by a lake, surrounded by forest and just 3 km from the centre of Kuhmo, our hotel offers peace and quiet for focused working. You can work in your hotel room or "go to work" in the dining room or one of the hotel's many lounges.
Dayroom: EUR 49 per person
The price includes use of the room for 1 day Mon-Fri from 7:00 a.m. to 6:00 p.m. (or as agreed), breakfast to start the day off, coffee and tea making facilities in the room, Wi-Fi, and free parking
Prices for longer stays (prices per single room):
1 night: EUR 95
2 nights: EUR 149
3 nights: EUR 219 per
4 nights: EUR 289
5 nights: EUR 359
The price includes accommodation, breakfast, evening saunas, Wi-Fi, coffee and tea making facilities in the room and free parking. Lunch and dinner are available on arrangement.
We are also happy to provide a quote for a longer periods of stay or if you want to cater to large group of employees. Our spacious meeting rooms are at your disposal and can safely accommodate socially-distanced meetings.
www.hotellikalevala.fi / sales@hotellikalevala.fi / +358 8 655 4100
Guesthouse Kuutamo
Telework near the whispering environs of blue-shaded hills, white drifts of snow and solemn spruces.
Our small, cosy "home away from home" is equipped with a good internet connection and located close to other facilities such as a spa and swimming pools (100 m), cross-country skiing trails (100 m), ice-fishing on the lake (200 m) and down-hill skiing slopes (44 km).
Our guesthouse has six rooms two of which have their own entrance. The rooms can be equipped with a refrigerator and microwave oven on request.
You can cook freely in the shared kitchen, and the sauna is also at your disposal at no extra charge! We take care of the cleaning of common spaces and the disinfection of surfaces daily.
If you require printing services or other assistance, we are happy to be at your service in our office in the building next door.
www.kuutamokoti.fi / kainuun@kuutamokeikat.fi / +358 50 4622 066
Scenery Room – a place for teleworking and relaxation
The Lentiira Holiday Village Scenery Room provides welcomed flexibility for your travel plans. The room can be booked for an hour or for a full day and you can spend the day teleworking or quickly take care of an urgent business matter. This peaceful working space with Wi-Fi is ideal for remote working.
For those passing by, the Scenery Room is an excellent place to stop if you need a short rest to ensure a safe drive to your destination. In the Scenery Room, you can also relax for a few hours after a canoeing trip or bear-watching night if you have already checked out or are waiting to be checked in.
Our luminous Scenery Room can be booked from 8 am to 8 pm. The lovingly decorated room has an office table, a comfortable sofa, and a bed. A lake view awaits through the south-facing window.
Prices per person:
EUR 10 per hour
EUR 35 per 4 hours
EUR 49 per day
Additional person + EUR 4 per hour.
The price includes basic-speed Wi-Fi connection and black and white printing at the reception on request. The toilet is in the corridor next to the Scenery Room.
Additional services: snacks from the café, shower/sauna at the lakeside sauna, cooking facilities at the lakeside cabin.
www.lentiira.com / sales@lentiira.com / +358 44 72 88 930
Remote working is a breeze in the wilderness
When you get tired of working at your home office, it's time to take a little break from the everyday routine. A change of scenery will certainly bring new energy to your working days! In the Wild Taiga region, cosy accommodation, convenient services and the complete peace and silence of the surrounding wilderness create an ideal setting for teleworking. A brisk walk during a lunch break or at the end of the day will leave you pleasantly refreshed, and you won't need to go far to get to some superb hiking trails as many are close to the accommodation.
So, take your pick from our telework packages or other accommodation options and book a remote work period in Kuhmo, Suomussalmi or elsewhere in the Wild Taiga region. If you are done with work for a while, it is easy to shift to holiday mode while remaining in the same beautiful surroundings and engaging in a variety of activities or just relaxing in the bosom of nature. Whether you choose a hotel, a cottage, or an inn, you will undoubtedly find the privacy for work and opportunity for leisure you crave in our region.
Invigorating activities are available throughout the year. The surrounding environment is yours to explore by bike, on foot, by ski, on snowshoes or, in the summer for example, by paddling in a canoe. Rental equipment is available from several operators throughout the region. Additionally, you can visit the Kalevala Information Centre Juminkeko in Kuhmo or experience the art installation "Silent People" in Suomussalmi. Take a closer look at the many things to see and experience in our area and check out the diverse hiking routes of Kuhmo and Suomussalmi.