From guesthouse to guesthouse cross country skiing. Set out for a tour by ski to the idyllic countryside of North Karelia. Snow, white forests and frozen lakes; February and March are the best times of the year for skiing in North Karelia. The sun is shining, the snow glistens, the frozen lakes and hills are covered with a thick coat of snow.
Ohjelman kuvaus
Daily skiing tour is between 15 and 25 km and up to 6 hours with the breaks which are suitable for you own skiing speed. You should already be able to ski and have a good condition, you also get fitter every day! You'll take sandwiches and hot tea or berry juice with you from the breakfast table. Please bring your own rucksack and thermos flask with you. It is quiet in the forests. Sometimes you can see hare footprints or even elk footprints crossing our ski track. Take your time and let your mind be free of everything else but the nature, silence and skiing.
In the evening you can have a sauna and cool-off in the snow. You also get to know typical Finnish homemade delicacies and after a good night sleep you are fit to ski again. The food is local and we also often use organic products!
Ohjelman tiedot
Group size
2-12 persons
Price
495€/person, 3 nights, 4 days
The tour price includes
Accommodation at various guesthouses (Puukarin Pysäkki, Laitalan Lomat and Pihlajapuu) in double rooms, full board, sauna every day, luggage transport, route information.
Season
February:
6.-9.2.2023
7.-10.2.2023
8.-11.2.2023
13.-16.2.2023
15.-18.2.2023

March:
11.-14.3.2023
12.-15.3.2023
13.-16.3.2023
14.-17.3.2023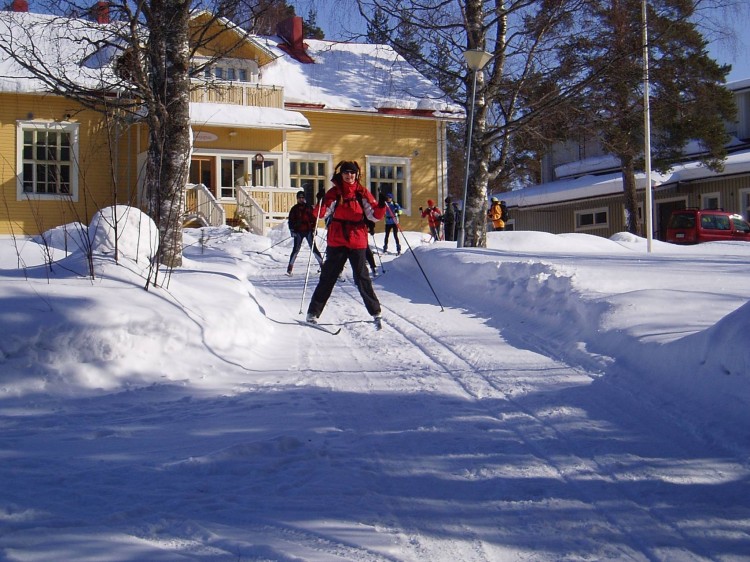 Tarkemmat tiedot
1. day
Arrival at Karelian Guesthouse Puukarin Pysäkki, in Valtimo. Dinner and getting to know the route map and information.
2. day
Starting the tour by skiing through forests and fields and along lakes, 22 km. You can grill sausages by the campfire on your pause. Accommodation in Laitalan Lomat.
3. day
Skiing along variable terrain to Guesthouse Pihlajapuu, 25 km. Accommodation at Pihlajapuu.
4. day
Time to say hei, hei!
Hyvä tietää
This tour is self-guided! Please ask for our guided week-long skiing tours from guesthouse to guesthouse!
Please note, that because we are saving nature, you'll take the bed linen with you from the first guesthouse to be used in all the other guesthouses, too. The bed linen bag will be carried by the luggage transfer. You will get clean towels at every guesthouse.
Physical condition needed: Skiing experience and good condition to ski max. 30 km/day. We advice you to ski in your home country or elsewhere before you take part in our skiing tour. A lot of team spirit!
Skiing tracks 
Our skiing track is a nature track made by snowmobile. So in case of a hard wind and snow storm we cannot guarantee the track stays open all the time. Sorry about the inconvenience! We reserve the right to changes in the program due to weather conditions.
Kysy lisätietoja