Meeting the Wild Brown Bear in its natural environment, the Wild Taiga, is an unforgettable experience and of course for photography enthusiasts an opportunity to take the shot of a lifetime from the comfort and safety of our specially designed Bear hides.
Programme description
Wild Taiga area has a great expanse of untouched wilderness which offers exceptional wildlife watching and photographing. Under the guidance of a wilderness guide it is one of the best areas in Europe for seeing and photographing the rare large carnivores in their natural habitat.
Valid May – mid-October 2023 (excluding 9th – 23th July)
April on request. Single fee +60 € for night/evening trip,
single fee +495 € for luxury cabin.
Rates €/person:
Night trip
standard double room 615 €
standard single room 705 €
superior room (for 2) 675 €
suite (for 2) 789 €
Evening trip
standard double room 560 €
standard single room 655 €
superior room (for 2) 620 €
suite (for 2) 735 €
Luxury cabin
standard double room 1010 €
standard single room 1105 €
superior room (for 2) 1070 €
suite (for 2) 1185 €
Extra night with half board
standard double room 99 €
standard single room 128 €
superior room (2 persons) 115 €
suite (2 persons) 149 €
Including:
– Accommodation at Hotel Kalevala
– 1 bear watching night or evening
– Half board + snacks at the bear watching
– Saunas with indoor and outdoor jacuzzis
– Free entrance to Petola Visitor Centre and exhibition
– Free use of bicycles, rowing boat, summer games, Wi-Fi
With extra charge:
– Return transfer from Kajaani airport 130 €/person.
– Extra night with half board starting
Extra night with half board starting 99 €/person
Good to know:
Night trip possible in photo hide or bear house.
Evening trip in bear house only, luxury cabin full night only.
Photo hides incl. sleeping bag, bunk beds, dry toilet (for 1-4 persons, private).
Bear house incl. chair, toilet, heating/air conditioning (for max 40 persons).
Luxury cabin has double bed, shower/wc, kitchenette, wi-fi (for 1-2 persons, private).
Programme information
Season:
Summer
Place:
Hotel Kalevala
Persons:
min. 2 persons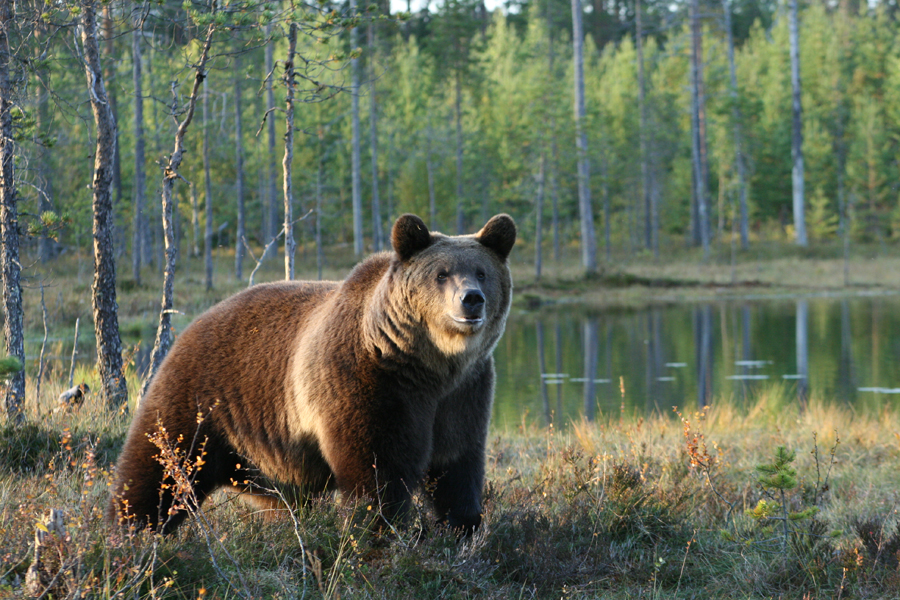 Detailed programme
Day 1
Arrival to Kuhmo, accommodation at lakeside Hotel Kalevala, evening saunas with indoor and outdoor jacuzzis, dinner
Day 2
After breakfast visit the Petola Visitor Centre.
Approx. at 15:00 transfer to Wild Brown Bear centre (in late August and September the departure time is earlier).
On the arrival to the main lodge, information about the hides and bears and also other animals which are possible to observe. After early dinner short walk from the main building to the hides, Bear House or luxury cabin. There is between twelve to sixteen hours of direct sunlight and two to four hours of twilight in the viewing season.
Package includes refreshment and sandwiches in the hides, sleeping bags. Recommended equipment is clothes according to weather forecast, binoculars and camera.
(Transfer back to the hotel later in the evening if you chose the evening trip).
Day 3
Transfer back to hotel for breakfast. Free afternoon for otional activities or relaxing: hiking, fishing, bicycling…
Evening saunas and jacuzzis followed by dinner.
Day 4
Breakfast, check out
Good to know
Notice: activities are based on wildlife and animals in their natural habitant. Chances to see the animals are very high but not guaranteed.
Ask for more information