Programme description
A once in a lifetime experience!
The nearing of these beautiful creatures towards the Cabins is just beyond words while listening to the audio inside it is just magical. What tremendous experience, to have those Giants just few meters from your feet...even more by hearing them breathing and jaw-popping.
Spectacular views, wide windows. Each season has its own amazing views and atmosphere weather snowy spring, summer, autumn colors.
Our Luxury Bear Cabin is one of the best places in the world to observe wild bears. The probability to see a bear is high, 80-95 % depending on the month. Some evenings numerous bears come at once, and often some can be seen in close proximity to the Cabin, only a few meters away.
Cabin's are located a short distance, 700 meters from the Bear Centre.
The cabin is situated on a hill, offering an unbelievable view.
It is all about nature, you have to love and appreciate nature in order to indulge in these spectacular views. This is not about seeing the wild Bears or any other big animal here, it's about where you are...
what you feel on arrival is absolutely different from what you feel when you wake up in those views.
it's Artwork on your mind!
Detailed programme
Day 1. Cabin features
Double Comfort
Have a chance to indulge in nature in the wilderness and have a chance to snuggle in comfort.
Bed or Chair
you have a choice of sitting in those Ergonomic chairs in the wait or just admiring the views in comfortable positions. For your comfort, the two-person cabin is equipped with a toilet, shower and a kitchenette.
Audio system
Having an opportunity to listen to Birds when they chirp or tweet depends, it is just magical, through that double safety window and still be able to get the purest sound at its best. Easy function either let it on loudspeaker or opt for headphones.
Nature's Window outdoor sound monitor amplifies sounds from a distance while the user is inside the Cabin. The device is placed outside the cabin picking up bird and other wildlife sounds, which can be heard either through a speaker or headphones.
Kitchenette
Home away from home feeling by preparing your own easy meals.
Make the occasion special for your loved ones, by sipping and dining in the middle of the forest.
Bathroom
Full modern integrated shower system.
Clean &Organic Finnish Products. Heating, Bed linen, Towels, Toiletries, Shower cabin, Flush toilet
Equipment of cabin's
Microwave, Coffee maker, Toaster, Kettle, Stove, Cooking basics, Fresh, drinkable tap water, Refrigerator, Dishwasher, Heating, Bed linen, Towels, Toiletries, Shower cabin, Flush toilet, Double bed
Day 1. Wildlife
The seasons all vary greatly from one another. Every season and every night in one of our cabins offers a unique opportunity to witness the wonders of wildlife.
We promise it will be An Experience You Will Never Forget.
Day 1. Timetable
Day 1
Coming afternoon,
At 1:00p.m.- 4:00p.m. Check in and info
At 4:00- p.m. Early dinner in Centre Extra fee 30,-/person (16th August - September dinner at 15.00)
Day 2
At 7:30 a.m. Breakfast in Centre Extra fee 15,-/person
At - 12:00p.m. Check-out from Cabin.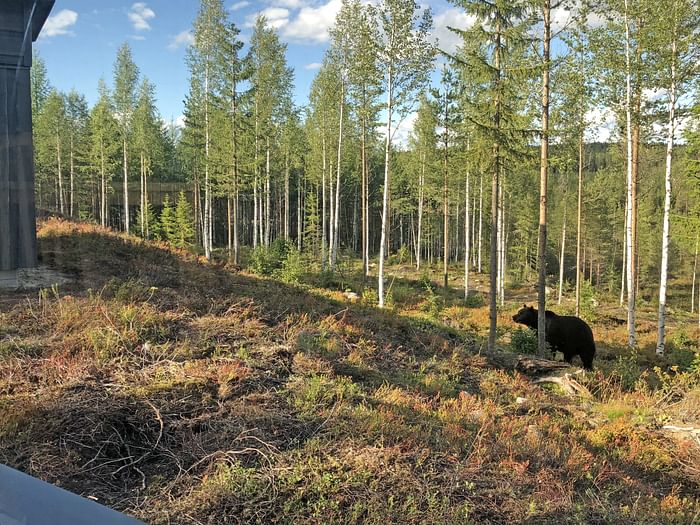 Good to know
Notice; we cannot guarantee to see bears depend of possibilities is 90-99%.
Please note that is not allowed to smoke at the cabin.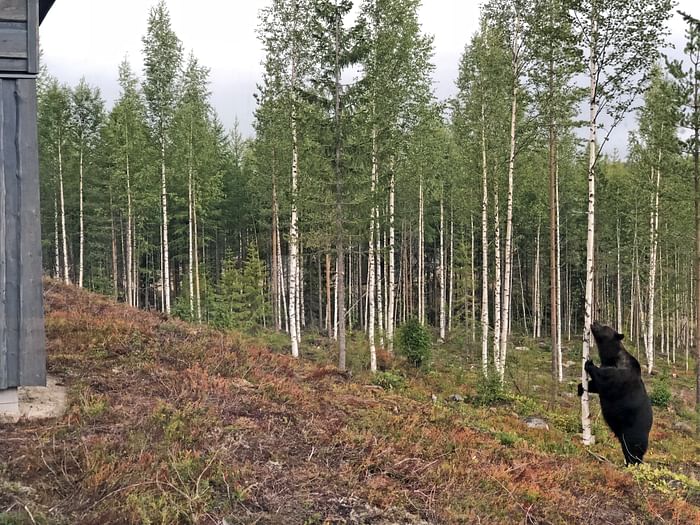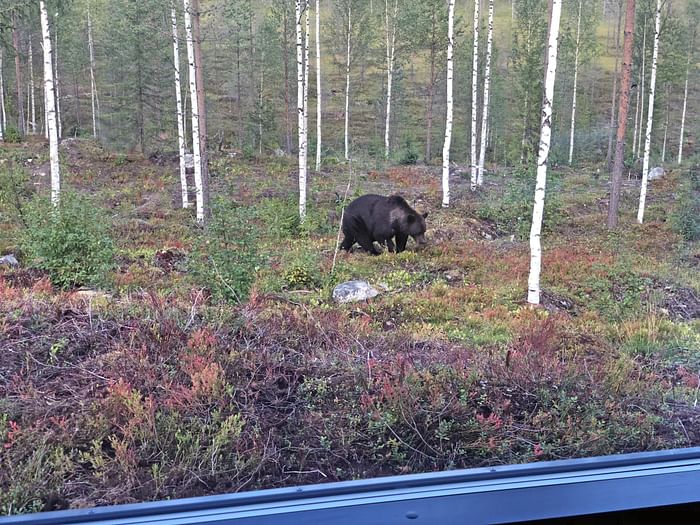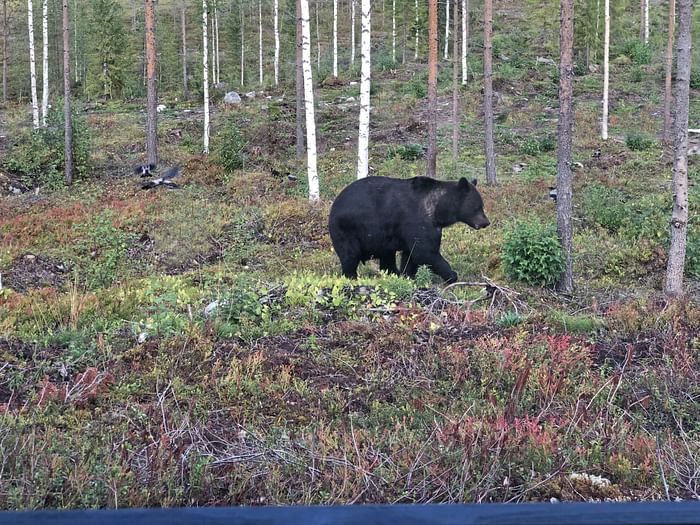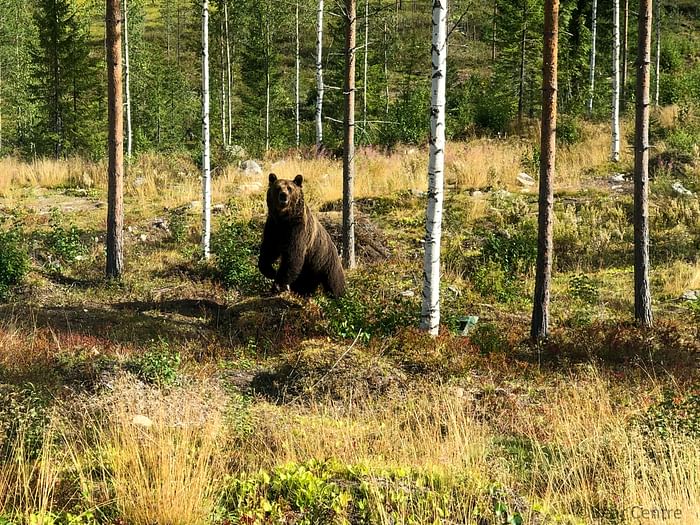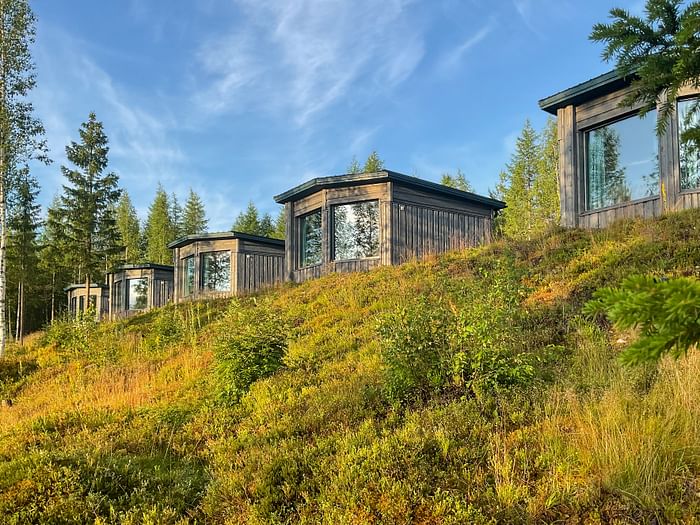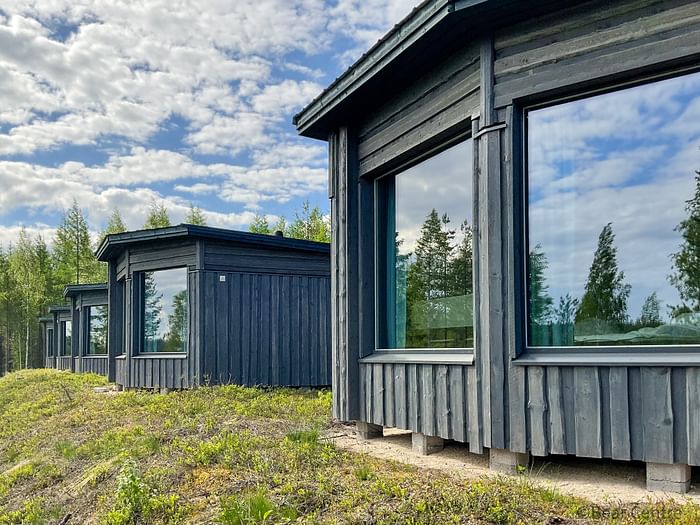 Ask for more information
BEAR CENTRE
Book now