Programme description
September is the time of autumn colours and an increase in cub sightings. In September bears arrive to the hide area earlier than in summer because competition for food is greater. When bears eat for winter they eat more at once, thus staying for longer times in the area. Due to increased visit duration in autumn there is a higher chance to see several bears at the same time. Because of eating so much before hibernation, the bears' appearance is
roundish and their fur is in good condition in the autumn. Because the bears usually arrive earlier in the autumn, the day timetable in September is set one hour earlier. This allows photographers to better utilise the daylight hours. Autumn offers different light and colour and thus new opportunities for different photographic results. After sunset and before sunrise there are a couple of hours of twilight for photography. On cloudy days photographic time from the hides in the forest is short at about 1-3 hours. Autumn evenings are twilit and nights are dark, increasing the chances to photograph the Northern Lights and the full moon.  
Detailed programme
Day 1. Info of bears, bear photographing and hides
Timetable
16th August - September
at 4.00pm Info, after that a short walk to the hides (500-900 meters).
at 8am Return from the hides.
Timetable October
at 3.00pm Info, after that a short walk to the hides (500-900 meters).
at 8am Return from the hides.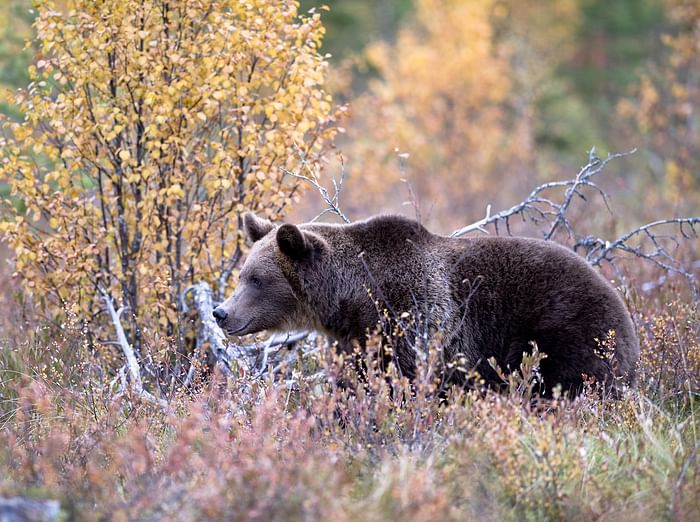 Included in this programme
Snack's package for trip 
Bear night includes snacks that contains food, drink and utensils. Snack-packs contain thermos flasks of hot water that can be mixed with tea or coffee. Snacks are packed in backpacks that everyone carries themselves to the hide and back.  
Personal snacks and drinks are allowed if you wish, only alcohol is forbidden. When taking your own extra snacks, simple snacks are recommended and should be taken into account that the packaging doesn't rustle as this may scare bears.   
You will need
Temperatures
In the beginning of September temperatures at night are between 0 and +5 and by day between +5 and +15 degrees. In the end of September temperatures at night are between -5 and +5 and by day between +5 and +10 degrees.  
Clothing and equipment
There are sleeping bags in the hides. It is advisable to put the sleeping bag on the chair and sit inside the sleeping bag with socks, this way you will stay warm and you will be able to photograph at the same time. Because the temperature is cooler it is good to bring warm clothing, warm hat, warm gloves, woolen socks and moisture-resistant footwear.  
Good to know
Notice; we cannot guarantee to see bears depend of possibilities is 90-99%. 
Please note that is not allowed to smoke or drink alcohol at the hide.
Tips for photographing in autumn
- When the air is humid and cold your breath may fog up the camera viewfinder. Try to breathe away from the camera, or use other means to prevent misting of the lens such as placing a scarf in front of your mouth.
- In rain a cover can be used for the lens and camera to prevent equipment getting wet.
- It is better not to take the lens inside for no reason, as humidity may effect the lens, condensing on the glass surface.
- It is important to have spare batteries with you as the cold weather will drain batteries faster than usual. In the hide batteries should be kept warm.
-If using a large aperture lens (f/2.8), it is possible to photograph later in the evening and earlier in the morning.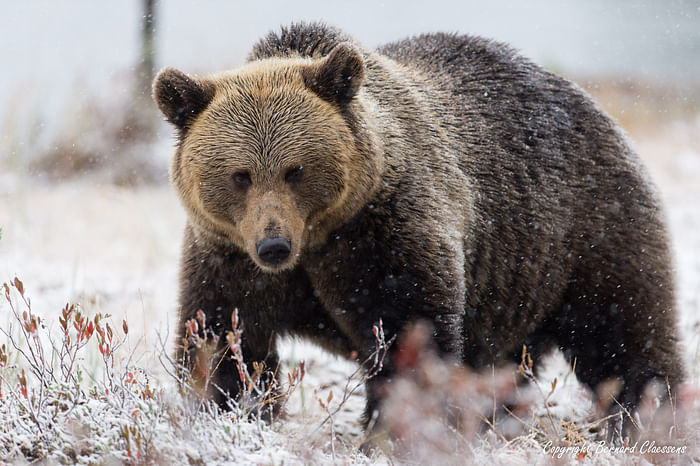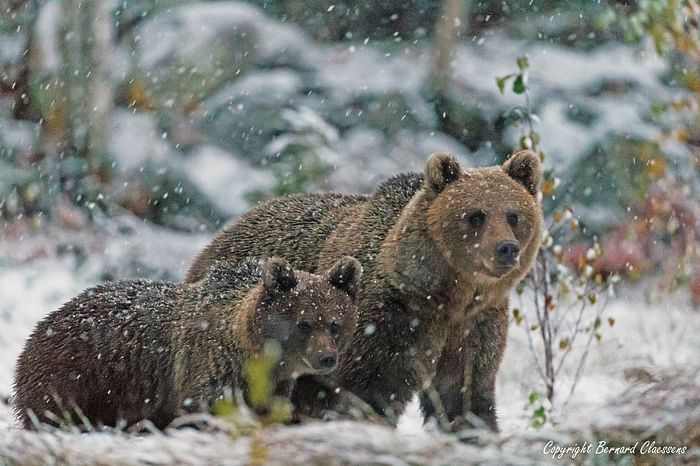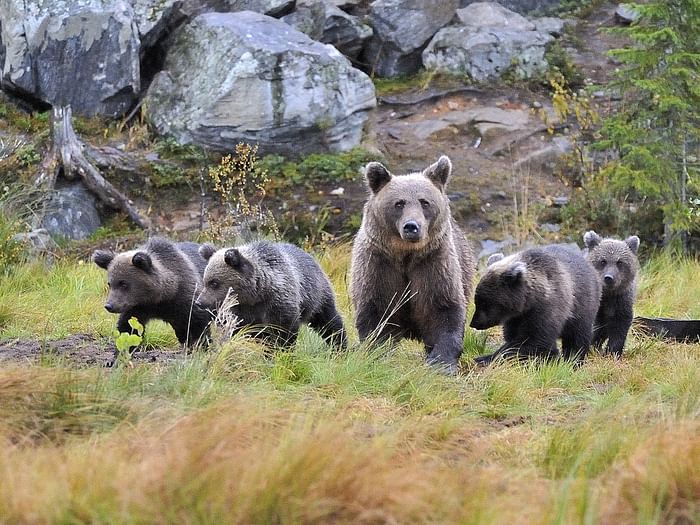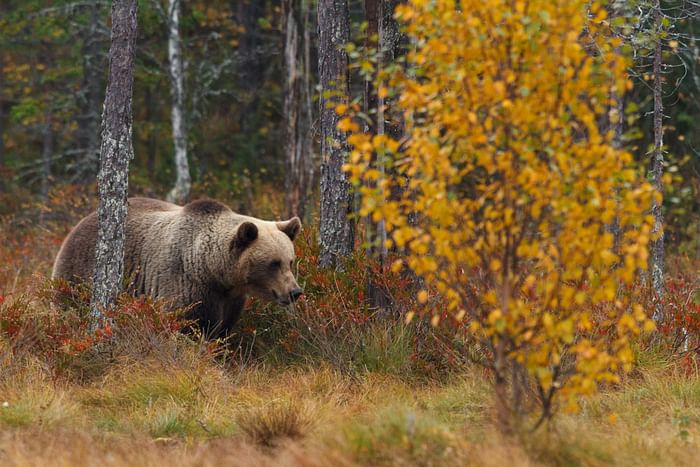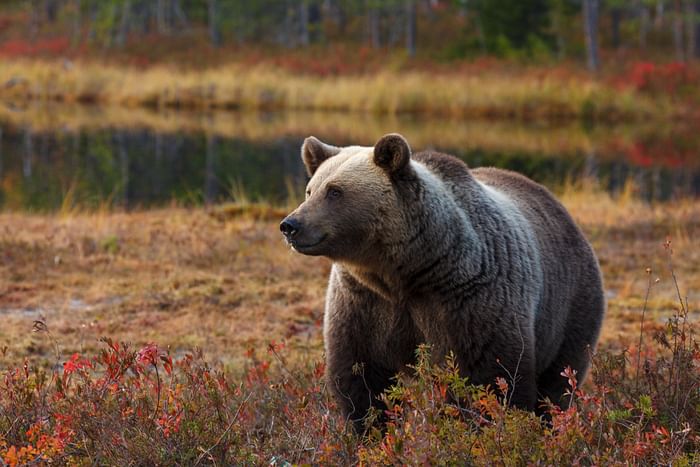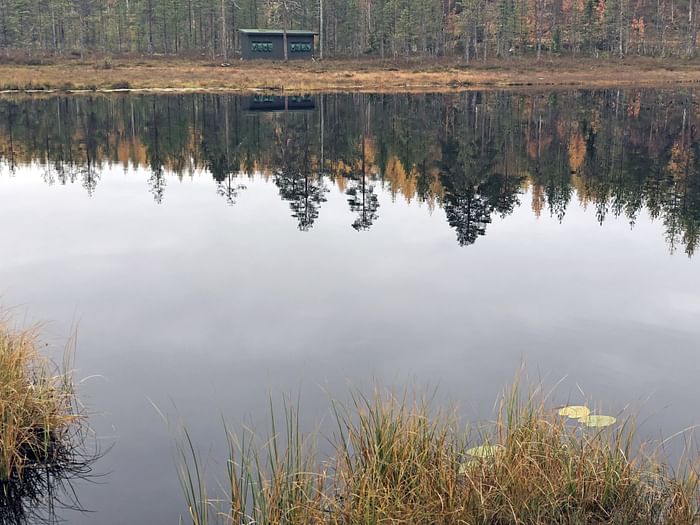 Ask for more information
BEAR CENTRE
Book now