Programme description
On this snowshoeing tour you will get to explore the wild taiga of eastern Finland. This remote area is the absolute perfect place to enjoy the peace of nature. Our route is mostly in Hossa national park through the snow white forests, along ridges and over frozen lakes. Each night your accommodation will be wooden cabins, some of them without modern facilities but all have a cosy atmosphere. The daily treks of approx. 6 hours will most probably be in deep soft snow in varied terrain with many short up and down hills. The difficulty of the tour is easy to moderate. No previous experience on snowshoeing is needed but a reasonable physical condition is required.

Tour highlights:
* Beautiful winter landscapes
* Overnights in wilderness huts
* Picnics around an open fire
* Evening saunas
* Pristine wilderness and remoteness
Detailed programme
Day 1. Arrival
Arrival at Kuusamo airport and transfer (approx. 1 hour) to Hossa where we will stay in Jatkonsalmi cabin for first three nights. The cabin is situated on the shore of Lake Jatkonjärvi in an isolated spot in the heart of Hossa national park.

Day 2. Lounatkoski rapids
Breakfast and introduction to the weeks programme. Then, after a brief preparatory session on snowshoeing technique it is time to set off for the first day trip which takes us to Lounatkoski rapids. In the past the fastest flowing rapids in Hossa provived hydropower. You can visit a mill that was used for grinding grain. There are also some constructions related to timber-floating. We'll enjoy a picnic around an open fire next to the rapids and then snowshoe back to the cabin across Jatkonvaara-hill. In the evening it is nice to relax and warm oneself in the lakeside sauna. Those who want, can also try ice-swimming – breath slowly out and dip yourself into the hole in the ice!
Snowshoeing 7 km, 6 hours

Day 3. Rock paintings
Today it is time to take a glance at the history. We will first take a short car transfer and then snowshoe to the Colour Rock to see its' rock paintings dating back to 4000 years. The picnic lunch will be near the paintings site around an open fire - hot soup and sandwiches and coffee brewed in a big pot on the fire. In the afternoon we will return to the cabin to spend one more night there before our "wilderness expedition".
Snowshoeing 7 km, 6 hours

Day 4. Snow white forests, Jatkonsalmi – Peurapirtti/Hirvastupa
This morning we leave our basecamp and head to the wilderness cabins where we will spend the next two nights. The route goes along the top of a ridge between two frozen lakes and through the beautiful snow covered pine, spruce and birch forests. It is likely we will meet reindeer than other people! After 7 km on snow shoes we will reach the northern shore of the lake Iso-Valkeinen and the cabins where we will stay for the night.Snowshoeing 7 km, 6 hours

Day 5. Ridges and lakes, Peurapirtti/Hirvastupa – Huosiusjärvi/Iikoski
After breakfast we will snowshoe along the ridges and on the lakes. The surrounding forests are home to many animals like elks, wolfs, lynxes and hares but unfortunately they are seldom seen. Also bears inhabit the area but in winter they hibernate. Halfway we will enjoy the picnic lunch around an open fire at a lean-to-shelter situated near a rapid. In the afternoon we will arrive at the last cabins for our stay, called Huosiusjärvi and Iikoski situated 200 metres apart from each other. Snowshoeing 8 km, 6,5 hours

Day 6. Back to the basecamp, Huosiusjärvi/Iikoski – Jatkonsalmi
The last day of snowshoeing takes us back to the start point. Following ridges we will reach the Hossa Visitor Centre where we will have lunch and there is a chance to visit a small souvenir shop. Our snowshoeing tour will be finish at our base camp. Here we can have a final sauna, maybe with ice-swimming and then enjoy our last night together over a farewell dinner.
Snowshoeing 5 km, 4 hours

Day 7. Return
Breakfast and transfer to Kuusamo airport.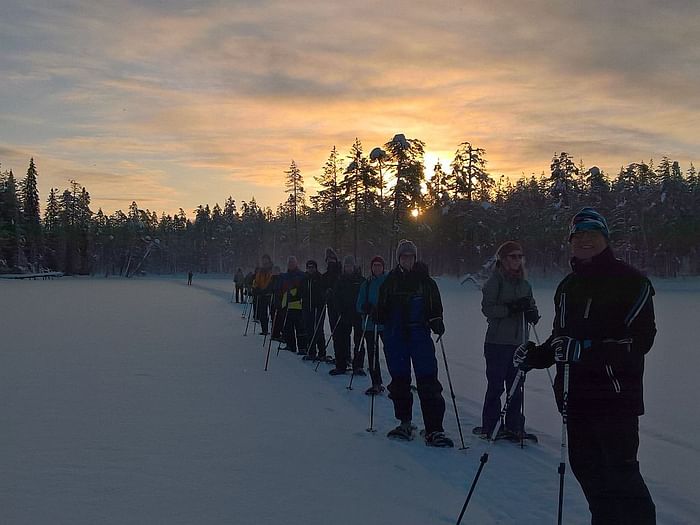 Included in this programme
accommodation: on days 1, 2, 3 and 6 in rooms for 2–4 persons in log cabin, on days 4 and 5 in log cabins (mostly dormitory type)
6 x breakfast, 4 x outdoor lunch, 1 x lunch, 5 x dinner, snack on arrival night
English speaking guiding
single-timed airport transfers from/to Kuusamo airport (See 'Good to know' for further information.)
luggage transportation between the accommodations
5 x evening sauna, 3 x ice-swimming
bed linen and bath towels
sleeping bags and mummy liners (2 nights)
You will need
- outdoor equipment
- leisure time clothing
- warm winter boots (possible to hire)
- snowshoes and poles (possible to hire)
- rucksack (15-20 l)
- thermos flask
- head lamp / torch
The full gear list will be sent after booking. 
Good to know
DURATION
7 days / 6 nights tour. Arrival on Sunday, return on Saturday.

GUARANTEED DEPARTURES
22.01.–28.01.2023   
29.01.–04.02.2023  
05.02.–11.02.2023   
12.02.–18.02.2023
26.02.–04.03.2023
05.03.–11.03.2023
19.03.–25.03.2023
Other departures for groups on request. Season 15 January - 31 March.

GROUP SIZE
Guaranteed departures without minimum number of participants. Max.12 persons.

LEVEL OF DIFFICULTY
On this tour the daily treks take approx. 5–6 hours and the average speed is about one km per hour. In late January–early March the depth of the snow is normally 60–70 cm and you will usually walk in soft snow which makes the walking slow and strenuous. If the track is harder it is possible to walk 3–4 km in an hour, in that case extra kilometers can be walked to make the duration longer. The duration includes also a lunch break which is about 1,5 hours. 
The terrain is quite variable with many short up- and down hills. The route goes in the forests, along the ridges and on the lakes. The difficulty of the tour is easy – moderate, depending greatly on the snow conditions. No previous experience on snowshoeing is needed but a moderate physical condition is required.

ACCOMMODATION
On days 1–3 and 6 accommodation is mostly on twin and triple sharing basis. On days 4 and 5 at wilderness cabins mostly dormitory type accommodation is available. Shared facilities each night. Single rooms are not available. 

TRAVEL
Flights are not included in the tour price. If you have anything unclear regarding flights or transfers, please do check with us before booking flights! 

Important notes for arrival
The joining point for this trip is Kuusamo airport. Single-timed group transfer from Kuusamo airport to the first accommodation is organized to coincide with this Finnair flight from Helsinki:
22.01. and 29.01. HEL-KAO AY497 15.50-17.30
Other departure dates HEL-KAO AY487 20.00-21.40
Note: If you miss the scheduled group transfer on arrival and an extra transfer must be arranged to the starting point of the trip, the costs must be covered by you. To avoid this unpleasant situation it's not recommended to book flights with short connection time (less than 1 hour).

Important notes for return
Transfers from the last accommodation to Kuusamo airport are organized to coincide with this Finnair flight to Helsinki:
KAO-HEL AY486 13.40-15.25
On 11.02. an additional transfer to the morning flight AY482 09.10-10.55
If you take a later flight or stay extra nights in Kuusamo, the drop off at Kuusamo town centre is available on prior request.

Travel by bus/train
It is possible take a train from Helsinki to Oulu and then a bus from Oulu to Kuusamo. The schedule must coincide with above mentioned transfer schedule.

PAYMENT
Deposit: 15 % of total amount will be charged at the time of booking.
Full payment: Due 14 days before the departure. The invoice for full payment will be sent by email. 

NOTES
It is essential that a passenger is covered by adequate travel insurance.
The tour is not suitable for persons with reduced mobility.   
We reserve all the rights to change the itinerary (route, accommodation) if necessary due to snow or ice conditions and in case the group size is max. 3 persons.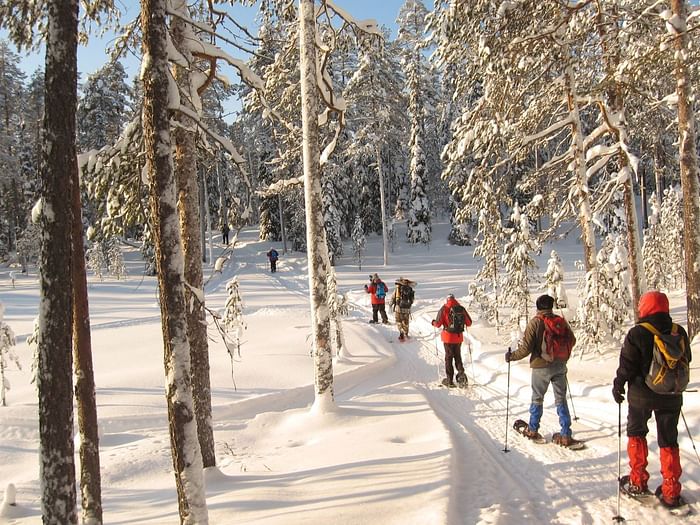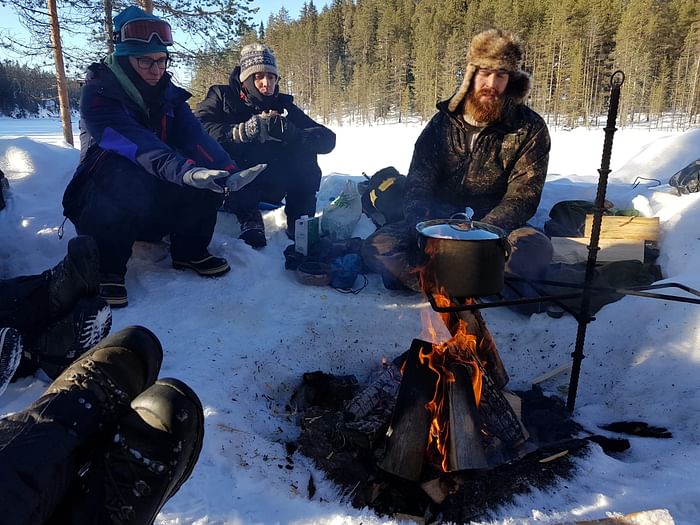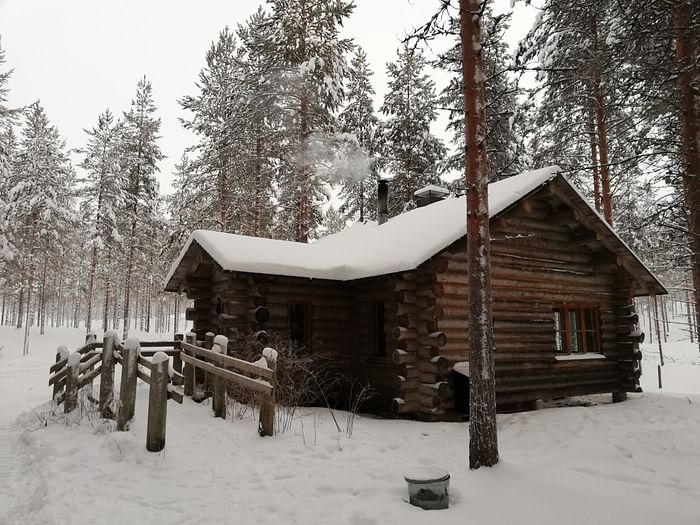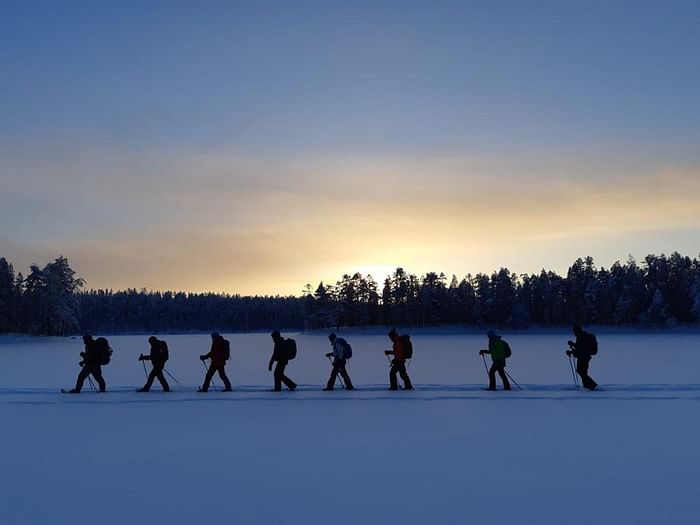 Ask for more information
Upitrek
Book now