Programme description
Action-packed multiactivity week for families in Hossa national park. Take the thrill of a husky ride, enjoy the silence of a snowshoe hike, admire the scenic beauty on a cross-country ski trip and learn exciting wilderness skills. There is also the chance you might experience the spectacle of the Northern Lights as a finale to your day. Your stay throughout will be at cosy apartments and it is from here you will you start each day's adventure. 
Detailed programme
Day 1. Arrival
Arrival at Kuusamo airport and single-timed group transfer to Hossa where you'll accommodate in comfortable apartments located just outside the national park. Dinner and briefing about the upcoming program.

Day 2. Snowshoeing
Snowshoeing is a great way to explore the winter wonderland and be immersed in the purity of the Finnish wilds. After a short introduction we will start straight from the accommodation. The trek takes us through snow-covered landscapes in the forests and on the frozen lakes. At the midway point you can rest and enjoy a picnic lunch around an open fire. In the evening it is nice to relax in the steaming hot sauna at your own apartment.
Day 3. Cross-country skiing and igloo building
Today we try cross-country skiing which is a traditional Finnish pastime and method of transport for centuries. It's not as easy as snowshoeing but once you get the hang of it, you'll enjoy it. You will be given some technical instruction and practise, and then you can follow the easy tracks through the flat pine forest and over the lakes. In the afternoon we start building an igloo. By shovels and spades we'll make a big pile of snow which will be hollowed out later when the snow is hardened enough.
Day 4. Husky sledding and igloo building
After breakfast an one hour transfer to a husky farm where we will join the activity most look forward to. We speed through the silent wilderness in a sled pulled by a team of eager huskies. Born to run, our four legged friends are more than willing to take us for a memorable ride. Take turns in driving the sled. Or, if you prefer, you can enjoy the ride sitting in the sled snug under warm blankets. After the safari we will have a lunch before taking the transfer back to the cabins. Driving 10-15 kms, duration of the activity 2,5-3 h.
In the afternoon we'll finalize the igloos and those who want can spend some time in the silence of the "snowy home".

Day 5. Snowshoeing
Another day on snowshoes. Hossa national park is famous for its beautiful ridges and today we will explore the ridge area offering us some steep but short ascents and descents. The surrounding forests are home for many animals like elks, wolfs, lynxes and hares but unfortunately they are seldom seen. We may however spot some tracks on the snow.
Day 6. Reindeer and wilderness skills
In the morning we will learn some important wilderness skills like fire-making. After lunch there will be an excursion to the reindeer farm located a few kilometres from the accommodation. We will learn about reindeer's life their adaptation to the arctic climate. In the afternoon we continue with wilderness skills and try eg. ice-fishing.
Day 7. Optional activities
The last day is spent at leisure. Now that you have had a taste of the various activities, you can choose to experience your favourite one again. It is possible to do some more skiing, snowshoeing or ice-fishing. You could rent skishoes ("Altai skis") or fatbikes, mountain bikes with wide tyres, and do a cycling excursion on snowy roads and trails (this activity is not suitable for the youngest kids). It is also possible to book a snowmobile safari (availability to be confirmed). At night a delicious farewell dinner will be enjoyed.
Day 8. Return
Breakfast, check-out and transfer to Kuusamo airport.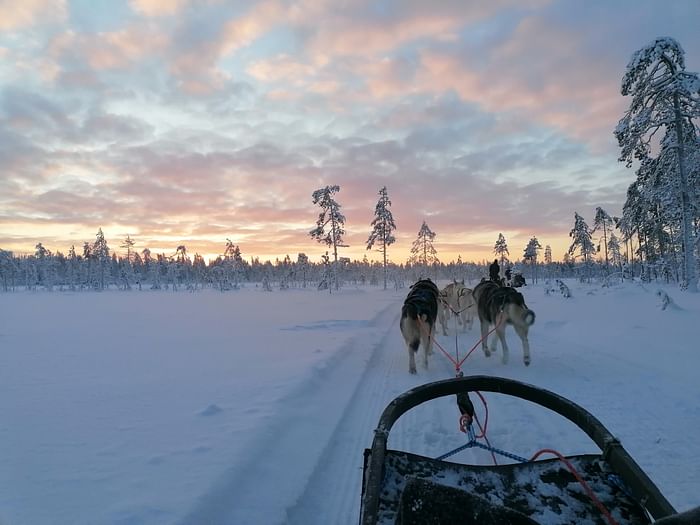 Included in this programme
Accommodation in apartments with sauna (one apartment / family, max 6 persons)

Full board: Day 1: D, Days 2–7: B, L, D (on days 2 and 5 picnic lunch), Day 8: B 

Activities according to the program 

Single-timed group transfers from/to Kuusamo airport 

Local transfers according to the program (days 4 and 6)

English speaking guide 

Rental of skis, snowshoes or ice-fishing gear for day 7

Bedlinen, bath towels 
You will need
warm jacket and pants

leisure time clothing

winter boots

rucksack (15-20 l)

thermos flask

head lamp / torch
The full gear list will be sent after booking.  
Good to know
DURATION
8 days / 7 nights

GUARANTEED DEPARTURES
27.12.2023-03.01.2024
11.02.-18.02.2024
18.02.-25.02.2024
Other departures for groups on request (15.12.-5.4.)

PRICES
1440 € p/p in cabin for 2 persons 
1270 € p/p in cabin for 3 persons (Price requires 3 persons per booking.)
1100 € p/p in cabin for 4 persons (Price requires 4 persons per booking.)
1040 € p/p in cabin for 5 persons (Price requires 5 persons per booking.)
1000 € p/p in cabin for 6 persons (Price requires 6 persons per booking.)
Children 7–12 years, discount -100 €
Extras: 
Hire of winter clothes (overall, boots, mittens) 50 €
Hire of winter boots 20 €

GROUP SIZE
Guaranteed departure without minimum number of participants. Max. 25 persons. 

LEVEL OF DIFFICULTY
Minimum age 7 years. All activities are suitable for beginners and no previous experience is needed. 

TRAVEL
Flights are not included in the tour price. 

Important notes for arrival
The joining point for this trip is Kuusamo airport.
Single-timed group transfer from Kuusamo airport to the accommodation is organized to meet the following Finnair flight:
27.12. HEL-KAO AY487 at 21.45
11.02. HEL-KAO AY497 at 17.30
18.02. HEL-KAO AY487 at 21.45

Note: If you miss the scheduled group transfer on arrival and an extra transfer must be arranged to the starting point of the trip, the costs must be covered by you. To avoid this unpleasant situation it's not recommended to book flights with short connection time (less than 1 hour).

Important notes for return
Single-timed group transfer is organized back to  Kuusamo airport to meet the following Finnair flight:
03.01. KAO-HEL AY482 at 09.30
18.02. KAO-HEL AY484 at 12.15
25.02. KAO-HEL AY482 at 09.30
If you take a later flight or stay extra nights in Kuusamo, the drop off at Kuusamo town centre is available on prior request.

Travel by bus/train
It is possible take a train from Helsinki to Oulu and then a bus from Oulu to Kuusamo. The schedule must coincide with above mentioned transfer schedule.

PAYMENT
Deposit: 15 % of total amount will be charged at the time of booking.
Full payment: Due 14 days before the departure. The invoice for full payment will be sent by email.

NOTES
It is essential that a passenger is covered by adequate travel insurance.
The tour is not suitable for persons with reduced mobility.    
We reserve all the rights to change the order of the activities or the content of the programme if necessary due to the weather or snow conditions.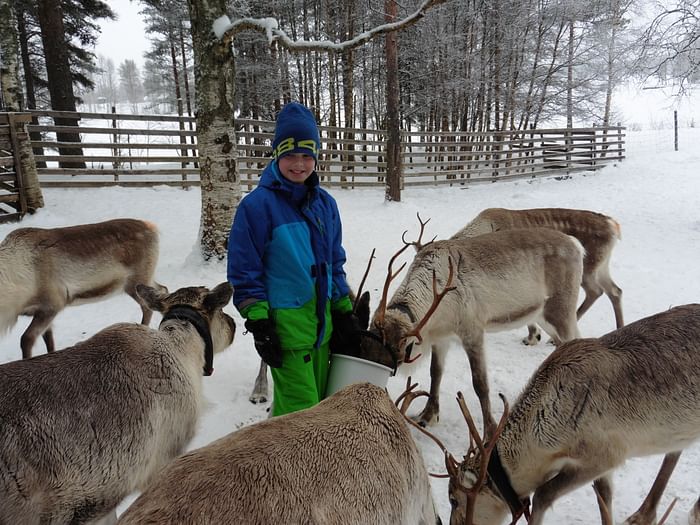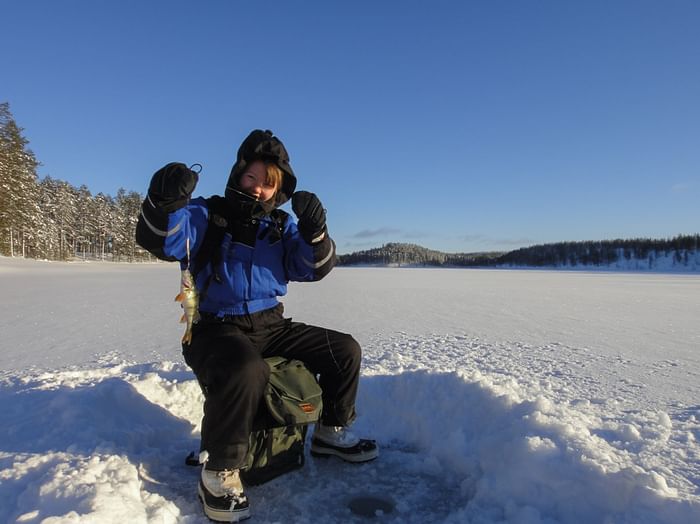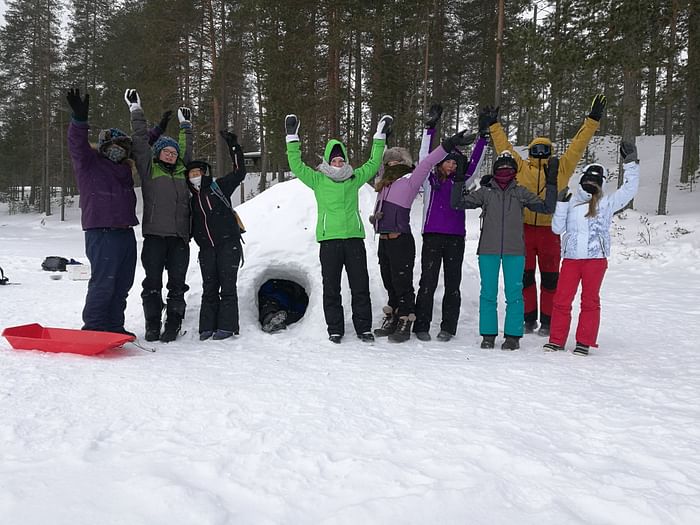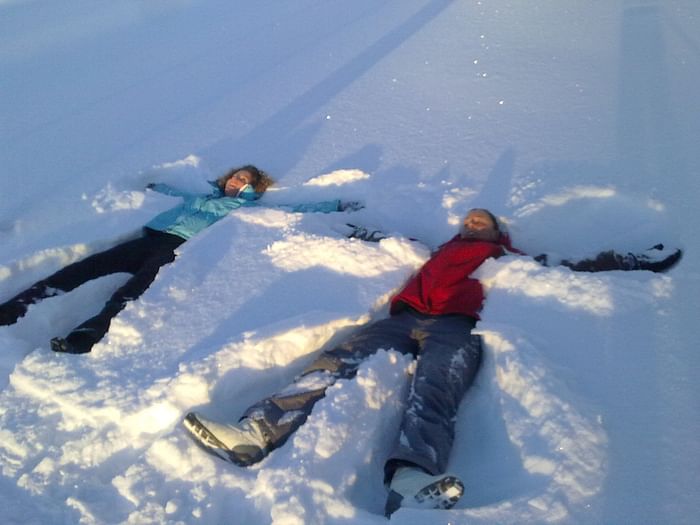 Ask for more information
Upitrek
Book now