Programme description
Fatbiking in Martinselkonen untouched wilderness areas is unforgettable experience. The silent surrounding in middle of the rugged forest is a great place to gather strength and relax after the hectic work period. Tons of pure snow offers great opportunity for cycling and enjoying the beautiful winter landscape. We are cycling just next to the Eastern border of EU, seeing the signs telling how near we are to the Russia. During the trips to the wilderness we can see many animal tracks in a snow. In the evening we can relax in a heat of a sauna and don't forget to look outside there might be northern lights dancing in the sky. 

Highlights:
* Enjoy winter cycling in guided tour and in long trails in middle of wilderness
* Experience the new way of moving in Finnish Taiga Forest
* Enjoy the unspoilt nature in Martinselkonen Nature Reserve
* Relax in the silent wilderness in EU's Eastern Border
* Good work out in pristine wilderness under the Northern Lights
Detailed programme
Day 1. Day 1 Arrival
Guide will welcome you at the Kajaani or Kuusamo airport (arrival at Kuusamo around 21.00, schedule for Kajaani to be confirmed later). Transfer by private car/coach to the Martinselkonen Wilds Centre (duration 2 hours). Depending on the arrival time whether dinner or evening snack is served at the dining area.
Day 2. Day 2 Teerilampi trail 17 km
After breakfast its time to get to know the bikes and equipment. The guide will make sure that everyone's bike has right adjustment for the rider. We learn to use the bike gears and brakes and guide gives tips for safe cycling in a snow. We will first practise at the yard and then we will head to the first long trail. We will head to the Teerilampi circle trail that will take us to Martinselkonen Nature Reserve. We will cycle in the snow-white landscape just next to Russian border. We will enjoy outdoor lunch at Teerilampi wilderness hut. Hot sauna is waiting fro us when we return from the Teerilampi. Dinner is served at the dining area.
Evening snowshoeing trip
In the evening we will go explore the forest with snowshoes. We will walk about 4-5 km with the snowshoes listening to the quietness. On the way we will enjoy some hot drink. If we are lucky we might see the Northern Light.
Day 3. Day 3 Lake side trail 23 km
Today we will head to Lake side trail. This trail goes around beautiful Öllöri-lake. One part of the trail is on ice. On they way we can see the Finland-Russia border poles. Outdoor lunch in enjoyed by the open fire in an open hut. Sauna and dinner at the Centre.

Cycling in darkness
If you are not too tired after the lake side trail, you can dry cycling in darkness. We will give you a lamp and we can still cycle 7 km in total darkness. Maybe the starry sky or Northern Lights will light our way.
Day 4. Day 4 Departure
It's time to say goodbye. After breakfast transfer to the airport by private car/coach to Kuusamo or Kajaani airports (departure from Kuusamo around 14 pm, schedule for Kajaani to be confirmed).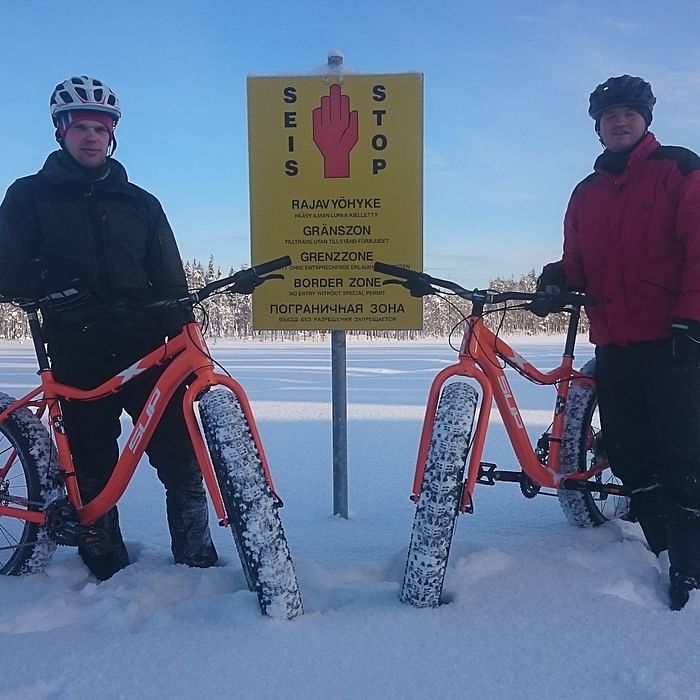 Included in this programme
The package includes:
* airport transfers: Kajaani/Kuusamo -Martinselkonen - Kajaani/Kuusamo
* accommodation in twin rooms
* meals (breakfast, lunch and dinner)
* 2 days cycling with the Fat bikes (bike and helmet)
* snowshoeing excursion
* daily evening sauna
* Guiding in English
Exclusions
Flights are not included to the package price. 
Please book your own flights from finnair.com to Kuusamo or dat.dk / finnair.com to Kajaani.  
Please book the flights before booking the fatbiking tour. 
You will need
Separate clothing list is send after the booking. 
Good to know
Price: 630 €/person.
Payment: 30% of the price is charged when you make the booking. The full payment is paid on arrival. If the booking is done less than 30 days before, the full amount is charged at the time of booking. 
Accommodation
Martinselkonen Wilds Centre is a small family-run company located at East border of Finland in Suomussalmi. The old border guide station has been transformed in to comfortable accommodation facilities. Accommodation in twin or single rooms. Each of the rooms have en-suite bathroom. The main house has cosy dining area for 32 persons. Both accommodation buildings has drying rooms for clothing. There is sauna in client's free use.
Food
Martinselkonen Wilds Centre offers home- style meals using many local ingredients. Berries and mushrooms have grown in these forests. Fish comes from the lakes and local fish farms. Meat is often game meat from these forest or reindeer from the local Reindeer Farm.
Bikes and Cycling
The fat bike trails in Martinselkonen are maintained tracks where the snow is draged as hard as possible. In the longer trails there is always a snowmobile going in front marking the trail and guide comes last. So everyone can cycle the speed that is best for them. Cycling in a snow is harder than in hard surface, so participants need good basic fitness and previous experience of biking.
Martinselkonen Bikes are Finnish built SUP bicycles that are especially built for Finnish winter conditions. There are 2 different sizes of bikes.

Note
We reserve the right to change the trails in case of difficult weather conditions.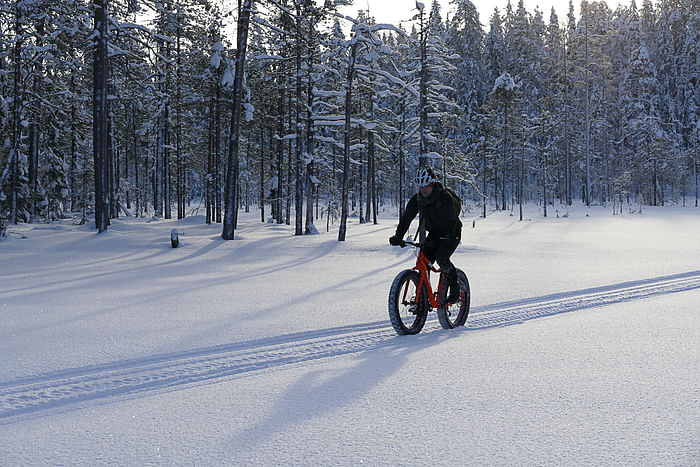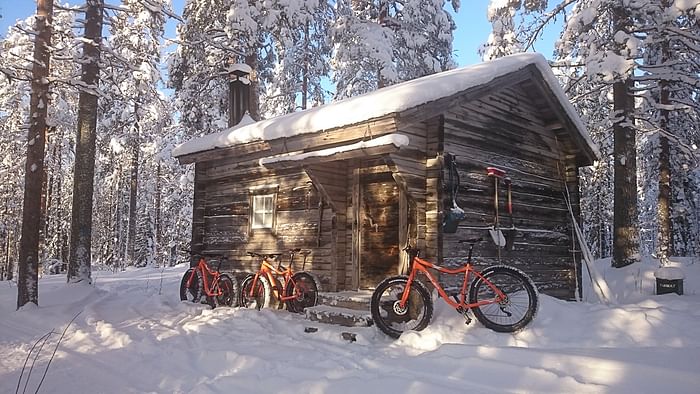 Ask for more information
Martinselkonen Wilds Centre