Hiking tour for groups. Eight wonderful walking days in three different national parks - Hossa, Oulanka and Urho Kekkonen. Departures on request.
Programme description
This Finland hiking tour takes you to three national parks in eastern and northern Finland. You will visit Hossa, Oulanka and Urho Kekkonen parks, each of them different and among most popular national parks in Finland. You will enjoy the untouched wilderness and pristine nature walking through primordial forests and mires, along ridges and shores of crystal-clear lakes. You even get the chance to canoe on the same lakes and nearby rivers. Accommodation will be in a large log cabin and in hotels.
Programme information
Season
1.6.-30.9.2023
Departures for groups on request.
Duration
10 days/9 nights
Persons
10-25
Place
Suomussalmi, Kuusamo, Saariselkä
Arrival
Kajaani airport
Return
Ivalo airport
Difficulty
Medium
Price
Depending on the group size. Please ask for quotation.
Included in the price
*9 nights accommodation. Days 1-4 in wilderness cabin in rooms for 2-4 persons. No private ensuite facilities - showers and toilets are located in the corridor. On days 5-9 in hotel rooms on twin sharing basis. *Daily breakfast *Picnic lunch on days 2-6 and 8-9 *Dinner on days 1-4 and 7-9 *Airport transfers from Kuusamo airport on arrival and to Ivalo aiport on departure *English-speaking guide throughout the tour *Sauna daily (except on arrival night) * Canoe rental on day 4
Supplements
*Dinners on days 5-6 *Single room on days 5-9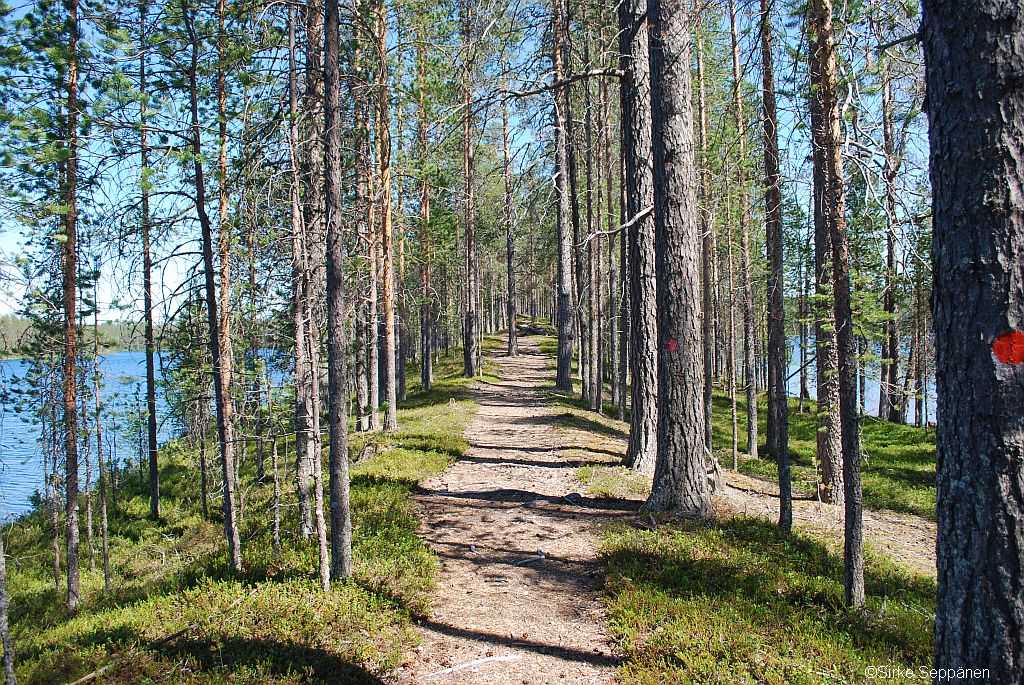 Detailed programme
Day 1: Arrival
Arrival at Kuusamo airport where you'll meet your local guide. Transfer (approx. 1 h) to Jatkonsalmi cabin located inside the new Hossa national park. Check-in and dinner at the cabin.
Day 2: Hossa national park, 14 km / total ascent 100 m
The trek begins along the paths of Hossa National Park – the commemorative national park for Finland's 100th year of independence in 2017. Hossa is known for its crystal-clear lakes and pine heathlands. Trails, most of them easy to walk on, run through the handsome esker and lake scenery. Reindeer are a common sight in Hossa as well as the occasional elk. In the afternoon we'll return to Jatkonsalmi where the lakeside sauna will be heated.
Day 3: Värikallio rock paintings, 16 km / total ascent 120 m
Today we set on a mystical trip back in time! We will hike to see the Värikallio Cliffs with ancient, shamanistic rock paintings dating back 4000 years. The rock paintings are the largest prehistoric paintings in Finland and portray the life of people at a time when spirits and natural forces were present everywhere. A picnic lunch will be enjoyed around an open fire and after that we will hike through the beautiful pine and spruce forest back to our accommodation.
Day 4: Hossa – canoeing 3-4 h and hiking 13 km / total ascent 100 m
For a change we'll do this morning a canoeing tour. We start with a short introduction to learn the basic skills for canoeing open 2 man Indian canoes. Then we take a gentle trip on the lakes and rivers nearby our accommodation. By lunch time we'll arrive at Hossa national park's Visitor center where a lunch will be taken and we'll also have a chance to view a new exhibition about nature and culture in the area. From Visitor Center the trek continues along the paths of the national park.
Day 5: Oulanka national park, Small Bear's Trail, 12 km / total ascent 185 m
After breakfast it is time to say good-bye to Hossa. A transfer (120 km / approx. 2 h) takes us to Oulanka national park where we will explore park's the most famous day tour – the Small Bear's Trail (Pieni Karhunkierros). On this scenic day trail, you can admire the beautiful wilderness of Oulanka: the gushing rapids, the steep cliffs and the sheltered forests. The middle section of the trail is demanding – steep uphills and downhills and the path is rocky. After excursion we'll take a 15 minutes' transfer to Ruka which is one of the most famous skiing resorts in Finland. Check-in at the hotel located in the heart of the resort.
Day 6: Valtavaara nature reserve, approx. 20 km / total ascent 675 m
After breakfast we take a 20 minutes' transfer to the starting point of today's hike which will follow Finland's most famous hiking route Bear's Trail (Karhunkierros), totally a 80 km route through Valtavaara Nature Reserve and Oulanka National Park. We will walk the first 20 km of the route from Porontimajoki until Ruka. The first half of the route is pretty flat but then takes us to the top of the hill Konttainen (approx. 400 m).
Before descending to Ruka we reach the top of Valtavaara, which is the highest hill in the area (492 m) offering spectacular views over the surrounding hills and lakes.
Day 7: Kiilopää Fell Centre
In the morning a bus transfer (350 km / approx. 5 hours) takes you further north to Ivalo where you'll check in at Fell Centre Kiilopää for the last 3 nights. Kiilopää is located in the middle of stunning fell scenery, just outside Urho Kekkonen National Park. After arrival in the afternoon free time for a short walk. You can eg. climb to the top of Kiilopää hill (4 km) or walk a 6 km nature trail.
Day 8: Urho Kekkonen national park, approx. 14 km / 17 km / total ascent 245 / 310 m
A 15 minute's transfer takes you to Saariselkä from where you start the Rumakuru trail. The trail allows you to admire the Rumakuru Gorge which, despite its Finnish name (literally, Ugly Gorge), is far from ugly. The highlight of this trail is the steep-walled gorge created by meltwaters during the last Ice Age. On the way back to hotel you can opt a bit longer detour through Iisakkipää fell (454 m). After walk transfer back to the hotel.
Day 9: Urho Kekkonen national park, 14 km / total ascent 275 m
The last walk of the tour starts straight from the hotel. Ahopää Trail is a truly scenic route and a journey into the origins of this scenic wilderness where the Ice Age had an enormous effect. As the immense masses of ice moved and shaped the scenery, what remained were the fells, which are actually mountain roots. Today, this rugged but beautiful natural landscape offers a glorious hiking environment.
Day 10: Return
Breakfast and transfer (30 min) to Ivalo airport for the flight to Helsinki.
Good to know
It's possible to do this tour as a 7 day tour staying only in Hossa and Oulanka national parks (hiking days 2-6).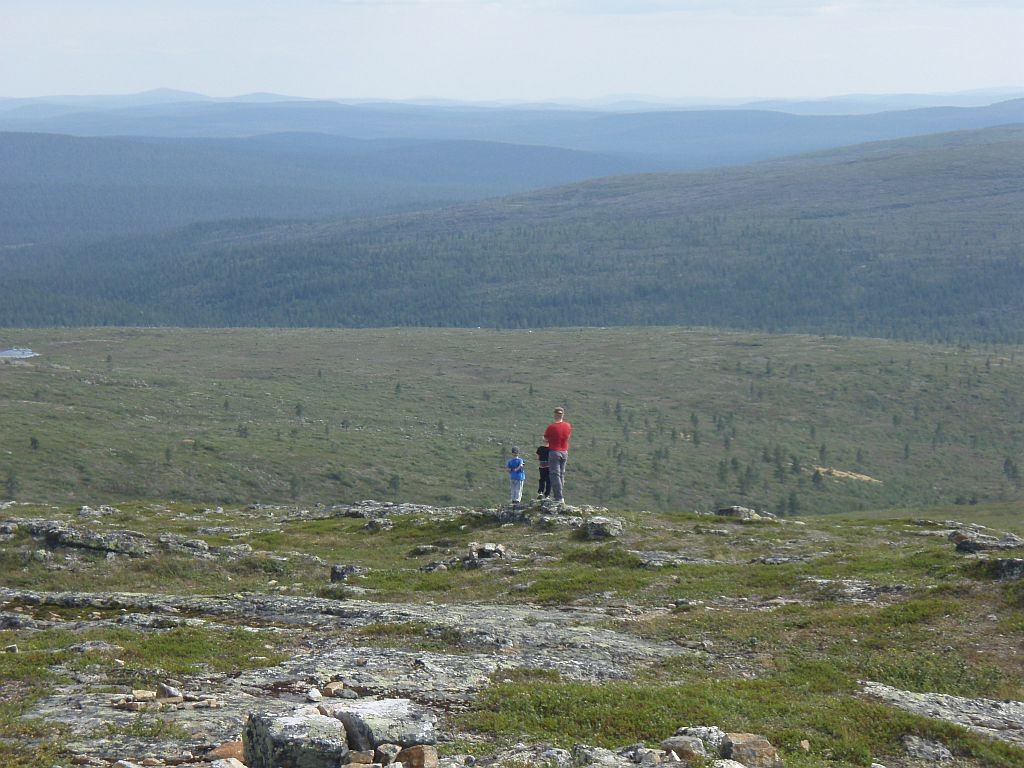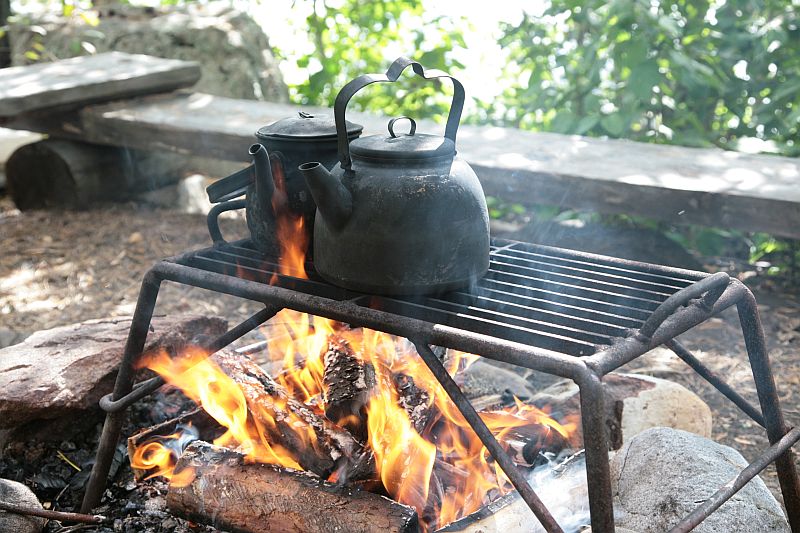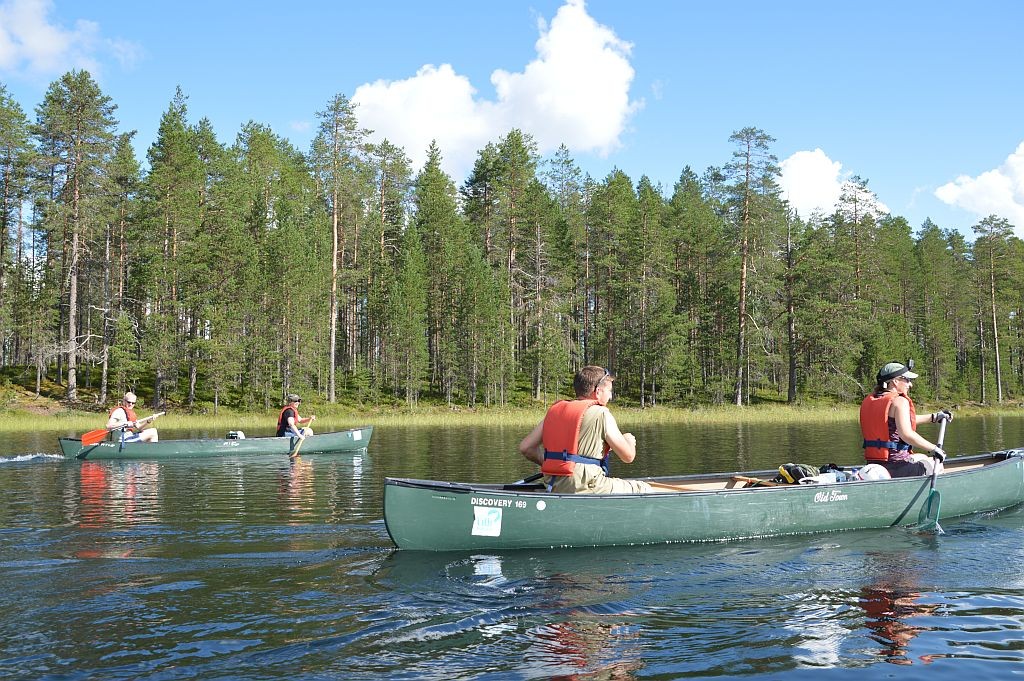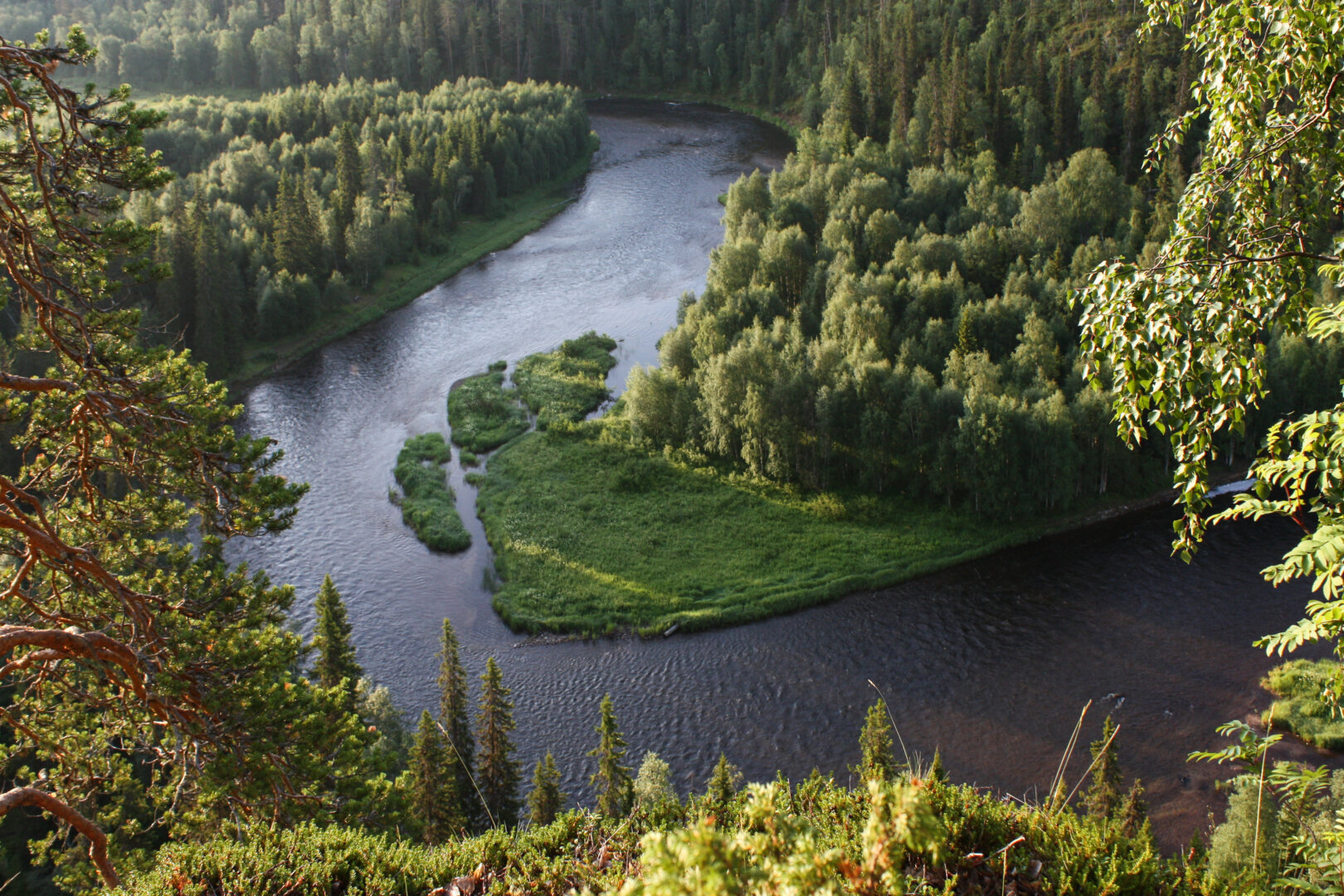 Ask for more information