Kainuu's safe and healing nature surrounds us on this kayaking trip on the Lake Lentua. Lentua is a beautiful Nature reserve, rugged, wild and quiet lake in Eastern Finland near the Russian border. There is a lot of beautiful islands with big old forests. That's why it fits perfectly for using the Forest Mind - methods on this trip. Forest Mind is a program of mental skills exercises designed to utilize and intensify the natural healing effects of forests.
Programme description
Kayaking itself can be very intensive, calming and meditating way of moving forward in the healing nature. Lake Lentua is the largest unregulated lake in the basin of the Oulujoki river, and the most valuable example of lakeland nature in Kainuu. The shoreline is mostly unbuilt and there's a strong sense of wilderness. Many of Lentua's waters and islands, and parts of the shoreline, are restricted Natura areas. The Southern part of Lentua features open waters, whereas in the north, the lake is characterised by many islands and narrow inlets in between. The shoreline is combination of vast sandy beaches, small sandy coves, steep cliffs and flat bedrock.
​After the days' kayaking it is very relaxing to take a traditional Finnish sauna, relax on the lake shore afterwards with your Forest Mind instructor and let the mind and body calm down.
Lentua has important cultural historical roots in Finland. Finnish master painter of national romanticism period, Akseli Gallen-Kallela, stayed in a house in Lapinsalmi, northern shore of Lentua, on his honeymoon. In 1891, he painted his first Kalevala-themed work, the Aino triptych. Apparently, he was inspired by Lake Lentua. Author Veikko Huovinen's great thinker, Konsta Pylkkänen, was also stirred by the vast open Lake Lentua. (viakarelia.fi)
During this kayaking tour you can enjoy quietness and peace on the wilderness lake as well as authentic tent accommodation in beautiful lake and forest scenery. Our accommodation is arranged in nice cabins on the lake shore on the first and last night. Three nights are for camping in remote islands. During the tour we will enjoy the healthy and natural local food, made of ingredients from the lake and Kainuu nature.
Programme information
Place:
Lake Lentua, Kuhmo, Finland
Availability:
On request 1.6.-30.9.
Guaranteed departures:
Duration:
6 days, 5 nights
Number of participants:
Min 4, max 8 persons
Price:
890 €/person
Meals:
Full board. Breakfast, lunch package and dinner are included in the price.
Accommodation:
In cabins, tents or hammocks
Distance:
Total approximately 65 km
Price includes:
Guide services, accommodation and above-mentioned meals on the tour. Price doesn't include flights.
Equipment included in the price:
Sea kayak or twin kayak, paddling equipment, tent/hammock, mattress, sleeping bag, liner
Equipment:
Participants have their own clothing due to the weather. Please ask the whole list of equipment after booking.
By an additional cost:
Paddling clothing 90 €/tour. Return transport from Oulu Airport 280 € / car (max. 6 people)
Tour level:
Intermediate. Participants are required to have a good basic fitness and basic kayaking skills. Participants should be able to paddle in moderate waves with a sea kayak minimum 25 km/day. Swimming skills are obligatory.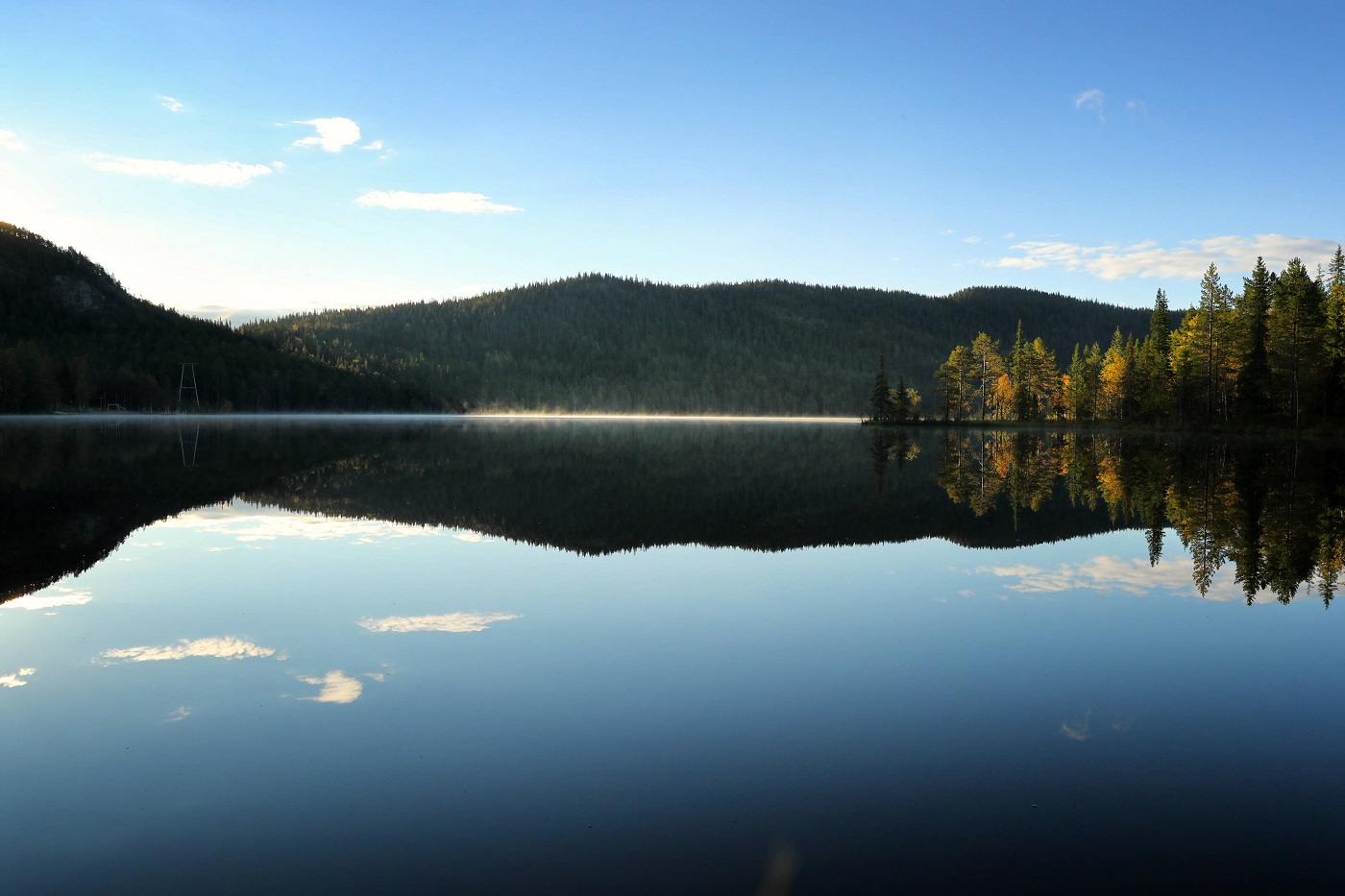 Detailed programme
1st day:
Arrival to Lentiira Holiday Village (Pick-up from Oulu Airport by the additional cost) where your guide is waiting for you. Welcoming dinner, short briefing, introduction of group, maps and a week program after dinner. Safety issues and discussion about a sustainable tourism and how we put it into practice during our trip. Hot sauna and sweet dreams surrounded by peaceful, fresh and quiet Kainuu nature. Accommodation in wooden cabins. Before going to sleep, taste of Forest Mind exercises in the nature.
2nd day:
Tour begins from the shore of the Holiday Village after a complete Finnish breakfast with many local delicacies. Wonderful experience starts from the shore to west to Lentuanjoki, via Rytälahti wooden shelter. Lovely picnic lunch on the lake shore. Kayaking route takes us to our accommodation place to Ränkänsaari wilderness hut. Many tar graves and cultural sights appears during the days trip. Building up the tents, relaxing and refreshing, making the dinner together. Accommodation in tents. Day's distance approximately 18 km.
3rd day:
After the breakfast we start kayaking again. Kayaking route leads us first to the wide open lake which gives us wonderful sight to the nature around us. After ten kilometres paddling the environments changes and route goes between islands and follows the winding coastline. We approach the Niva village and easy rapid through the canal. The village of Niva is idyllic. The maze of lakes and the rapids between them are charmingly located in the middle of a lush rural setting.
​Lunch break in the village and relaxing with a mindfulness style exercise in the forest after lunch.
​Tour continues 1,5 km to next stop when we get off from the kayaks and pull them over the isthmus and pass the difficult rapids. Kayaking in beautiful nature reserve to next accommodation in island of Lehtosaari. Building up the tents next to an old fishermen's cabin. Relaxing and refreshing, making the dinner together.
Original wilderness sauna by the beach is available! Stretching the muscles after the long paddling day and after hot sauna is something that feels so good! Accommodation in tents. Day's distance approximately 24 km.
​4th day:
​​After the breakfast we start kayaking towards the old historically rich area of the lake! There are many islands, eskers and hills which open up around the lake. The landscape is also characterized by ridges, clean sandy beaches and beautiful rocky beaches. We stop by tar graves, Stone Age settlements and pitfalls, traps for animals, made by Finnish ancestors.
Lunch break on some beautiful spot and relaxing with a mindfulness style exercise in the forest.
​Short kayaking to our next accommodation place to the nice sandy beach. Building up the tents next to the fire place on the beach. Relaxing and refreshing, making the dinner together. Stretching the muscles after the long paddling day. Accommodation in tents. Day's distance approximately 12 km.
​5th day:
​After the breakfast we start our last kayaking day. Great tour continues between famous cultural sites and ends up to the forest beach. Lunch before transport. Transport back to Lentiira Holiday Village. Celebration dinner, sauna, swimming in the lake and relaxing. Reflection and thoughts about the experiences after the nature well-being tour. Accommodation in cabins. Day's distance approximately 9 km.
​6th day:
​Departure day. After a tasty and nutritious breakfast warm goodbyes or transfer by car to Oulu Airport.
Good to know
Languages: Finnish, English, Swedish
Insurance: We require participants to have their own insurance for outdoor activities in Finland.
We reserve all the rights to change the order of the activities or the content of the program if necessary due to the weather or other conditions.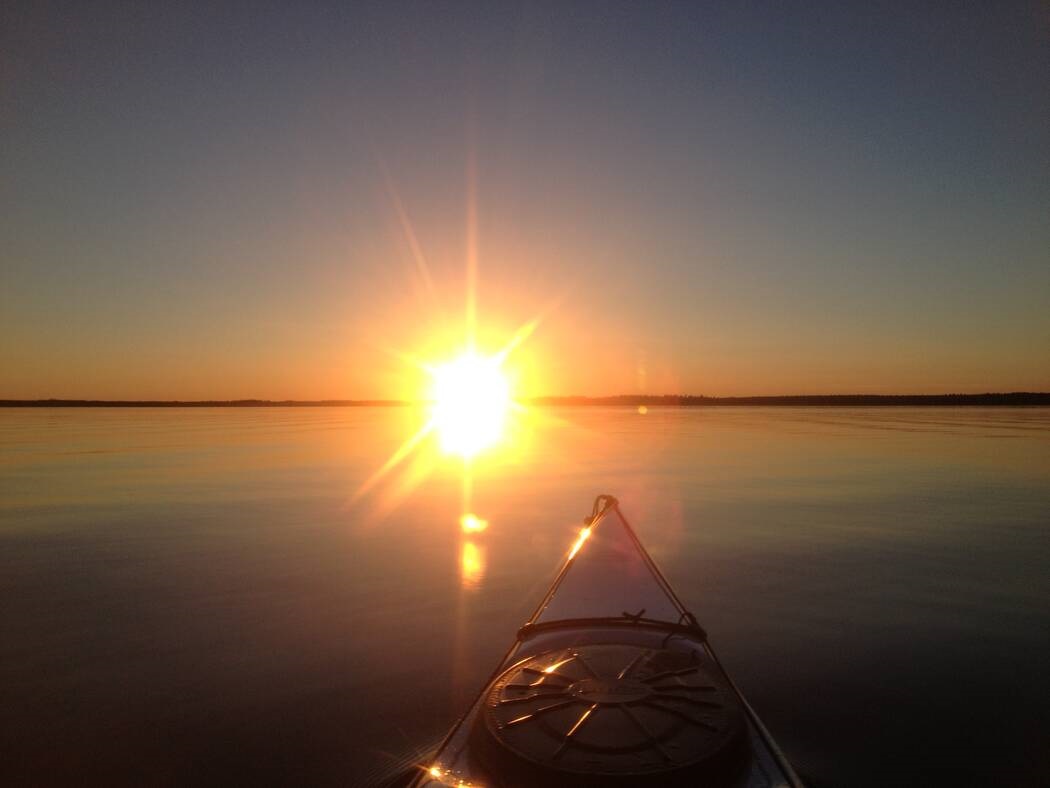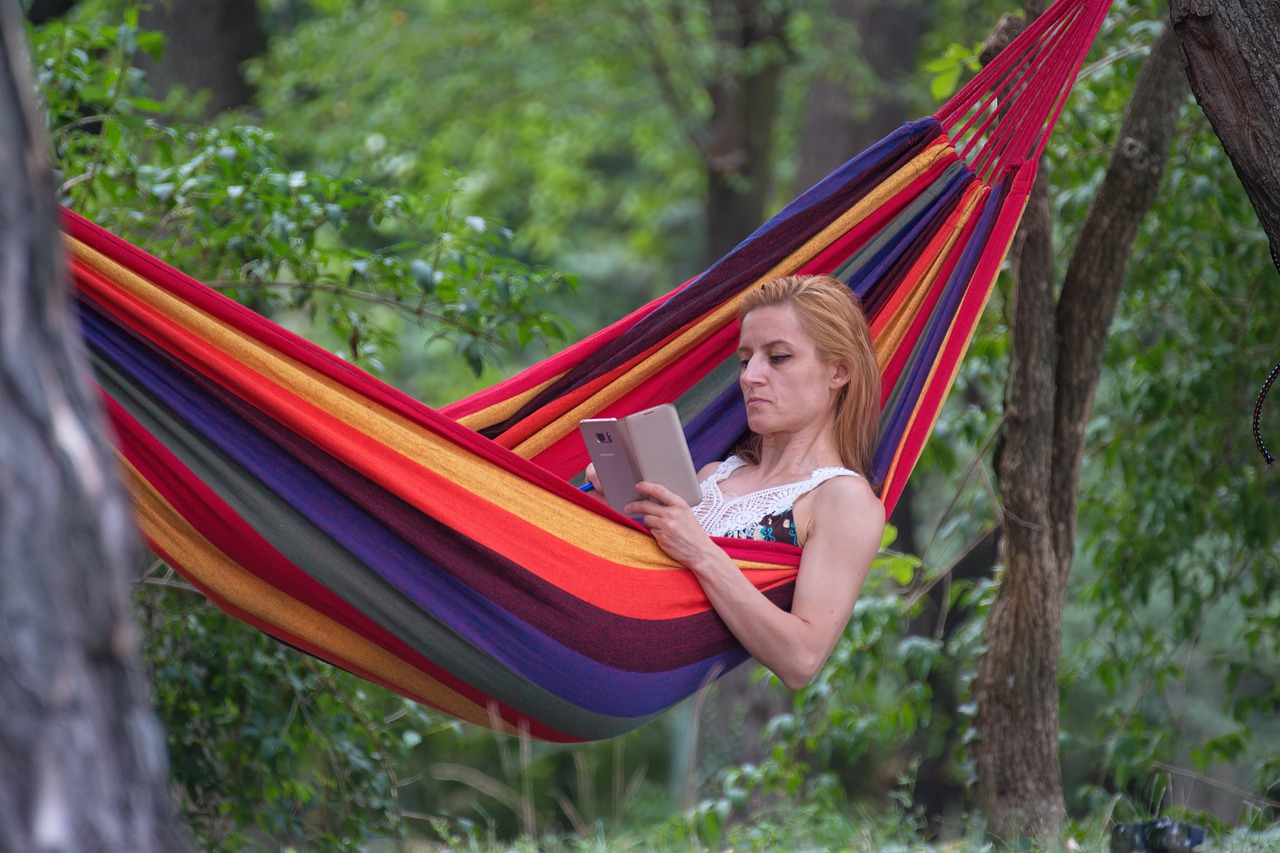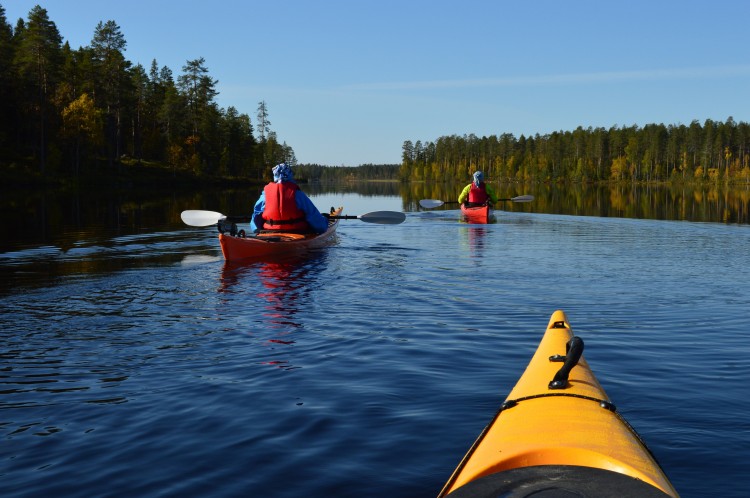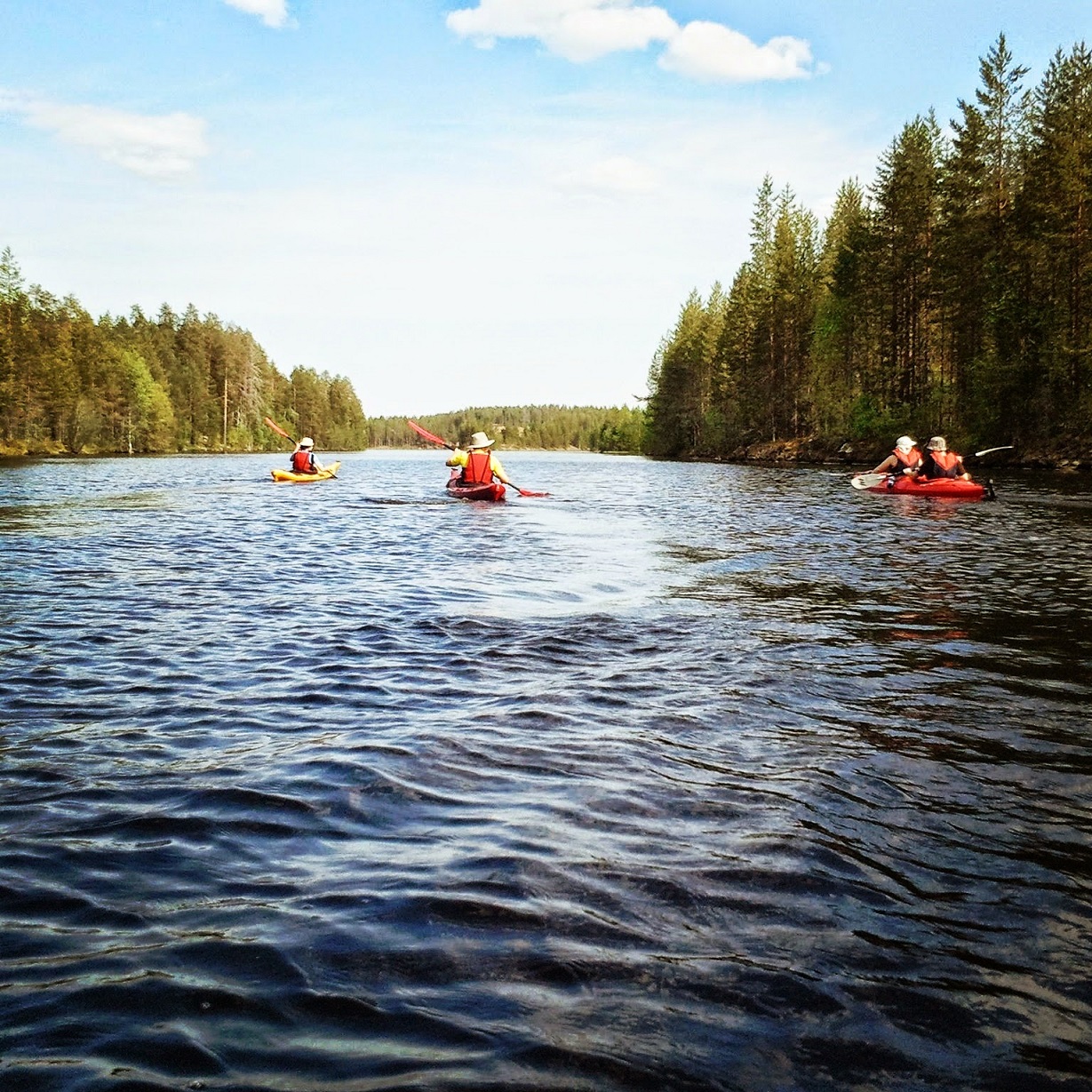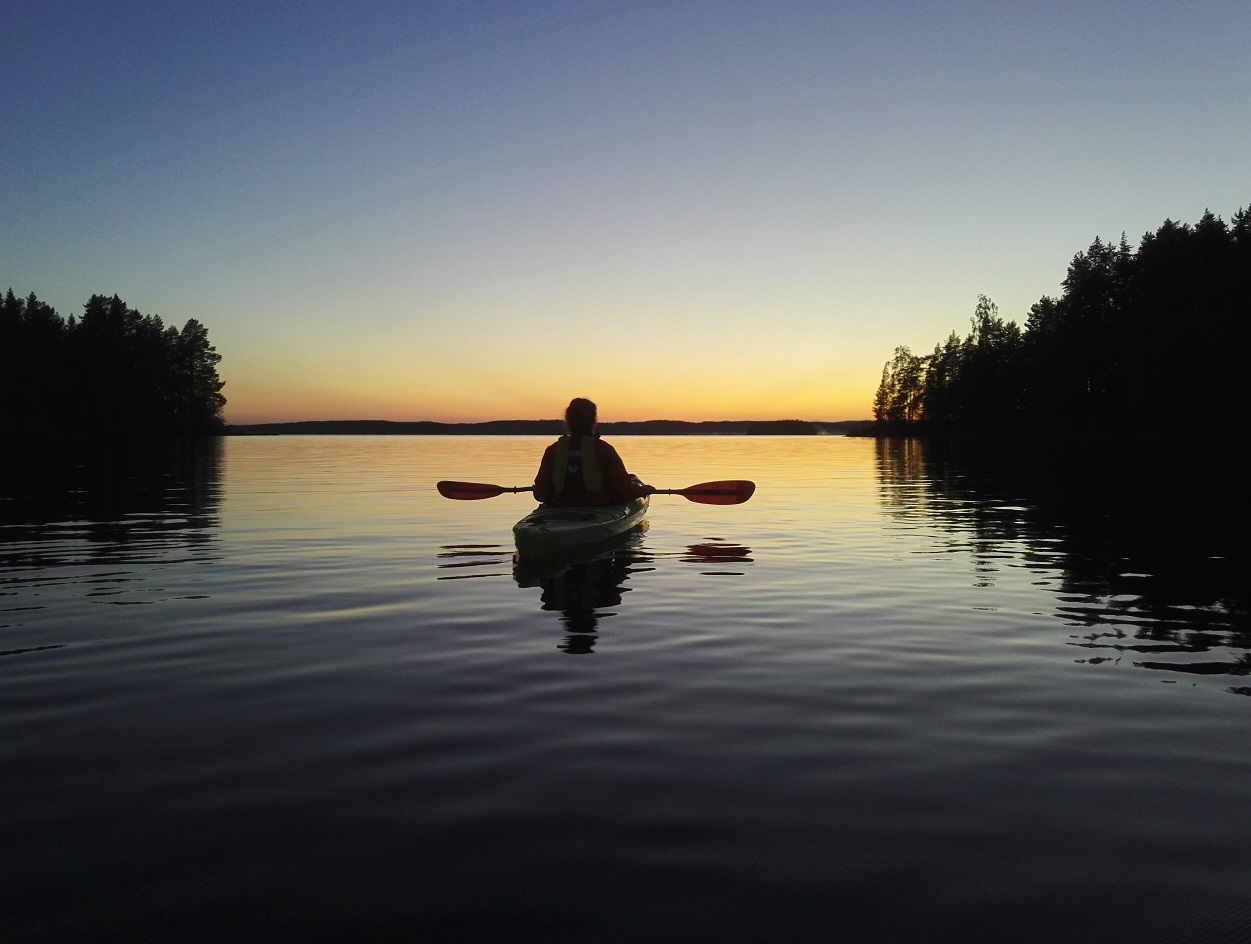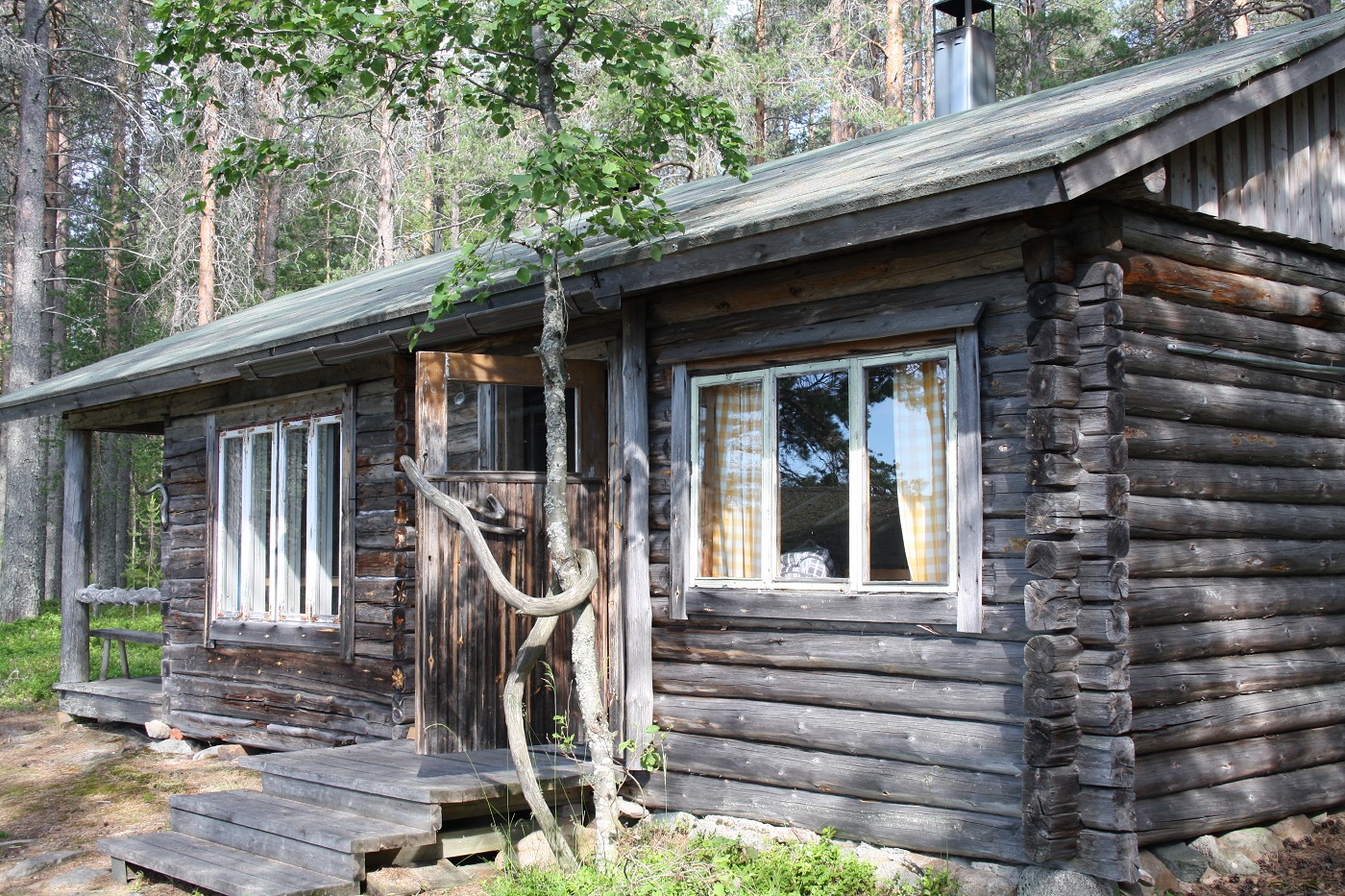 Ask for more information