Programme description
This ski tour takes you to the forests of northeast Finland, close to the Russian border, where the nature lays under a thick covering of snow making it a place of peace and spectacular beauty. The route passes through the extensive nature reserve of Kalevala Park whose geography is dominated by hills, forests, mires, lakes and rivers. The accommodation is cozy, small, family-run lodges. Every night you get to enjoy a Finnish sauna, delicious dinners, as well as the hospitality of the local people. Daily stages of the tour average 30 km, covering 150 km in five skiing days. A good physical condition and previous experience of cross-country skiing is required to participate in this tour.
Detailed programme
Day 1. Arrival
Arrival at Kuusamo airport and approx. 2 hours transfer to Martinselkonen Wilds Centre, which is a former border guard station renovated into a modern guest house. Check-in, dinner and briefing about the week's programme.  

Day 2. Day tour from Martinselkonen 25 km
After breakfast it's time to jump on skis! We start our expedition towards east until reach the Finnish-Russian border zone marked with yellow signs. We follow the border zone for a couple of kilometres and again later in the afternoon keeping in mind it is strictly prohibited to cross the border. The picnic lunch will be served at one of the wilderness huts operated by Finnish Forest and Park Service. On arrival at the accommodation we will relax in the traditional wood-heated sauna whose heat feels simply good after skiing several hours in cold air.

Day 3. Martinselkonen-Arola 30 km
Today´s route passes on Martinselkonen nature reserve through the network of swamps and spruce forests. These frontier forests are home to a brown bear population, however in winter they are hibernating. Also other Finnish large carnivores - wolves, lynxes and wolverines - inhabit the area but they are extremely timid and we may only spot their tracks in the snow. In the afternoon, we'll arrive at Arola guest house which is situated just a stone's throw from the Russian border. Delicious dinner made from local ingredients is served in a traditional log house.

Day 4. Day tour from Arola 27 km
Today's day tour takes us to Teerilampi wilderness hut, where our assistance guide has been preparing a lunch for us while we have been skiing. We will enjoy hot soup and a selection of sandwiches and enjoy them around an open fire. In the afternoon, we return to Arola for the second night to enjoy its cosy atmosphere and the warm hospitality of our hosts. 
Day 5. Arola–Rajakartano 42 km
The longest skiing day of the week is skied towards north following the border zone. Lunch is enjoyed in a rustic old house on the top of Kovavaara hill. Our accommodation Rajakartano, another former border guard station, is located on the shore of Lake Hossanjärvi, just outside Hossa national park. At night you have again a chance to relax in a traditional Finnish sauna and the more adventurous amongst us can try ice swimming!
Day 6. Rajakartano–Jatkonsalmi 30 km
The last skiing day will be on the tracks of Hossa national park which was inaugurated in 2017 to celebrate Finland's 100 years of independence. The nature in Hossa is dominated by ridges, small lakes and ponds and beautiful pine heathlands. Lunch is served at Hossa Visitor Centre, where it's also possible to visit a small souvenir shop.  Accommodation for the last night will be in large Jatkonsalmi cabin, located in an isolated spot inside the national park. At night we visit a local reindeer farm where we can feed reindeer, learn about reindeer herding today and enjoy a delicious farewell dinner.
Day 7. Return
Breakfast and transport to Kuusamo airport (1 hour).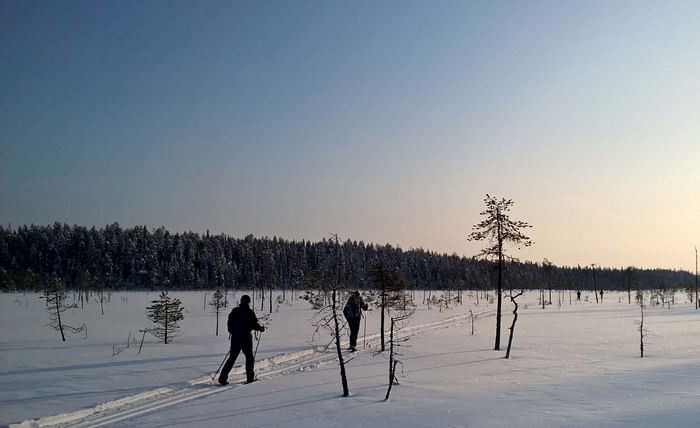 Included in this programme
6 nights accommodation in 2–4 persons rooms with shared facilities (on days 1 and 2 some rooms with private facilities available)
6 x breakfast, 4 x outdoor lunch and 1 x lunch, 6 x dinner, 5 x afternoon coffee/tea with snack
English speaking skiing guide 
Snowmobile guide who makes the track on days 2–5 (especially for this group) and prepares outdoor lunches
Luggage transportation between accommodations
Single-timed group airport transfers (see 'Good to know' for further details)
5 x sauna, 1-2 x ice-swimming
Bedlinen and bath towels
You will need
- outdoor equipment
- leisure time clothing
- skis, boots and poles (possible to hire)
- rucksack (15-20 l)
- thermos flask
- head lamp / torch
The full gear list will be sent after booking.  
Good to know
DURATION
7 days / 6 nights tour. Arrival on Saturday, return on Friday.

GUARANTEED DEPARTURES
26.02.–04.03.2022
03.03.–09.03.2022
05.03.–11.03.2022
19.03.–25.03.2022

Other departures for groups on request. Season 1 February - 5 April.
GROUP SIZE
The tour is guaranteed to run without minimum number of participants. Max.12 persons.

DIFFICULTY
This tour is suitable for experienced cross-country skiers. Participants must have good cross-country skiing skills and a good physical condition. Daily legs may take up to 8 hours including a lunch break and several shorter breaks. Daily stages are from 25 to 42 km.

SOME BASIC FACTS ABOUT THE TOUR
-This is a cross-country skiing tour on tracks, not going "off the trails".
-This tour is for experienced cross-country skiers and require a good fitness.
-Daily skiing distances are 25–42 km. Daily skiing time including breaks is 5–8 hours.
-The track is made by snowmobile especially for the group, it's not a maintained track.
-Only classical technique can be used on this tour.
-Nordic skis (width approx. 44 mm) are the best choice for this tour. Skis can be waxable or non-waxable.

ACCOMMODATION
Accommodation is mostly on twin and triple sharing basis, quadruple rooms may be used in few cases. Shared facilities except on days 1 and 2 some rooms with private facilities available.Single rooms are not available.

TRAVEL
Flights are not included in the tour price. If you have anything unclear regarding flights or transfers, please do check with us before booking flights!

Important notes for arrival
The joining point for this trip is Kuusamo airport. Single-timed group transfer from Kuusamo airport to the first accommodation is organized to coincide with this Finnair flight from Helsinki: HEL-KAO AY487 18.30-19.45
If you arrive on an earlier flight you should wait at the airport or in the town. If you stay in Kuusamo before the tour, the pick-up from hotels located in Kuusamo town centre is available on prior request.   
Note: If you miss the scheduled group transfer on arrival and an extra transfer must be arranged to the starting point of the trip, the costs must be covered by you. To avoid this unpleasant situation it's not recommended to book flights with short connection time (less than 1 hour).

Important notes for return
On last day the single-timed group transfer is organized back to Kuusamo airport to coincide with this Finnair flight to Helsinki: KAO-HEL AY482 9.45-10.55
If you take a later flight or stay extra nights in Kuusamo, the drop off at Kuusamo town centre is available on prior request.   

Travel by bus/train
On arrival it is possible take a train (or bus) from Helsinki to Oulu and then a bus from Oulu to Kuusamo. The same applies to the way back to Helsinki.
The schedule must coincide with above mentioned transfer schedule.

PAYMENT
Deposit: 15 % of total amount will be charged at the time of booking.
Full payment: Due 14 days before the departure. The invoice for full payment will be sent by email. 

NOTES
It is essential that a passenger is covered by adequate travel insurance.
The tour is not suitable for persons with reduced mobility.    
We reserve all the rights to change the itinerary (route, accommodation) if the group size is 3 persons or less or if necessary due to weather/snow conditions.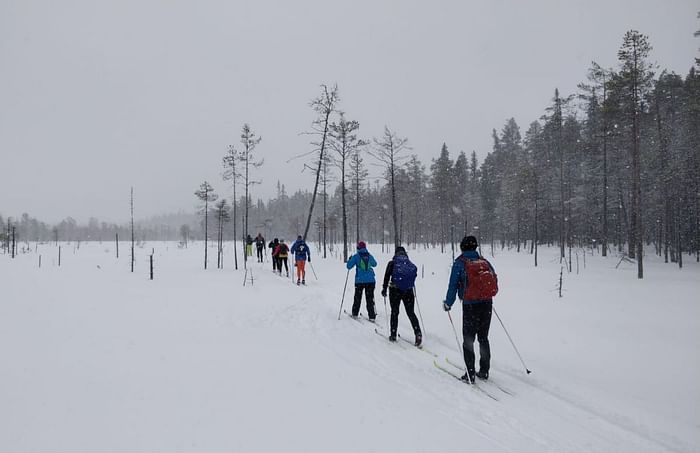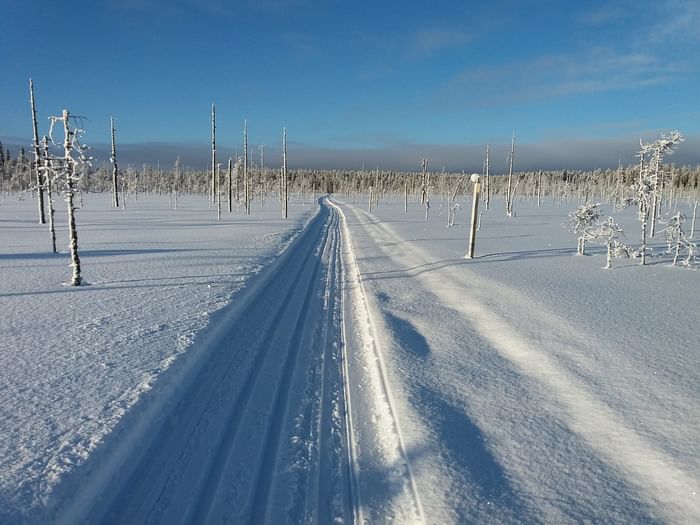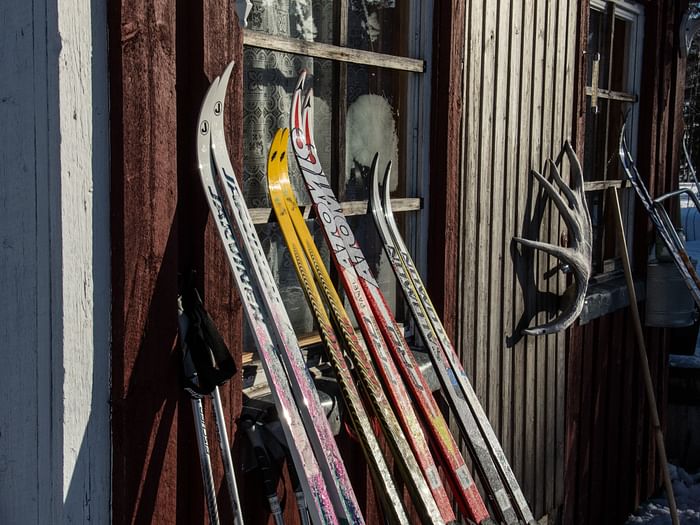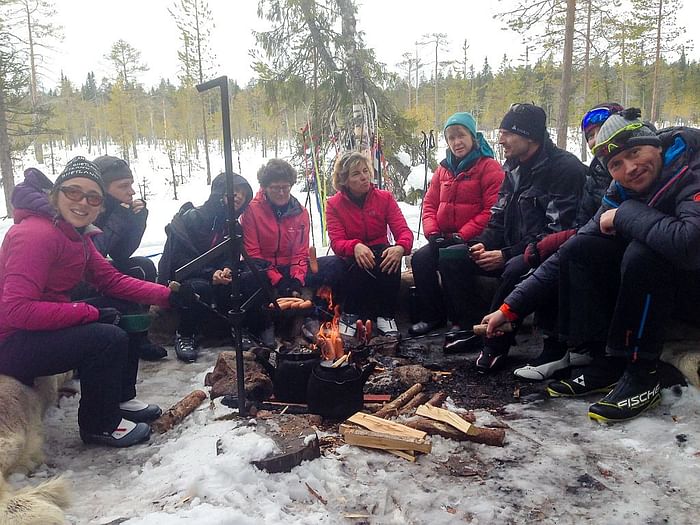 Ask for more information
Upitrek
Book now