Programme description
Escape to the unspoilt nature of the Finnish 'Taiga' forest and join our guided hut-to-hut hiking tour along Finnish-Russian border and in Hossa national park. This is a region steeped in culture, wildlife and wilderness experiences, many of which you will enjoy on this tour. The route we will take passes through the untouched wilderness and pristine nature, through primordial forests and mires, along ridges and shores of crystal clear lakes. You even get the chance to canoe on the same lakes and nearby rivers. Accommodation varies from log cabins to guest houses. The trail is mostly flat and easy to walk, therefore suitable for anyone of average fitness level.
Tour highlights:
* Pristine wilderness
* Glistening clear lakes
* Picnics around an open fire
* Lake-side saunas
* Hossa National Park
* Optional bear watching excursion
Detailed programme
Day 1. Arrival
Arrival at Kajaani/Oulu/Kuusamo airport (airport to be confirmed later) where you'll meet your local guide. Transfer (approx. 2-3,5 hours) to Martinselkonen Wilds Centre for dinner and overnight accommodation.  
Day 2. Martinselkonen Wilds Centre–Arola 16 km and optional bear safari
After a hearty breakfast we begin the tour by hiking through the Martinselkonen nature reserve towards Arola farm where we will be welcomed by our friendly hosts. The reserve has been set up to protect the Finnish wilderness, especially the swamp areas with its many birds and insects, from any encroachment of forest industry. Martinselkonen has watery mires, ponds and lakes, ancient forests and spruce trees draped in beard lichen. In the afternoon it is possible to join a 6 hour bear watching excursion which gives you the possibility to observe and photograph these majestic animals from the purpose-built log cabins. At the end of the day you will enjoy a special dinner made with the fruits of the forest and freshest local ingredients.

Bear safari
In the afternoon it's possible to join an optional 6-hour bear watching excursion (Note: In summer 2021 the excursion is available on 25 Jul and 8 Aug departures).  

Finnish eastern border area is one of the best areas in Europe for seeing and photographing European brown bears in their natural habitat. A special hide is a safe place to watch the wildlife up close while they eat and play by carcasses which have been laid out for them. Large windows give clear viewing and there are specially adapted camera holes in the walls for photographing. Hides are equipped with seats, beds and a toilet.  

Departure to the hides at 3 pm (a short car transfer and 0,5 km on foot) and return to the accommodation at 9-10 pm.
If you don't book this activity you have free time at the accommodation, possibility to have sauna etc.   
Day 3. Arola–Kovavaara 19 km
Today we head north along the Russian border. We follow the yellow pointers and there are several viewing points across to the other side. There is a picnic stop, (in front of an open fire with freshly brewed coffee) at one wilderness huts operated by the Finnish Forest and Park Service. Overnight accommodation will be in a rural cabin on the top of  Kovavaara hill. Although there are none of the modern comforts, you get to experience 1950's lifestyle in this living "museum". 

Day 4. Kovavaara–Hossa 18 km
After a short car transfer we set off on today's hike. This wild landscape is home to a healthy wolverine population, and although these secretive predators are seldom seen, we may come across their tracks. Swans and cranes can be spotted on the lakes and mires as we pass by. There are many swamp areas, but they are easily crossed on sturdy wooden platforms. The surrounding forest has an abundance of vegetation such as blueberries, lingonberries and mushrooms. The blueberry season is at its best in August and can provide ready snacks for hikers. 

Day 5. Hossa national park 13 km
The trek continues along the paths of the new Hossa National Park - the commemorative national park for Finland's 100th year of independence in 2017. Hossa is known for its crystal-clear lakes and pine heathlands. Trails, most of them easy to walk on, run through the handsome esker and lake scenery. We eat lunch at the Hossa Visitor Centre, and it's also possible to visit a small souvenir shop. Accommodation for the remaining three nights is at Jatkonsalmi cabin, where the lakeside sauna will be heated every night.

Day 6. Canoeing
For a change from walking, we take canoes onto the lakes and rivers close to our accommodation. We will use open Indian canoes. All necessary equipment, such as paddles and life vests will be provided. The tour will be on still calm waters. Reindeer are a common sight in Hossa as well as the occasional elk. For those ones who prefer to stay on dry land, there are plenty of well-marked hiking trails for you explore.
Day 7. Värikallio rock paintings 16 km
Today we set on a mystical trip back in time! We will hike to see the Värikallio Cliffs with ancient, shamanistic rock paintings dating back 4000 years. The rock paintings are the largest prehistoric paintings in Finland and portray the life of people at a time when spirits and natural forces were present everywhere. A picnic lunch will be enjoyed around an open fire and after that we will hike through the beautiful pine and spruce forest back to our accommodation. Sauna and farewell dinner at the Jatkonsalmi cabin. 
Day 8. Return
After breakfast transfer to Kajaani/Oulu/Kuusamo airport, 2-3,5 hours (airport to be confirmed later).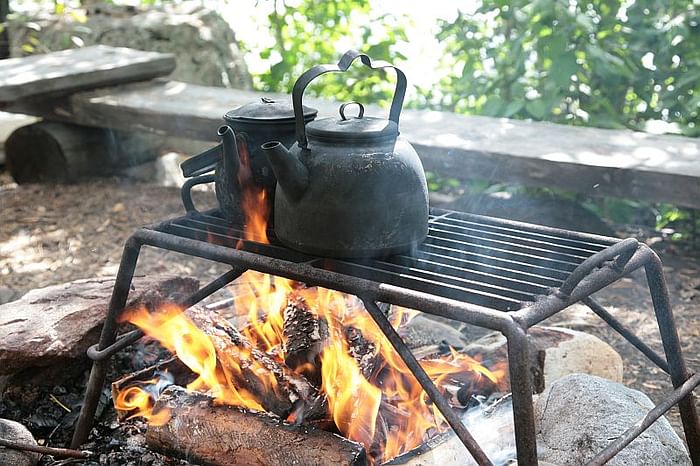 Included in this programme
7 nights accommodation in rooms for 2–4 persons with shared facilities. On day 3 no showers, only sauna and outhouse. 
7 x breakfast, 5 x picnic lunch, 1 x lunch, 7 x dinner, 6 x afternoon coffee / tea with snack
Single-timed group airport transfers on arrival and departure (see 'Good to know' for further details.)
Luggage transportation between accommodations
English-speaking guide 
6 x sauna
Canoe rental on day 6
Bedlinen and bath towels
Sleeping bag with mummy liner (one night)
You will need
CLOTHING
- trekking boots (recommended waterproof and with leg)
- walking trousers and jacket
- rain clothes
- leisure time clothing
- rucksack of 15–20 litres (to carry lunch, rain clothes etc. during the hiking)

The full gear list will be sent after booking.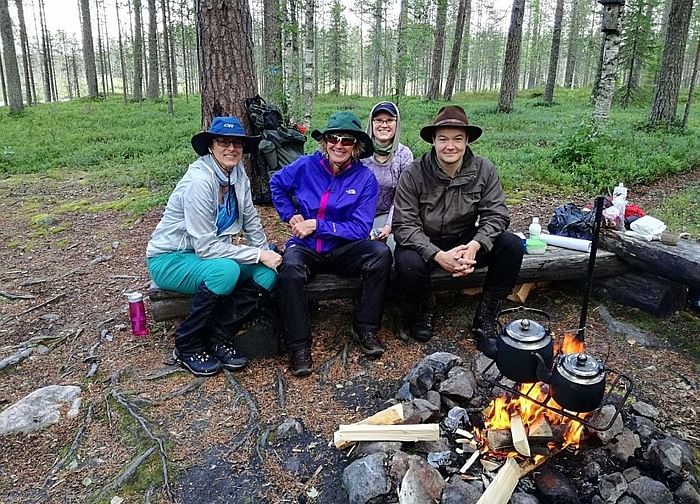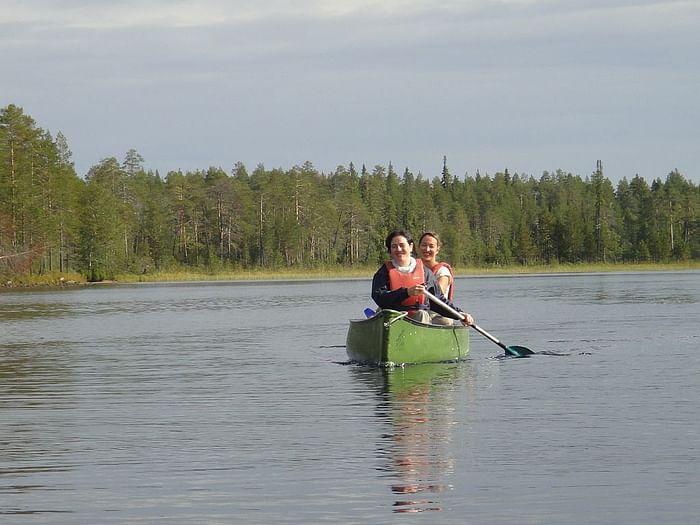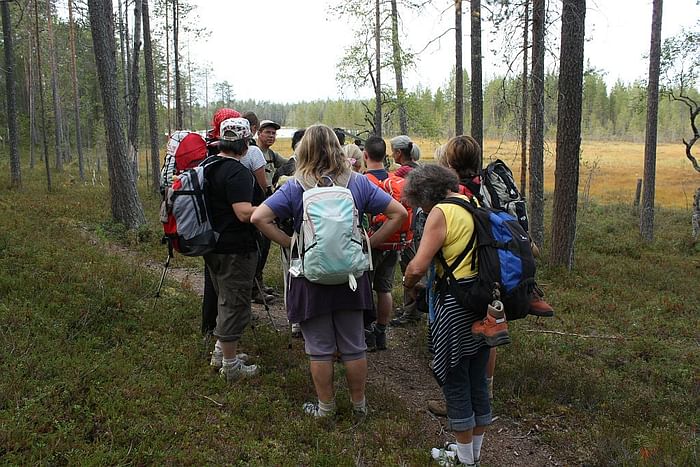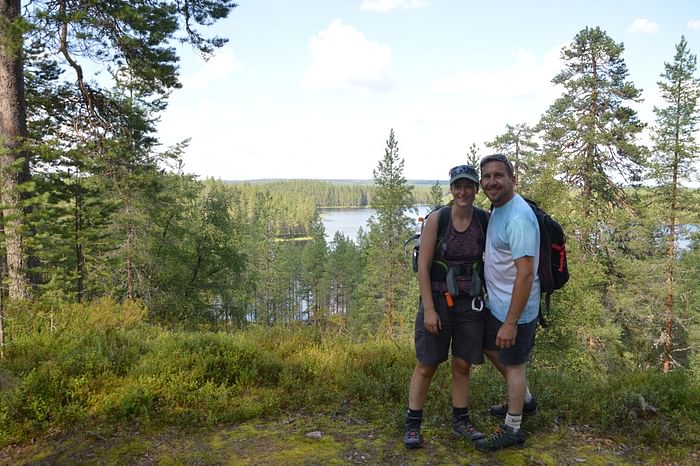 Ask for more information
Upitrek
Book now