Hut-to-hut hiking tour through Finnish eastern wilderness and in Hossa national park. Updated program for the summer 2023. Departures for groups on request.
Programme description
Escape to the unspoilt nature of the Finnish "Taiga" forest and join our guided hut-to-hut hiking tour. This ancient forest is in Kainuu, north east Finland. Kainuu is a region steeped in culture, wildlife and wilderness experiences, many of which you will enjoy on this tour.
The route we will take passes through the untouched wilderness and pristine nature, through primordial forests and mires, along ridges and shores of crystal clear lakes. You even get the chance to canoe on the same lakes and nearby rivers.
Accommodation varies from log cabins to guest houses.
The trail is mostly flat and easy to walk, therefore suitable for anyone of average fitness level.
Finland hiking holiday highlights:
* Pristine wilderness
* Glistening clear lakes
* Picnics around an open fire
* Lake-side saunas
* Hossa National Park
Programme information
Season
May 20-Sep 30
Departures 2023
For groups on request.
Duration
8 days/7 nights
Persons
Min. 8 persons, max. 13 persons
Place
Suomussalmi
Joining point
Kuusamo airport, please see "good to know" for further information.
Difficulty
Medium
Price
Depending on the group size, please ask for a quotation.
(Estimated price for a group of 10 persons 1150-1250 euro/person)
Included in the price
*7 nights accommodation in rooms for 2-4 persons. Mostly with shared facilities, on day 7 some rooms with private facilities available. *7 x breakfast, 4 x picnic lunch, 2 x lunch, 7 x dinner (snack on arrival night on late arrivals), 6 x afternoon coffee / tea with snack *Single-timed group airport transfers from/to Kuusamo airport on arrival and departure *Luggage transportation between accommodations *English-speaking guide *6 x evening sauna *Canoe rental with safety equipment (day 4)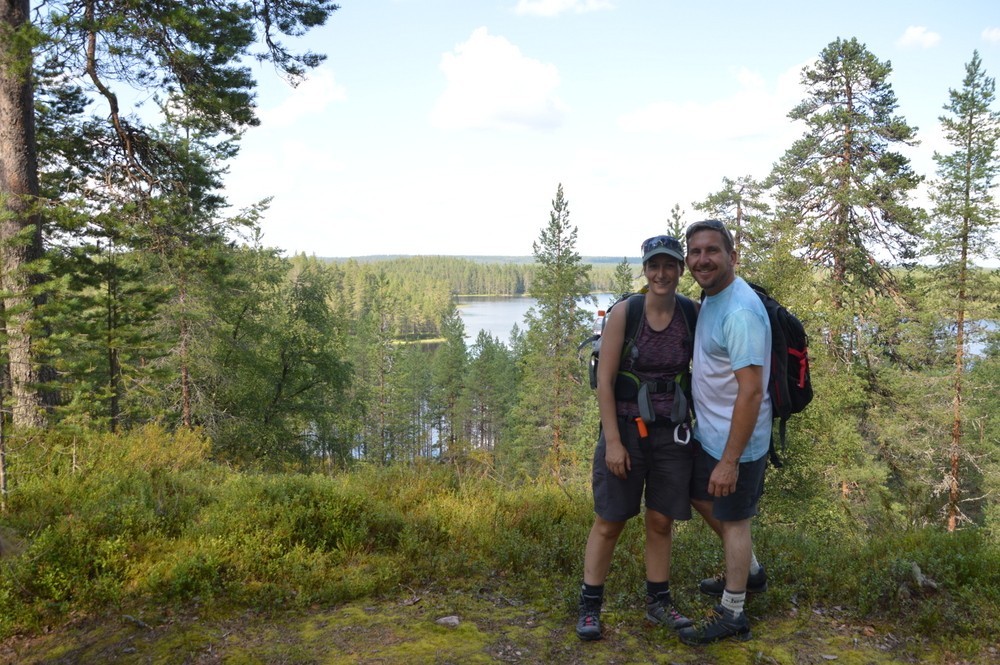 Detailed programme
Day 1: Arrival
Arrival at Kuusamo airport and one hour transfer to Jatkonsalmi cabin located on the shore of Lake Jatkonjärvi in Hossa national park. Check-in and dinner.
Day 2: Väririkallio rock paintings, 16 km
To start the week we set on a mystical trip back in time! We will hike to see the Värikallio Cliffs with ancient, shamanistic rock paintings dating back 4000 years. The rock paintings are the largest prehistoric paintings in Finland and portray the life of people at a time when spirits and natural forces were present everywhere. A picnic lunch with fresh brewed coffee and sandwiches will be enjoyed around an open fire and after that we will hike through the beautiful pine and spruce forest back to our accommodation. Sauna and dinner at the Jatkonsalmi cabin.
Day 3: Jatkonsalmi-Rajakartano, 13 km
Another hiking day in Hossa national park. Hossa is known for its crystal-clear lakes and pine heathlands. Trails, most of them easy to walk on, run through the handsome esker and lake scenery. We take lunch at the Hossa Visitor Centre, and it is also possible to visit a small souvenir shop. Accommodation will be at a former border patrol station renovated into a guesthouse.
Day 4: Canoeing – Hossa
For a change from walking, we take canoes onto the lakes and rivers close to our accommodation. We will use open Indian canoes. All necessary equipment, such as paddles and life vests will be provided. The tour will be on still calm waters. Reindeer are a common sight in Hossa as well as the occasional elk. For those ones who prefer to stay on dry land, there are plenty of well-marked hiking trails for you explore. (Duration of canoeing excursion approx. 6 hours.)
Day 5: Julma-Ölkky canyon lake, 10 km
After breakfast we take a 30-minute car transfer to Julma-Ölkky canyon which is a several kilometers long fracture valley. Julma-Ölkky canyon lake was formed in the valley and today's 10 km trail takes us around the lake. The rock wall rises to the heights of 50 meters and there are nice views to the lake from the trail. A suspension bridge over the lake is also a nice photo spot during the walk. After completing the hike, there will be a 1 hour transfer to our overnight accommodation Arola, where we will be warmly welcomed by our hosts.
Day 6: Day tour from Arola, 19 km
Today we start walking straight from the accommodation towards south along the eastern border. The surrounding forest has an abundance of vegetation such as blueberries, lingonberries and mushrooms. The blueberry season is at its best in August-September and can provide ready snacks for hikers. In the afternoon we return to Arola for the second night.
Day 7: Arola-Martinselkonen Wilds Centre, 16 km
After a hearty breakfast we begin our last excursion through the Martinselkonen nature reserve. The reserve has been set up to protect the Finnish wilderness, especially the swamp areas with its many birds and insects, from any encroachment of forest industry. Martinselkonen has watery mires, ponds and lakes, ancient forests and spruce trees draped in beard lichen. Our hiking tour will be completed on arrival at Martinselkonen Wilds Center which is another guest house housing a former border patrol station. There is a chance to have a final sauna, then after that, a well-deserved farewell dinner will be served.
Day 8: Return
After breakfast transfer to Kuusamo airport.
Good to know
HIKING
The path goes mostly in the forests and through the swamps. The terrain is fairly easy to walk and there are no big climbs on the route. The path is mostly quite narrow and there are roots and stones on the path so one must be careful and concentrate to not stumble.
We walk up to 19 kilometres daily, 3-4 km per hour. The longest days take about 6-7 hours including a lunch break and other shorter breaks. To participate in this tour a fair physical condition is required and participants shouldn't have any illnesses or injuries that affect walking. During the walking day you will only need to carry your usual daypack as your main baggage is transported by vehicle.
ARRIVAL
Joining point for the tour will be Kuusamo airport. Arrival by bus and train from Helsinki is possible as well. Please ask for further information.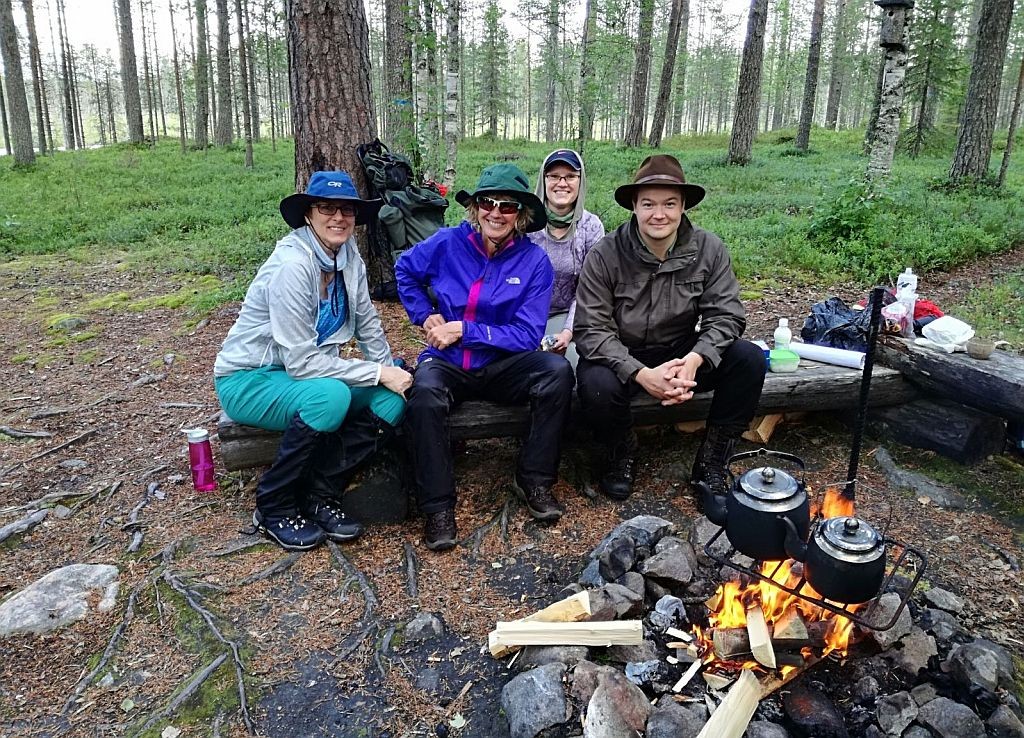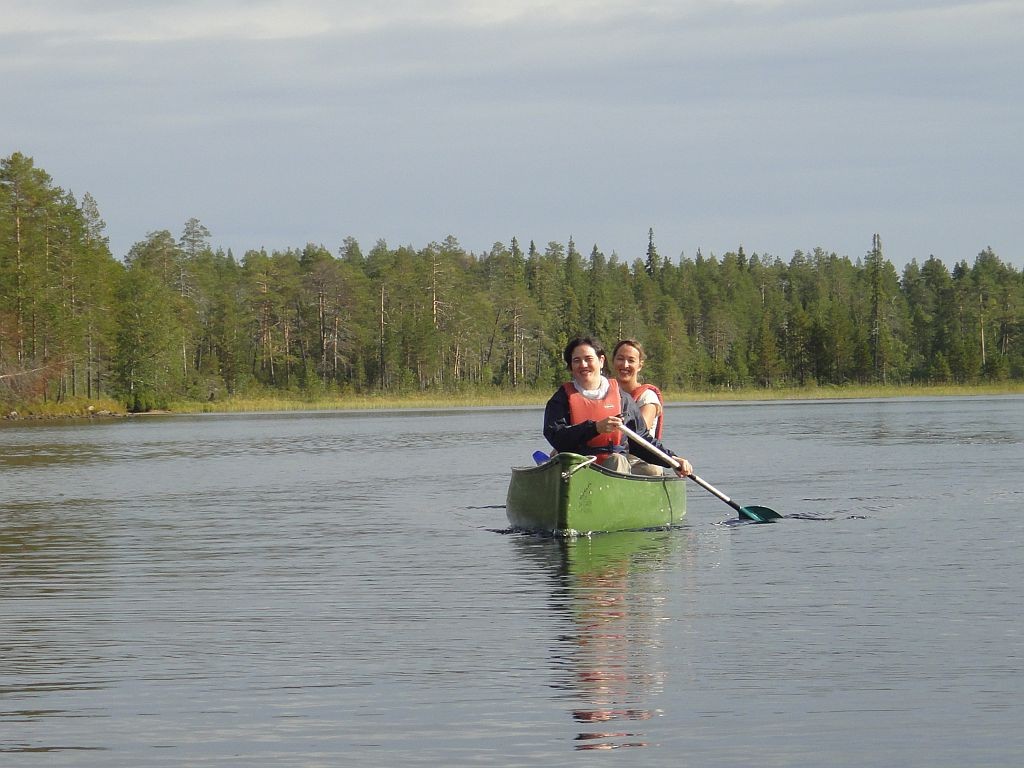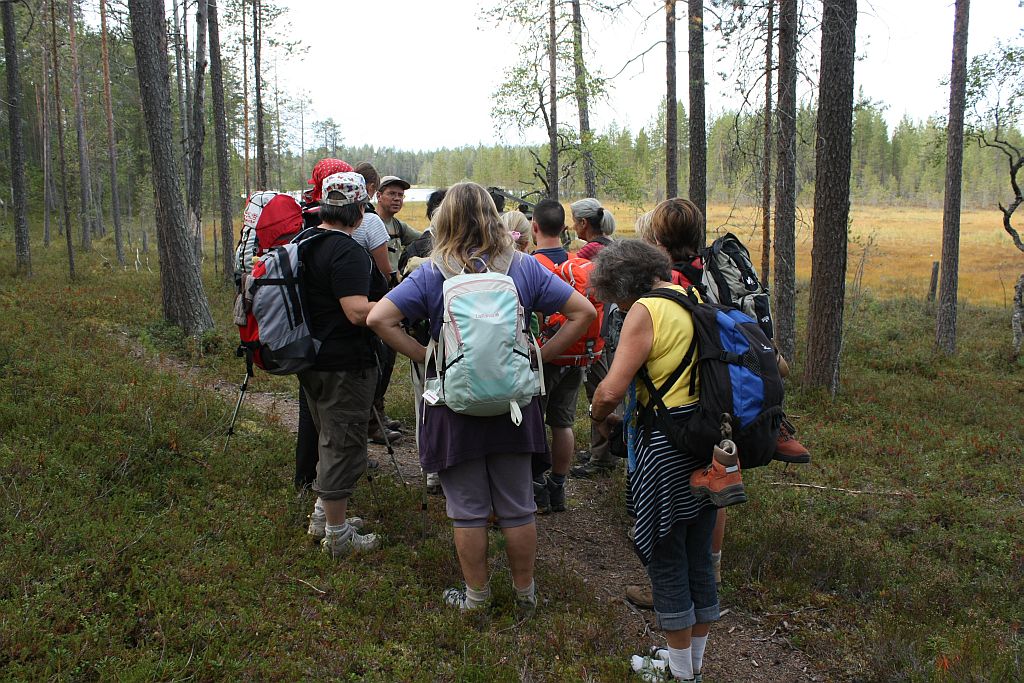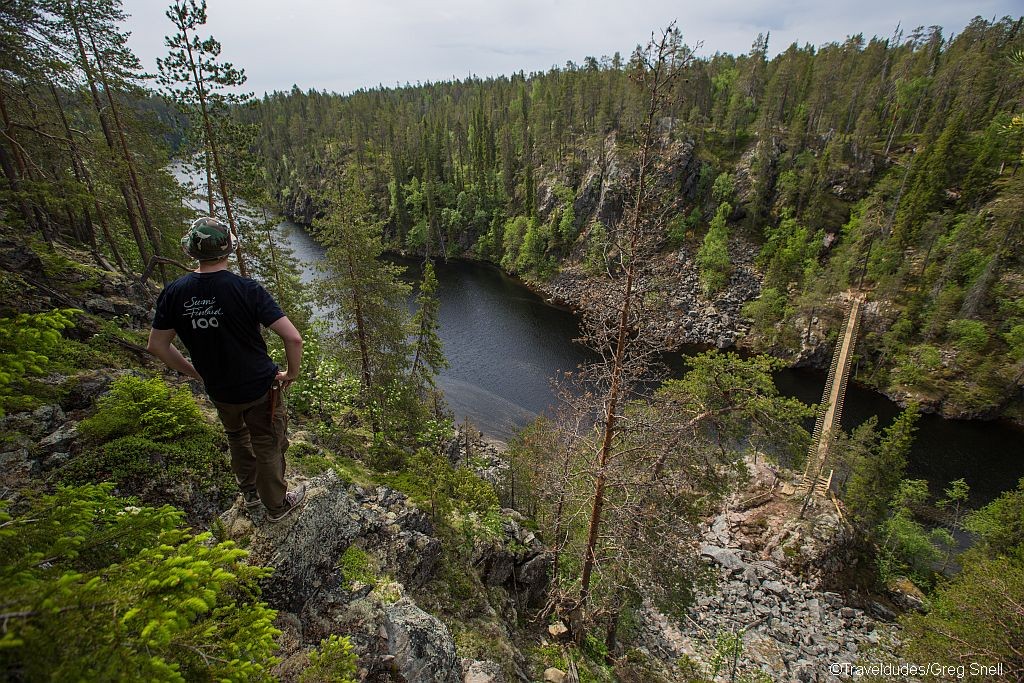 Ask for more information