Programme description
This backcountry skiing week is for those who want to get off the trails! You'll ski on unprepared trails through forests, swamps and lakes pulling your own sledge. During camping in wintry wilderness you'll surely find your little "inner survivor"! Together with other group members and guide, you set up the tents, collect firewood and prepare meals around an open fire. A dinner outdoors, under the stars, will surely taste almost as good as a dinner in a Michelin restaurant! In evenings you'll spend time in Finnish style – chatting around the fire and gazing at the flames. But when the darkness falls don't forget to take a look at the sky – with good luck you may witness Northern Lights' dance. The tour takes place in Urho Kekkonen National Park and in Kemihaara wilderness area in eastern Lapland, about 100 km north from the village of Savukoski.
Detailed programme
Day 1. Arrival
Arrival at Kuusamo airport and transfer (3 hours) to Savukoski, where we will accommodate for the first night. Dinner and briefing about the upcoming programme.
Day 2. Preparations
After breakfast an 1,5 hour transfer to Urho Kekkonen national park. On arrival we make the last preparations and pack the sledges. Food supplies and camping gear will be divided among participants. Once we are ready, the expedition begins!
Day 3. In the wilderness
Days 3-5
Enjoy full days of adventure in the wilderness! Everyone will pull an own sledge packed with all the equipment and food needed for the 5-day trip in the wilderness. We will sleep the nights in one or two large heated teepee-tents or in shelters by the fire. The firewood will be collected from the forest and water will be taken from rivers or it will be melted from the snow. Breakfasts and dinners will be taken together and everybody participates in preparations. Participants will also help the guide to collect firewood and set up the camps.
We will ski daily about 6 hours but daily skiing distances depend a lot on the snow and weather conditions and participants' abilities. The daily routines take plenty of time and skiing with a sledge is slow, so we won't cover a great amount of kilometres. The route is flexible so we can tailor our plans, eg. overnight stops, according to the group and weather conditions. Skis are 7 cm wide and 2 m–3 m long traditional Finnish skis for forest conditions.
Day 6. End of expedition
The skiing tour ends at Kemihaara from where we have an 1,5 hour transfer back to Savukoski. At the accommodation we can enjoy a steaming hot traditional Finnish sauna – a great experience after the days outdoors!
Day 7. Return
Breakfast and transfer (3 hours) to Kuusamo airport for the afternoon flight to Helsinki.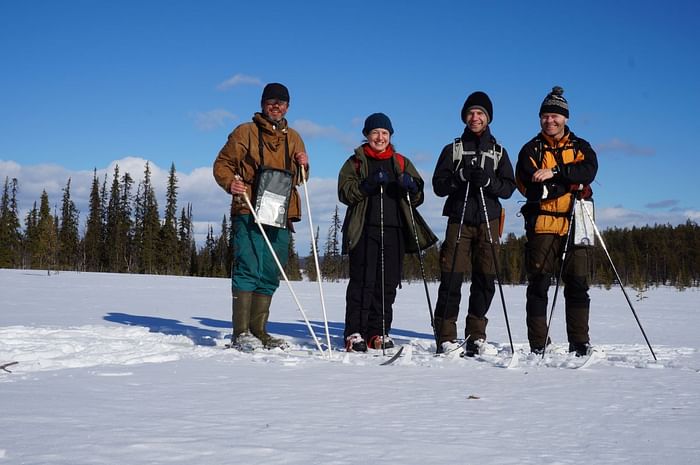 Included in this programme
Accommodation on days 1 and 6 in cabins for 2–4 persons, on days 2–5 in tents 

Full board: 6 x breakfast, 5 x lunch, 6 x dinner  

Services of the English speaking skiing guide  

Single-timed minibus transfers from/to Kuusamo airport  

Evening sauna on days 1 and 6 

Skiing gear (skis, poles, boots)

A sledge for each participant 

Camping gear  
You will need
windproof jacket and trousers for skiing

warm clothes for free time

thermos flask

head lamp / torch
The full gear list will be sent after booking. 
Good to know
DURATION
7 days / 6 nights

GUARANTEED DEPARTURES
17.03.–23.03.2024
31.03.–06.04.2024
Other departures for groups on request. Season 01 February - 15 April.

PRICE
1300 € p/p

GROUP SIZE
The tour is guaranteed to run without minimum number of participants. Max. 6 persons.

SOME BASIC FACTS ABOUT THE TOUR
- Some previous experience on cross-country skiing and a good fitness are required to participate in this tour.
- Daily skiing time is approximately 5-7 hours. Distances depend on the snow conditions.  
- There is no track, occasionally some snowmobile tracks can appear.
- The route goes in forests, crosses lakes and swamps. There are hilly sections and with sledge some of the uphills are pretty demanding. However, the difficulty depends on a lot about snow conditions – in soft snow pulling a sledge takes lots of energy and skiing is slow, on harder snow conditions less effort is needed.
- Finnish forest skis (width approx. 70 mm) are the best choice for this tour. Skis, poles and warm winter boots are included in the tour price.
- See the location here.

ACCOMMODATION
The first and last night is spent in a hotel/hostel type rooms in Savukoski area. Accommodation on twin / triple sharing basis.
During the ski tour you sleep in heated tents or open shelter. Tent is not heated during the night but a good sleeping bag keeps you warm.

TRAVEL
Flights are not included in the tour price. If you have anything unclear regarding flights or transfers, please check with us before booking flights!

Arrival
17.03.: Pick up from Kuusamo airport from Finnair flight HEL-KAO AY485 or from Kuusamo town centre around 13.00.
31.03.: Pick up from Kuusamo airport from Finnair flight HEL-KAO AY489 or from Kuusamo town centre  around 12.00.

Return
23.03.: Transfer for the flight KAO–HEL AY486
06.04: Transfer for the flight KAO–HEL AY490

Travel by bus/train
It is possible take a train from Helsinki to Oulu and then a bus from Oulu to Kuusamo. The schedule must coincide with above mentioned transfer schedule.

PAYMENT
Deposit: 15 % of total amount will be charged at the time of booking.
Full payment: Due 14 days before the departure. The invoice for full payment will be sent by email. 

NOTES
It is essential that a passenger is covered by adequate travel insurance.
The tour is not suitable for persons with reduced mobility.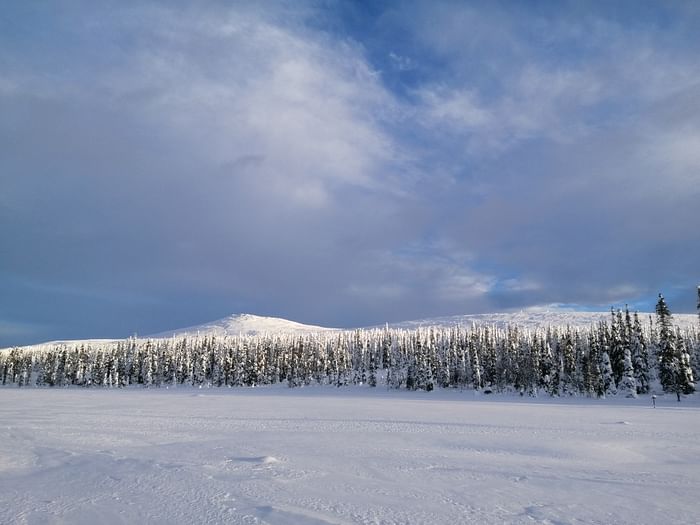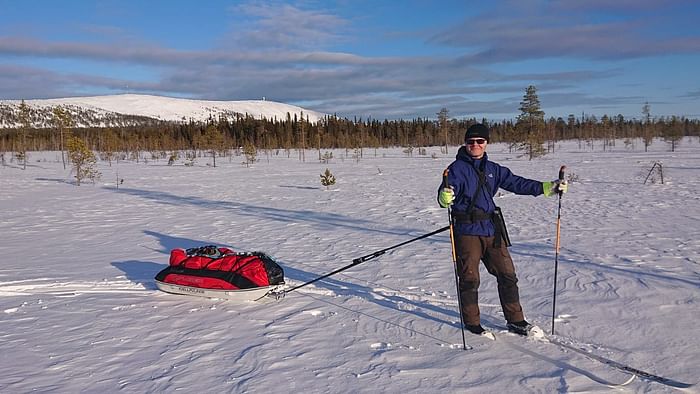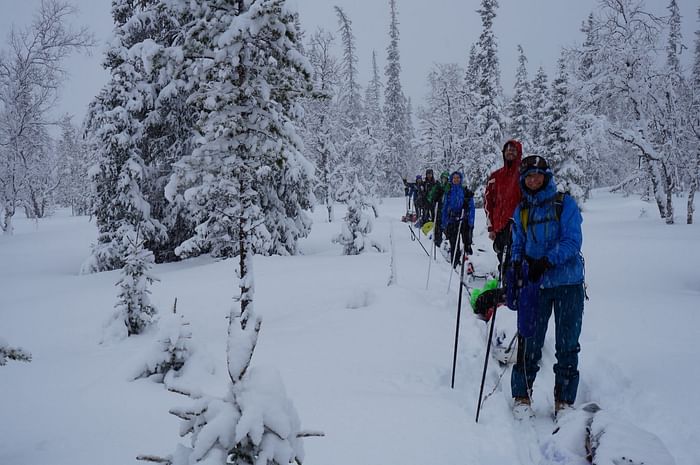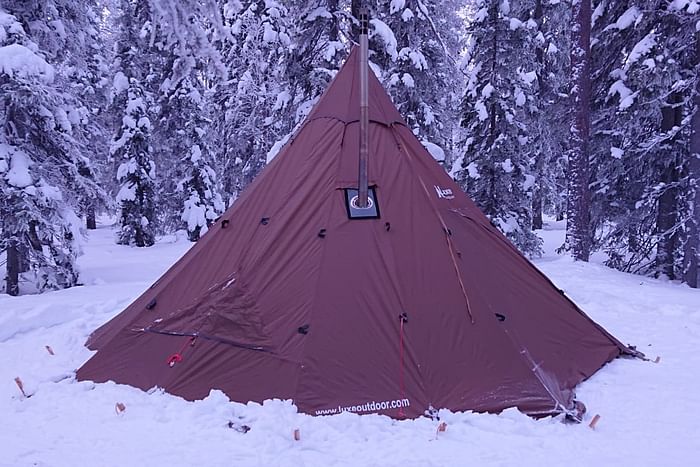 Ask for more information
Upitrek
Book now