This water route was already used by hundreds of tar rowers, when they transported tar by boats a century ago to be sold in Oulu, from where it was transported further for the use of English and German merchant fleets.
Programme description
Day programmes / Route description:
The canoeing route runs mainly on small lakes, which have short rapids and river sections between them. There isn`t much settlement or cottages on the shores and thus there are many landing places to choose from. Lake Lentua has numerous protected islands on which it is possible to have a break by a campfire or to stay overnight in a lean-to. One island also has a shelter cabin and sauna. Almost all lakes along the route have landing places where one can cook or stay overnight. By the route there are numerous suitable places to start or end the trip.
Programme information
Kausi:
1.6. -30.9.
Paikka:
Kuhmo Eastern Finland
Kesto:
4 - 20 days
Henkilöt:
1 -30
Hinta:
140 €/tandem canoe/ 4 days , + 25 € / extra days
Camping equipment : tent 10 €/night, sleeping bag+ matress 5€/night, Trangia burning set +fuel 5 €/day
Yksittäinen hinta:
Hintaan sisältyy:
Canoe rent incl. paddles, life jackets, waterproof containers, canoeing map and assistance in planning your route.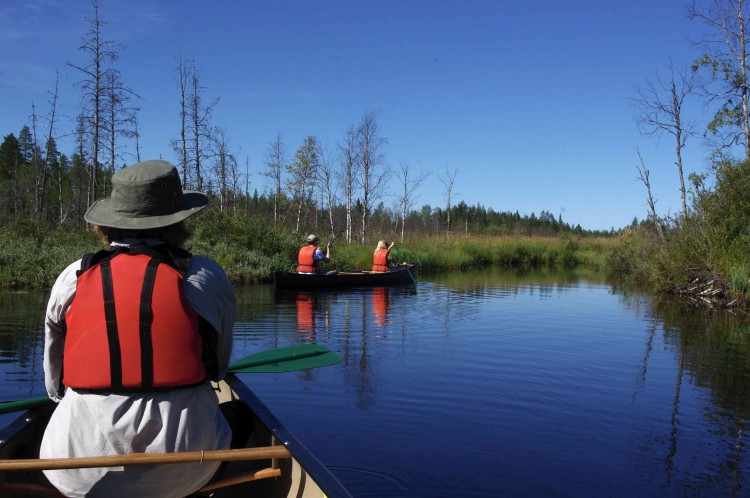 Detailed programme
Description of difficulty:
Most common start place is village Lentiira 42 km north from town Kuhmo. The canoeing route runs mainly on small lakes, which have short rapids and short river sections between them. After lake Lentiirajärvi there is the river Lentiirajoki and lake Iivantiirajärvi. The rapids Vuonteenkoski and Kaarneenkoski are situated between lakes Iivantiirajärvi and Lentua and the rapids Vuonteenkoski (classification I – II) can be easily bypassed by land and the rapids Kaarneenkoski can be bypassed using an old way on the shore made for tar rowing and log floating.  The most beautiful  lake on route is Lentua which has numerous protected islands. On lake have severe landing places where one can cook or stay overnight. The most magnificent rapids are the Lentuankoski (II), which can be easily bypassed. The rapids Pikku-Lentuankoski are easy to paddle, but it can also be bypassed by a built wharf on the shore. By lake Lammasjärvi there is the town of Kuhmo. Quite in the middle of the town there are the rapids Pajakkakoski ( II) and the last rapids near lake Ontojärvi are the rapids Saarikoski (II), after which the waters are regulated.
If You are experienced paddler You can start the trip on lake Änättijärvi (60 km north from town Kuhmo) and thus the distance to the most demanding rapids Änättikoski is about 15 km. The rapids is long and under high flow conditions difficult for an open canoe.
Good to know
Transfer to/from start point from Kuhmo 80 – 120 € /1 – 8 persons
Pricelist for extra equipment 2023:
Tent (2 -3 persons) 10 €/night, 5 € extra nights
Sleeping bag + matres 5 €/night,  3 € extra nights
Trangia camping burner set 5 €/day, 3 € extra day
Fishing equipment 5/€ day
Fishing license 17 €/ week
How to reach:
Kajaani airport and railway station ca. 100 km.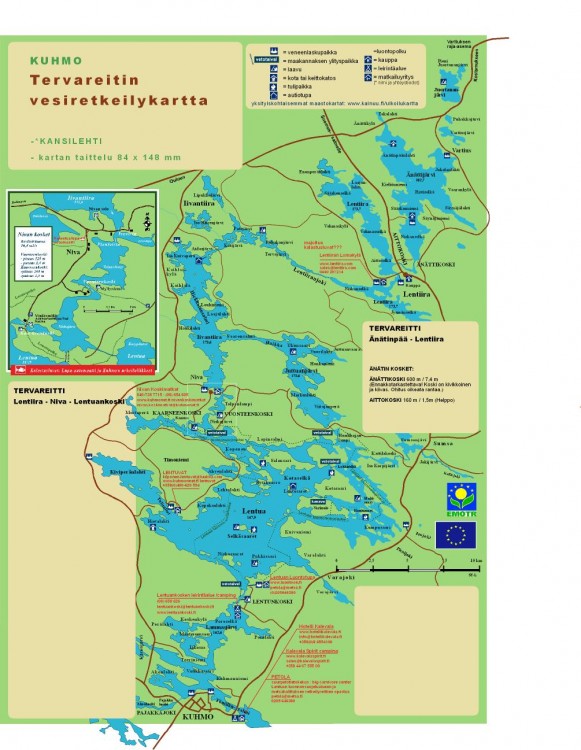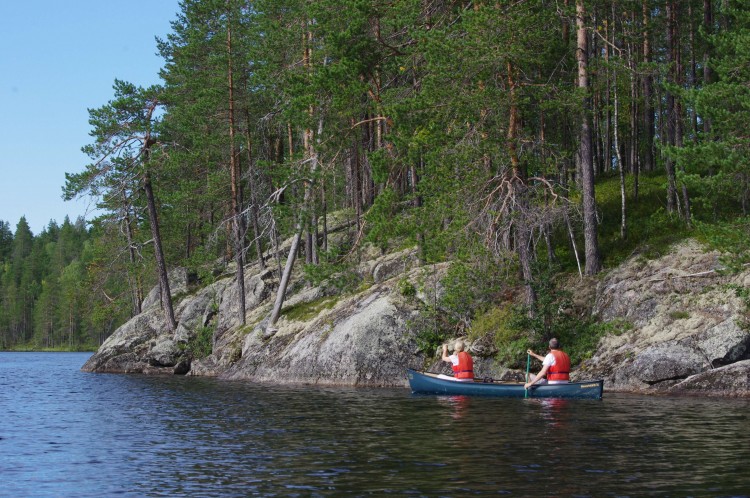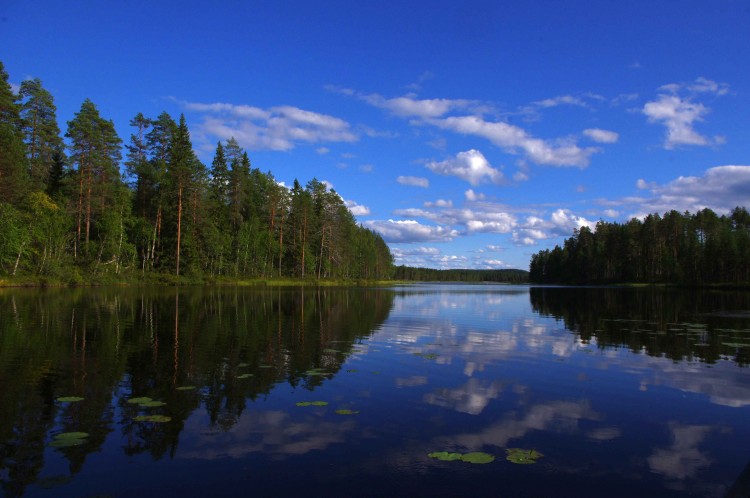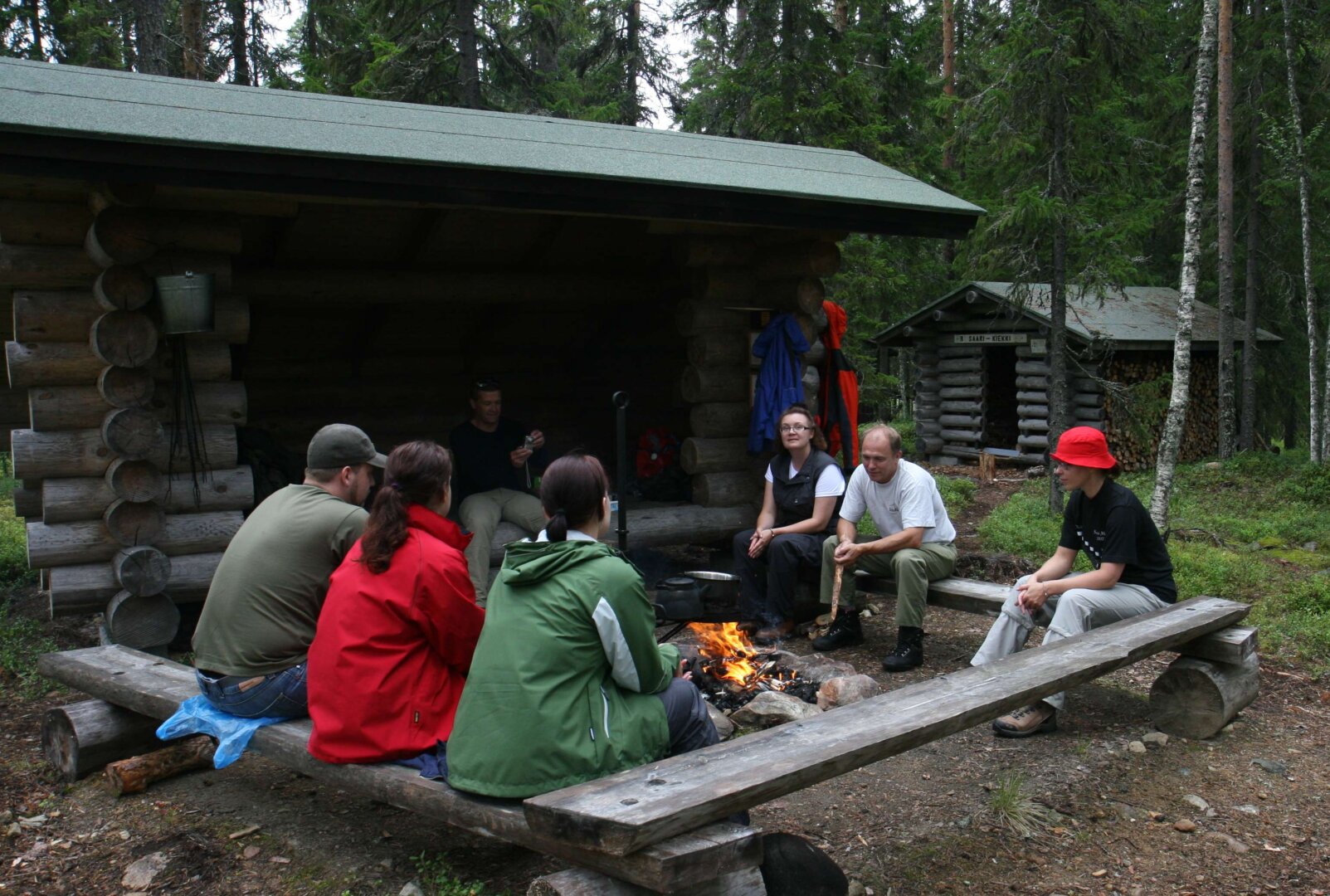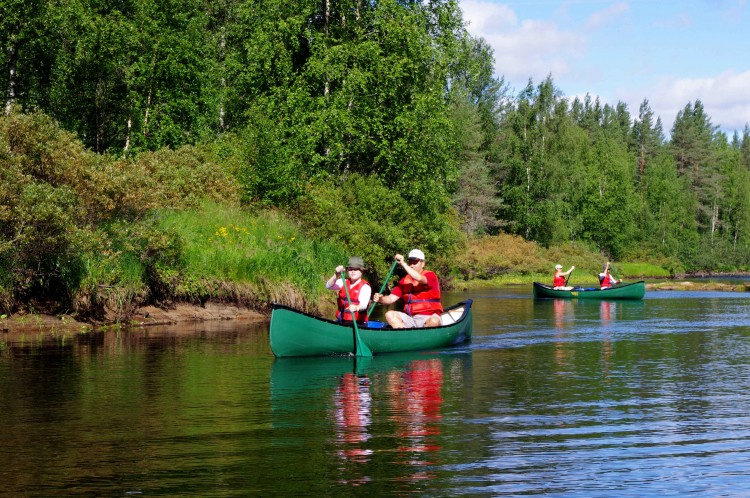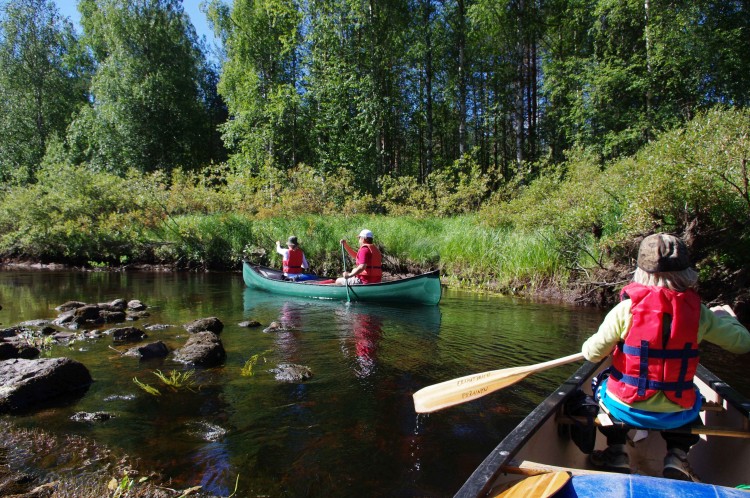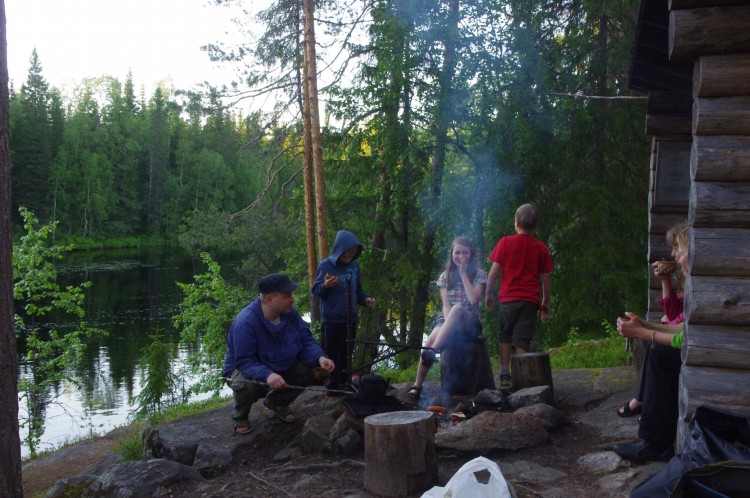 Ask for more information