What to wear in the winter in Finland?
15.11.2022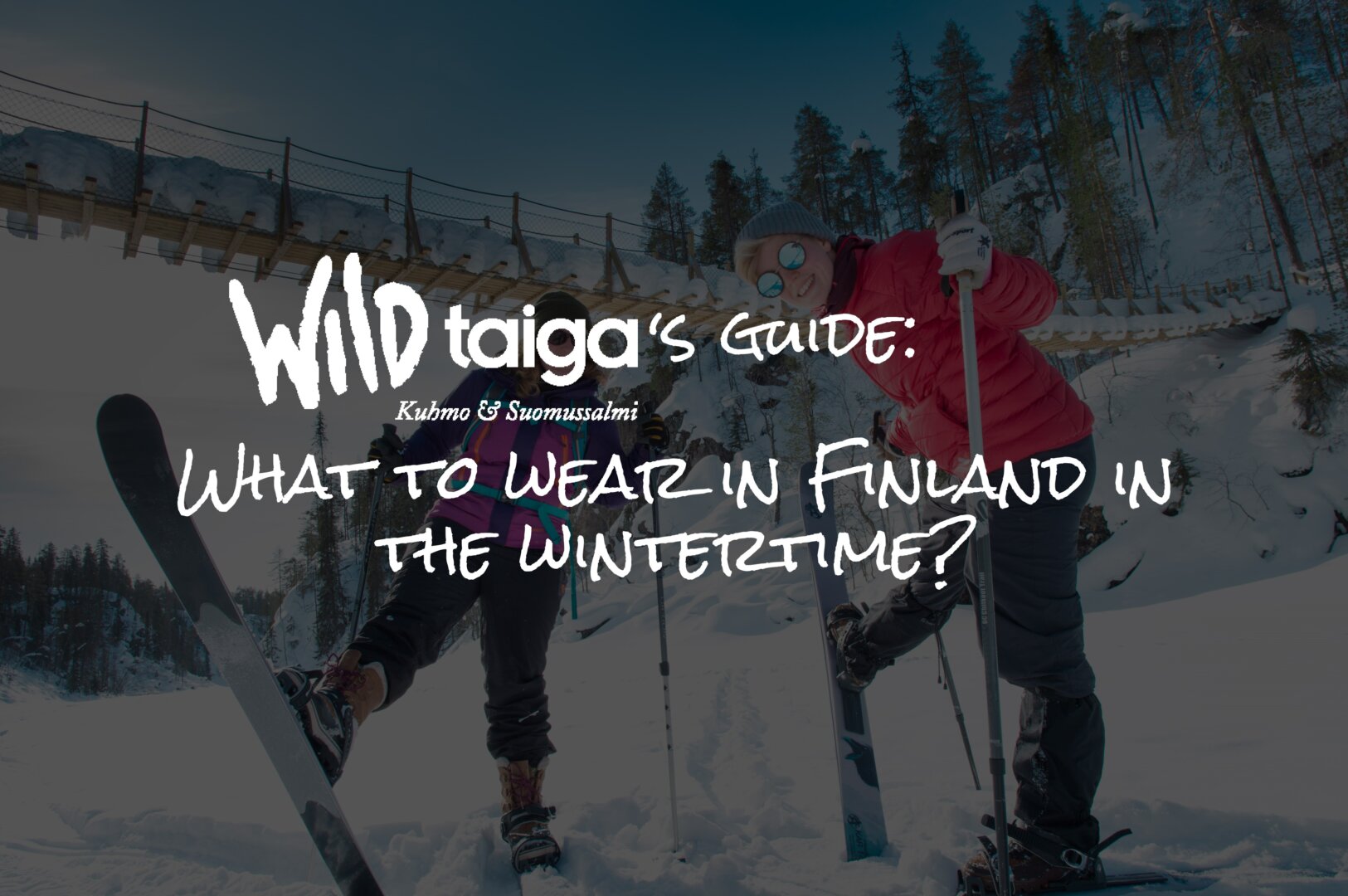 The ultimate dressing guide for the Finnish winter by local guide
Are you considering a trip to Finland in the wintertime? Perhaps you have never traveled this north before and you have no idea, what kind of clothing you should pack. From this article you get advice from a Finnish wilderness guide who has a lot of experience of staying in extreme temperatures both in Lapland and Arctic Lakeland area.
How cold will it be in Finland during the winter and how do I deal with it?
The temperature in the wintertime varies a lot. Someday it might be +2 °C degrees and some other – 35 °C!  The temperature might feel quite extreme when you arrive, but you will get used to it fast. The key is to dress correctly.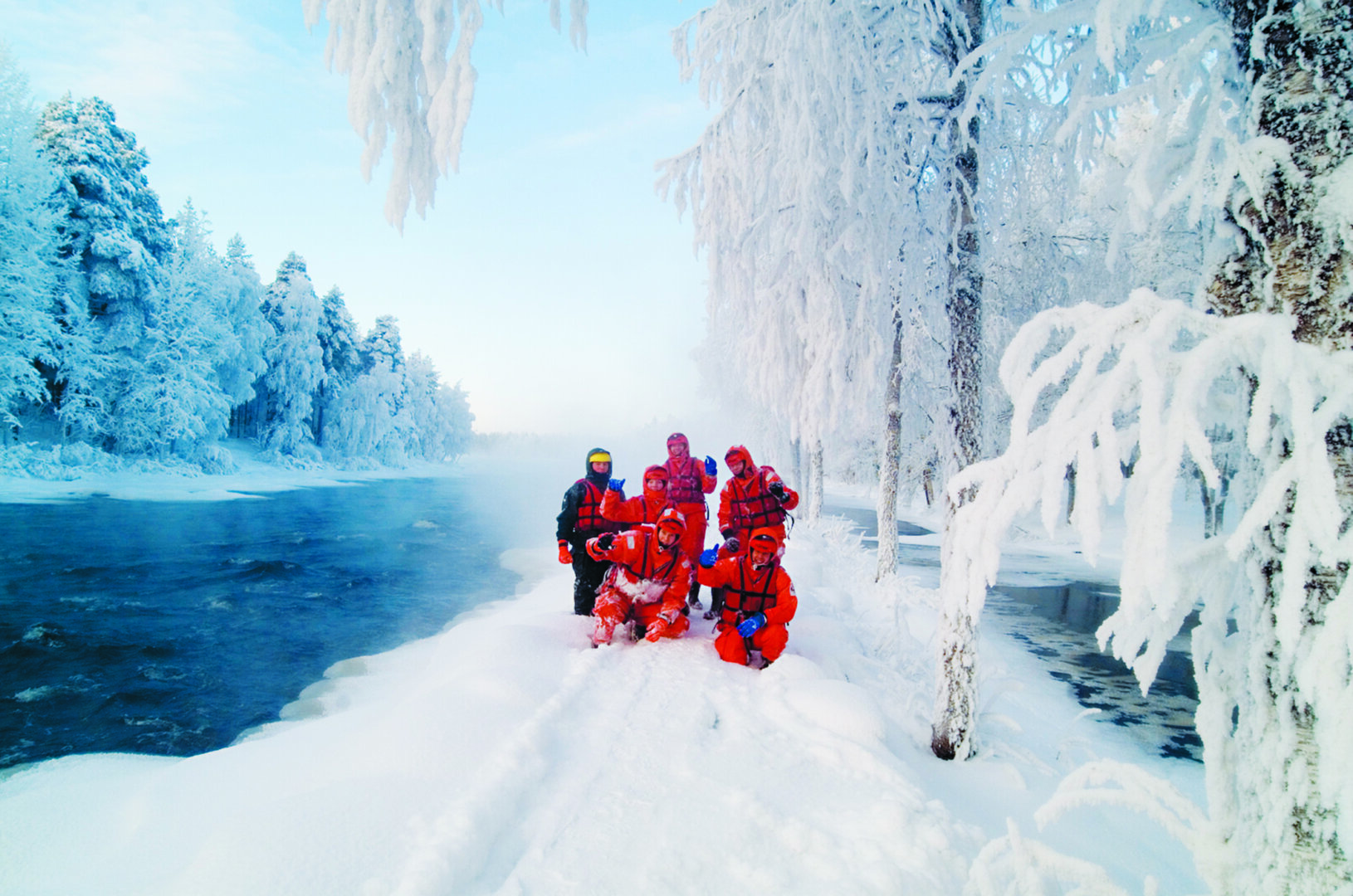 What should I wear for Finnish winter?
Pay attention to the materials. Cotton clothes are not the best option for the winter because cotton feels cold and even colder if it gets moist. Acrylic is another bad choice because it won't let the moisture get away from your skin.
The key is the layers. Bottom layer should be something thin and breathing. Depending on your budget, you should choose thin merino wool or polyester set of underwear. And when we talk about underwear, we mean long sleeve shirt and pants. Beneath them you can wear your everyday underwear.
Mid layer should be something that keeps you warm. Thicker wool set with shirt and pants is the best choice, fleece is another good option. (We recommend wool, since fleece releases a lot of microplastic when you wash it!)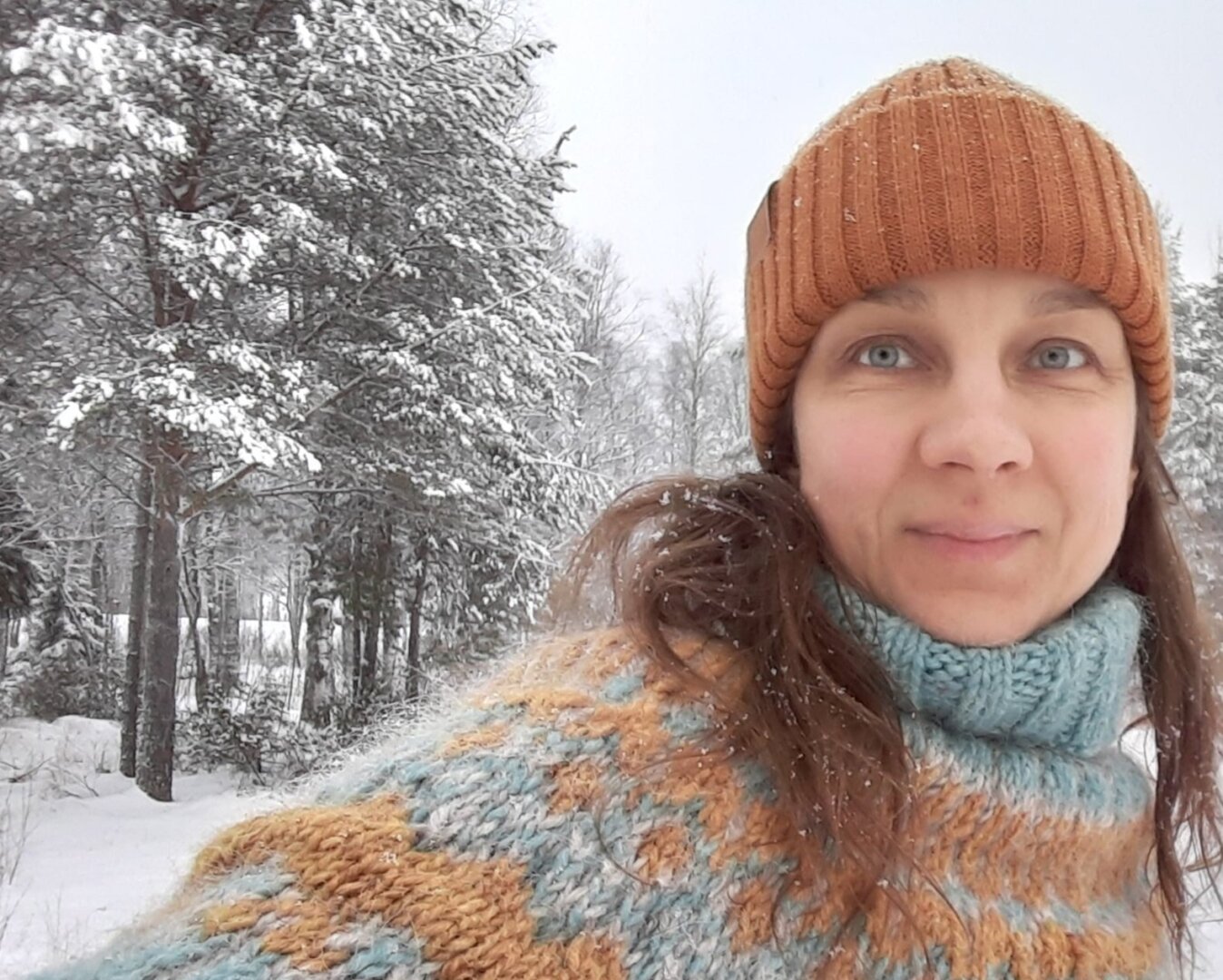 Sanna from Lentiira Holiday Village is using thick wool shirt sometimes as a top layer. When the temperature falls, wool shirt becomes the mid layer and a winter jacket comes on top.
Top layer keeps you protected from the wind and offers extra protection from the cold. You should wear loose winter jacket and loose winter pants or an overall. It is important that the clothes are not too tight, because the air in between the layers keeps you warm. Loose top layer also allows you to add more layers beneath if the temperature suddenly falls more.
I know, you might not feel the most stylish when you look like the Michelin man, but trust me, your holiday is going to be so much more enjoyable, if you're not freezing all the time.
What about toes, fingers and head?
One place where you feel the cold the most is your toes. Wear at least two pairs of socks on top of each other. Bottom sock should be again something breathing, like thin sport sock. On top of that you should have a thick wool sock. Best shoes are winter boots that has a little bit empty space in front of your toes, again the air keeps the cold away and you have space to add toe warmers if you still feel cold.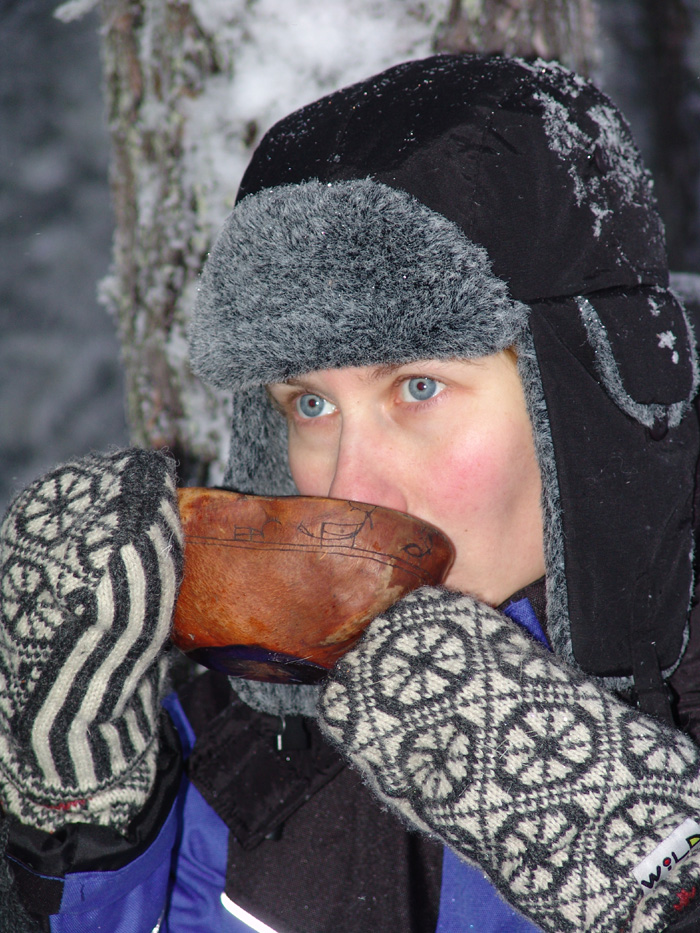 Fur hat protects your head much better than a beanie. This customer of Hotel Kalevala is well prepared!
Fingers are another spot that gets cold very easy. It's a good idea to pack two gloves with you. On the bottom you can wear for example knitted or leather gloves and on top of them mittens. If you feel still cold, slip a hand warmer inside of your mitten.
A lot of heat escapes from your neck and head so don't forget the hat and scarf! Again, wool is great choice, but you can try other materials too. Wool beanie is a good choice, on coldest days a fur hat is a lifesaver! Hopefully your jacket has a hood, it gives a lot of warmth when you put it on.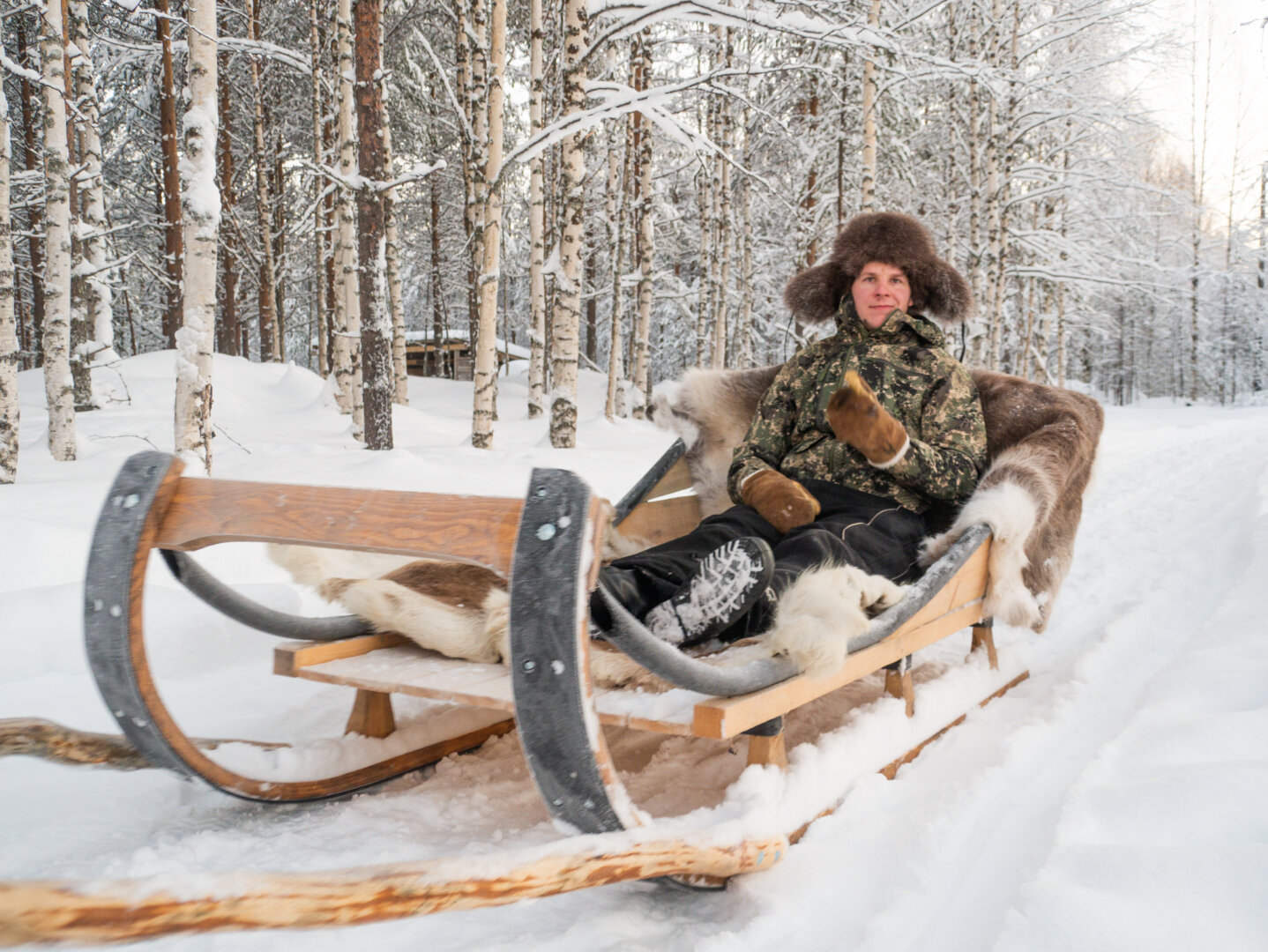 Sleigh rides are one of the coldest activities to do in Finland, since you are not moving alot. You can do a sleigh ride at the Korpiporo farm in Suomussalmi.
Where can I buy winter clothes for Finland? Is it going to be expensive?
You should head to a sport store to get clothes with the right materials. Fashion shops have also warm looking knits and other stuff, but they are usually made of bad materials like acrylic.
Good clothing is pricey, but you can also consider if you actually need to buy everything. Many hotels and safari companies in Finland offers you a chance to rent overalls, hats and boots. If you know that you will need winter clothes only during this trip, we advise you to rent. It is also more sustainable, and sustainability is important value for us. Usually the clothing is included in the safaris but you can ask if they can rent the clothes for your whole stay.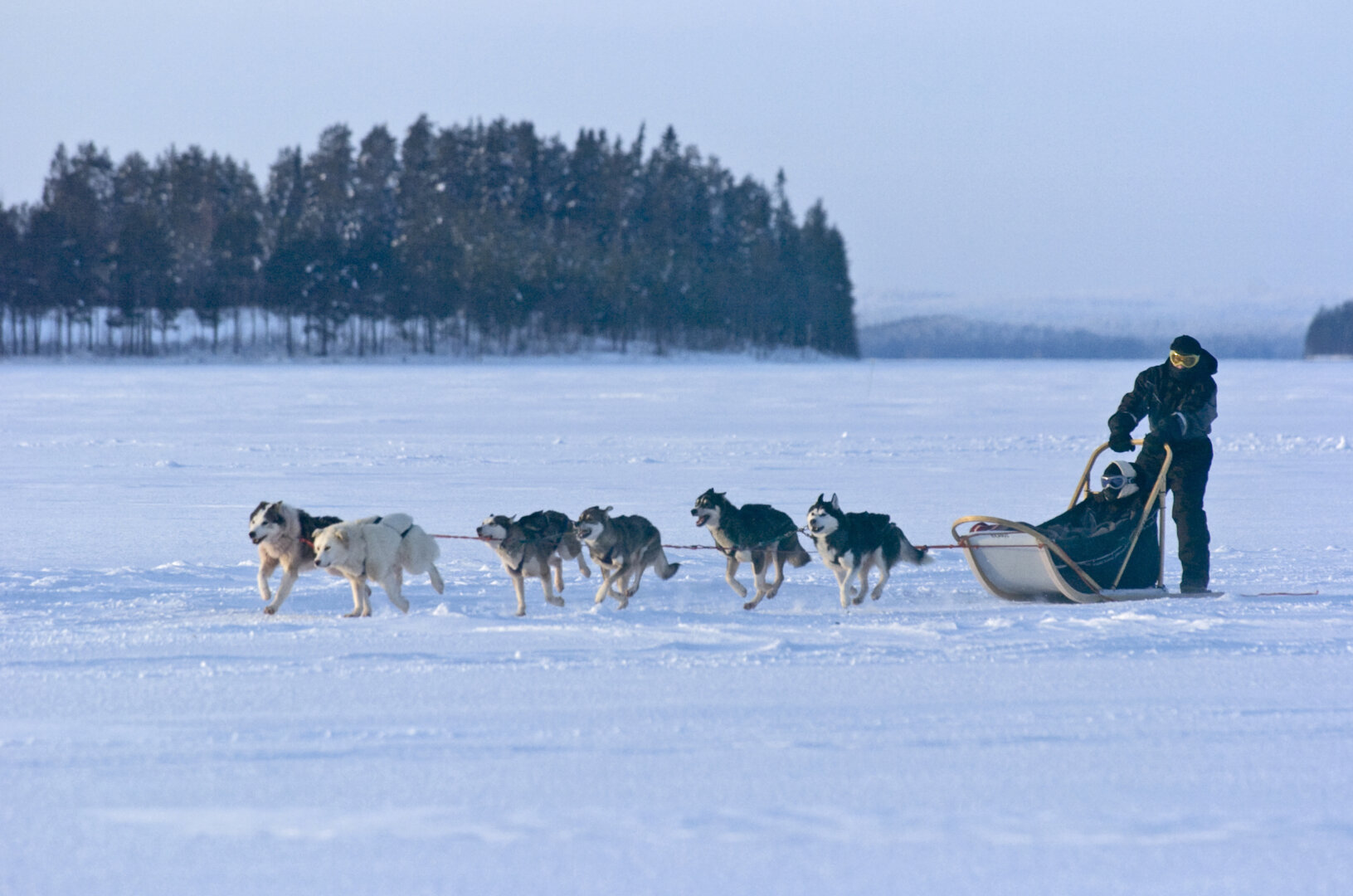 Borrowing warm overall, shoes, mittens and a hat are almost always included on the coldest winter activities, like husky sledding, snowmobiling and ice fishing.
These Wild Taiga companies are renting winter clothing for their customers:
How many layers for which temperature?
Like I said earlier, the layers are the key. When it gets colder, you add more mid layers and socks. From this chart you find examples for amount of clothing. Remember, everybody resists cold differently, so this is just directional advice:
| | | | |
| --- | --- | --- | --- |
| Temperature | 0 °C – -15 °C | -15 °C – -25 °C | -25 °C < |
| Underwear | Thin breathing set | Thin breathing set | Thin breathing set |
| Mid layer | Warm layer | 2 warm layers | 3 warm layers |
| Top layer | Thick jacket and pants/ overall | Thick jacket and pants/ overall | Thick jacket and pants/ overall |
| Feet | 2 pairs of socks, boots | 2 pairs of socks and toe warmers, boots | 3 pairs of socks and toe warmers, boots |
| Head | Beanie | Fur hat | Fur hat |
Coolest activities in Wild Taiga
Now that you are prepared, it's time to check some activities:
Winter activities of Wild Taiga:
Would you like to do snowshoeing in a snowy forest, looking for animal tracks? Or perhaps you want to float down a freezing rapid or do ride a horse in a winter wonderland? See our winter activities. 
When you have had enough time outside, remember also other activities:
Eat fresh local food in one of our restaurants. Get to know also our culture and traditions by visiting art exhibitions and museums.
I, and all the Wild Taiga enterprenours are warmly welcoming you to visit our beautiful, snowy area! See here, how do you reach us.

– Kerttu Komulainen