Delicacies from Lapland and Kainuu at the Kuhmo Chamber Music Festival
5.6.2019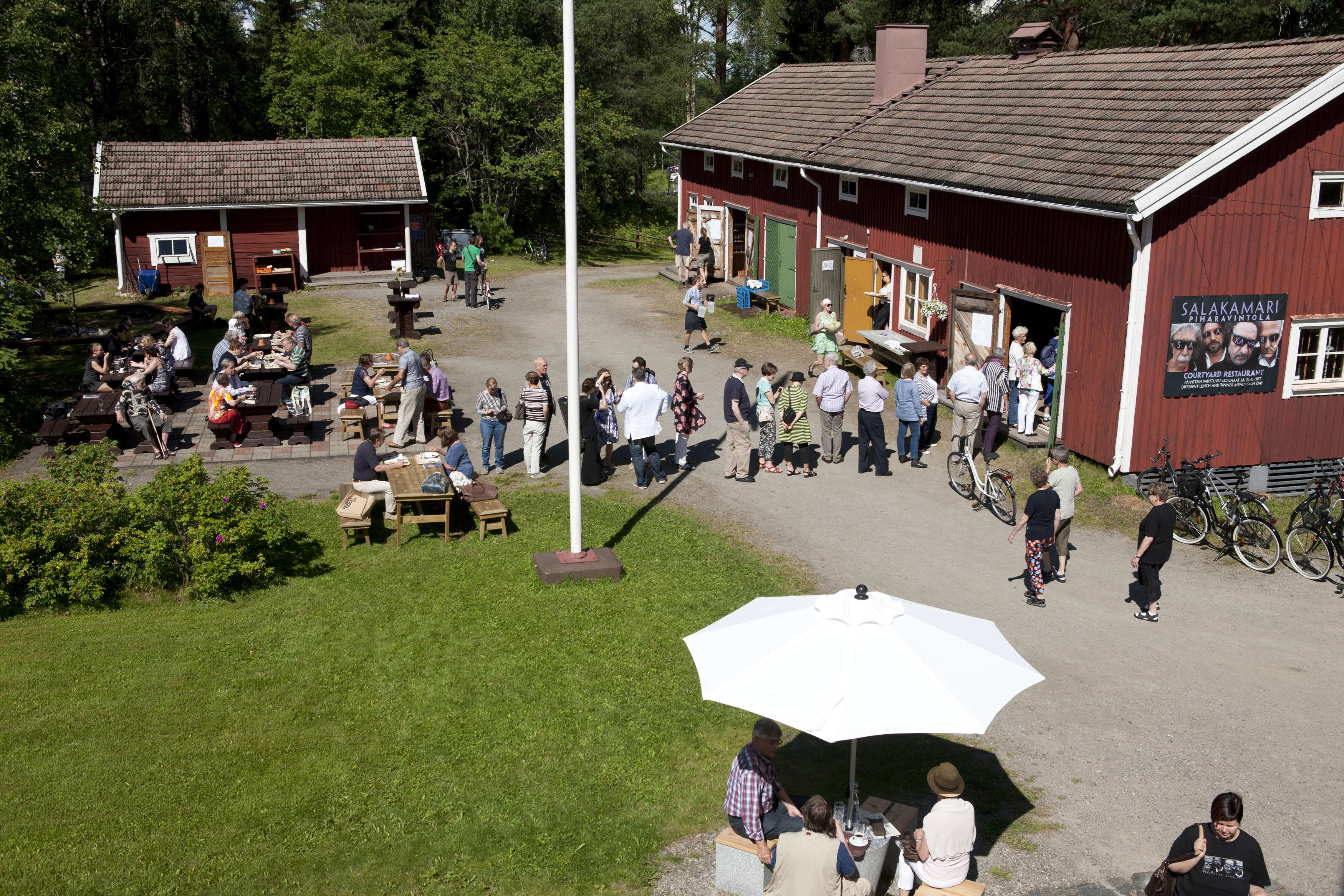 The Patrons' Association of the Kuhmo Chamber Music has a new partner in the
shape of Maritta and Asko Autio, an entrepreneurial duo from Lapland who
will be involved in a new take on the Festival restaurant known as Courtyard
Restaurant (Piharavintola). Its name is Courtyard Restaurant Lappi, and
these gourmet chefs will be dishing up some superb delicacies from their
home region.
The Autios are very experienced restaurant entrepreneurs from Sodankylä, in
Finnish Lapland. They run a catering company called Lapin Gourmetkokit
('Lapland Gourmet Chefs'), which organises various functions both in Lapland
and all round Finland. The company also owns Selman pirtti ('Selma's
Cabin'), a restaurant that is available to hire for special celebrations.
The Lappi restaurant will inevitably be serving reindeer, but also salmon
from the River Teno, mushrooms and different kinds of berries. The reindeer
meat is sure to be first-class, as it will be coming from the couple's own
reindeer farm. Side dishes will include their own jams and jellies. Berry
juices will also be used in the preparation of some of the restaurant's
beverages. The selection of wines at Piharavintola is specially designed to
complement the menu. New to the event too will be salmon cooked on an open
campfire and the chance to buy reindeer sausages to cook yourself.
Kuhmo Chamber Music Executive Director Sari Rusanen is enthusiastic about
the new partner. "There has never been a Lapland theme like this in Kainuu
or at the Festival before, so it is great to have it contributing to this
year's anniversary event. The Autios tend to use the same phrases over and
over again when they talk about their products: locally sourced food,
organic produce and pure, Finnish ingredients – the kind we really
appreciate.'
It is a big honour for us to be at the Kuhmo Chamber Music Festival in its
fiftieth year and to bring with us the kind of Lapland knowhow we have to
offer. Come along and try us – you won't be disappointed!' says Maritta
Autio.
The Festival café known as Amati will be serving special delicacies of
Kainuu. For the fifth year running it is being managed by Veikko Huovinen,
the founder of two outstanding restaurants in the small town of Suomussalmi.
On the menu there will be pastries as well as some of the finest products
from the bakeries of Kuhmo and Kainuu. The popular breakfasts will still be
served, and there will be cold dishes available during the day. Typical
Kainuu dishes at Amati are to include smoked burbot and goutweed pie,
rhubarb cake and 'Blueberry Cock' pie with vanilla sauce.
The Lappi restaurant will be open for the duration of the Festival (14 – 27
July) each day from noon until 1 a.m. Light lunches will be served from 12
to three, and three-course meals and a traditional menu in honour of the
Festival's fiftieth anniversary will be available in the evening from 5 p.m.
The Amati café will be open every day from 9 a.m. to 6 p.m. Breakfast can be
had until 10.30 and lunch starts at 11.
Table reservations:
Courtyard Restaurant Lappi (Piharavintola)/Maritta Autio, tel. +358 40 775
8677
Amati Café, tel. +358 41 806 1870
Further information from:
Sari Rusanen/Kuhmo Chamber Music, tel. +358 8 652 0936