Kainuu and Wild Taiga in Brussels 30th Nov 2018-6th Jan 2019!
30.11.2018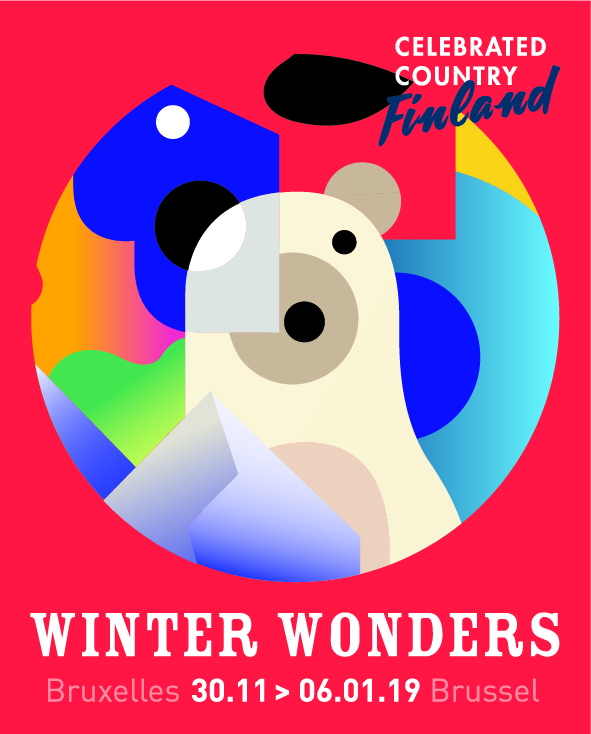 The Winter Wonders Christmas Market in Brussels takes place before and during the Christmas holidays, at the Grand-Place in Brussels and around the Bourse, the Place de la Monnaie, the Place Sainte-Catherine and the Marché aux Poissons. Winter Wonders is one of the biggest Christmas market events in Europe, annually attracting a breath taking amount of 2,5 million visitors!
A celebrated country is invited to participate each year. This year the celebrated guest is Finland, and especially Kainuu region from the arctic, most northern part of Finnish Lakeland.  The wooden brown bears , sculpted with chain saws in Kuhmo, Wild Taiga will be the most instagrammable figures at the market together with Father Christmas!
Come and enjoy some Finnish delicacies, take a virtual tour in our national parks and music festival, relax for a moment in the House of Silence. And when you get inspired to see the bears live in Finland, there's further information about travel possibilities to the area in The House Of Silence.
Further information:
https://www.kainuunliitto.fi/en/winterwonders18
http://www.plaisirsdhiver.be/en/
PROGRAMME
Friday 30.11.
Official opening (City Hall, Grand Place 1, 1000 Bruxelles) + Opening Parade
Friday – Sunday 7. – 9.12.
FINtango
Courses: every day at 1 pm and 4 pm
Concerts: at 8 pm (about 45 minutes)
Friday – Wednesday 7. – 12.12.
Äijät -dance group
7th – 9th: 3.30 pm and 7.30pm / stage
11th : 3.30 ja 7.30 pm
Saturday 8.12.
Santa Claus arrives to Brussels
Friday – Saturday 14. – 15.12.
Kantele, Finnish Zithar players
Week 51 Finnish Film Week/Palace
Thursday 20.12.
Time Out at 7 pm
Magic in Lapland, Rendel at 9 pm
Friday 21.12.
Unknown Soldier at 9 pm
Saturday 22.12.
Symphony of Nature, Magic in Lapland at 7 pm
Illusionist/mentalist Henri Kemppainen, Magic show
Sunday 23.12.
Symphony of Nature, Magic in Lapland at 7 pm
Sunday 6.1.
Chamber music concert at 3 pm (closing ceremony, City Hall, for invited quests mainly)
Throughout the event:
Photo exhibition (Embassy of Finland, for groups and pre-registered persons only)
Santa Claus (from 8th Dec onwards)
House of Silence "Tikku"
1st floor: Hosts who tell about Finland and Kainuu
2nd floor: VR –goggles (chamber music, national parks), nature sounds
3rd floor: View to the market place
Open every day same time as Christmas market, from 12 am to 10 pm