Wilderness winter skills for women
Are you planning a trip or expedition to remote arctic areas in winter? Hikes'n Trails wilderness winter skills - for women is an all-inclusive one week course in eastern Finland, near the Russian border.
Programme information
Kausi:
1.1. - 30.3.
Paikka:
Kuivajärvi
Kesto:
7 days
Henkilöt:
2 - 8
Hinta:
1290€
Yksittäinen hinta:
1290€
Hintaan sisältyy:
Guidance, course, accommodation, meals: breakfast, soup lunch, dinner, beverages without alcohol with meals, light insurance (We require participants to have their own insurance for skiing and other outdoor activities), sauna/shower/swim, transport from Suomussalmi to Kuivajärvi and back, equipment included in the price: Skis, ski boots, sticks, snowshoes, tents, ice-fishing equipment, winter sleeping bag, mummy bag, mattress, note books and pens for studies.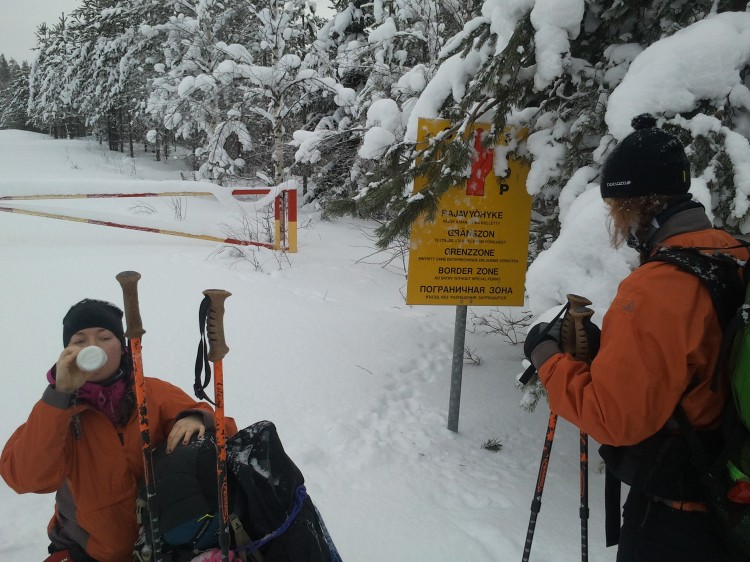 Price / person
starting from
1290 €
Programme description
Men are used to go to army and having their own nature and wilderness expeditions. This time we arrange a wilderness course only for women!
Course includes all you need to know when planning an arctic skiing tour with a sled or if you just want to challenge yourself to once in a lifetime experience. During the course we accommodate in nice and tidy rooms in former Border guardian station at the small Karelian village just beside the Russian border.
Detailed programme
Day 1. Arrival to Kuivajärvi old Border guardians station, meal, introduction, sauna, accommodation.
Day 2. Planning an expedition to arctic place: Ten steps to a safe, unforgettable and unique experience. Basics of arctic conditions, snow knowledge. Making snow shelters.
Day 3. First-aid day in wilderness. Night trekking on the ice covered lake.
Day 4. Relaxing day with snowshoes, skis and a sled; a short 15km tour with different equipment, introduction of equipment you will need in arctic. Cooking with different stoves and making fire. Fixing your own snow shelter and sleeping in it.
Day 5. Preparation, group, motivation and mental health; a day with a Finnish mental trainer and a yoga coach. Sauna yoga in the evening in traditional sauna.
Day 6. Orientation and snowshoe trip. Group forms, problem solving, leading a group. Teamwork: heating up the smoke sauna. Ice swimming experience.
Day 7. After breakfast we meet the huskies. One hour husky sled tour in beautiful views in Kainuu area. Time to pack up the luggage. Lunch and transport back to Suomussalmi.
Good to know
Duration: 7 days, approximately hiking with snowshoes 15 km, skiing 15 km
Accommodation: in double rooms
Languages: Finnish, English, Swedish
Equipment included in the price: Skis, ski boots, sticks, snowshoes, tents, ice-fishing equipment, winter sleeping bag, mummy bag, mattress, note books and pens for studies.
Participants have their own cutlery (spoon, knife, fork, plate, cup, thermos bottle), water bottles, underwear, warm trekking boots, core clothing, thermo clothing, socks, shirts etc. according to the winter weather. We rent and sell also high quality outdoor equipment and clothing for winter activities if needed. Please ask the whole list of equipment for the tour and tell us your size.
Payment: Cash, credit cards, invoice
Tour level: Moderate. Previous trekking experience is desirable. Weather might be cold.
By additional cost: Accommodation in single room, winter clothing set 55€ / tour. Snacks, beer, wine, soft drinks, transport from Kuusamo or Kajaani.
Ask for more information
Hikes´n Trails
Wilderness winter skills for women
Price / person starting from
1290 €
Hikes´n Trails