2023 dates and prices coming soon. See below the 2021 program.
Programme description
– Plenty of exciting activities in the gorgeous Finnish winter landscape, like snowshoeing, snowmobile and husky safari tours
– Full board including Finnish delicacies like reindeer, bear and elk meat (vegetarians are also welcome. Please inform us when booking.)
– Finnish saunas, indoor and outdoor jacuzzis and special sauna treatments
– Mystical magic evening, eating like back in the olden days, experiencing the local culture
Hotel Kalevala – magic and traditions
Welcome to Kuhmo, a small town in north east Finland. Surrounded by ancient forests and crystal clear lakes, this is a winter wonderland nestled in some of the deepest snow in Finland. With nothing but unspoilt nature as far as the eye can see, Kuhmo is perfect for wilderness and activity adventures. Hotel Kalevala provides a unique experience from beginning to end for any holiday. As soon as you arrive you are invited into a mythical world and the adventures of the Wild Taiga.
Be welcome at Hotel Kalevala and enjoy your stay!
RATES per person 2021:
In double/twin room 1.179 €
In single room 1.319 €
In superior double room 1.449 €
In suite (for two) 1.465 €
Including:
– Return transfer from Kajaani airport.
– 5 nights accommodation at Hotel Kalevala.
– Full board inc. breakfast, soup lunch and dinner
– Evening saunas, indoor and outdoor jacuzzis daily.
– Guided activities: snowmobile safari, husky safari, cross country skiing lesson, snowshoe + winter fishing tour.
– Evening with DJ Tero
– Free use of kick-sledges, slegdes, toboggans, Wi-Fi.
Extra charge:
– Thermal overall (suit, hat, gloves, socks, boots) 25 €/day or 65 €/week. Must be booked in advance with clothing and shoe sizes.
– Optional activities: Exciting rapid swimming, snowmobiling tours, fat bike tour or hire.
– Wellbeing treatments: relaxing massage, Finnish bone setting, infrared sauna, herbal bubble baths, peat treatments.
Good to know:
– Possibility to arrive earlier/depart later. Extra night starting from 79 €/p.p. incl. dinner and breakfast.
– Drinks are not included in the package price.
– Package price does not include personal travel insurance.
– Package price does not include flights. Arrival airport is Kajaani (KAJ).
– Driver's license is required to drive a snowmobile.
– Equipment recommended: winter clothes (jacket, trousers, winter boots, wool socks, gloves, hat) if not rented from hotel.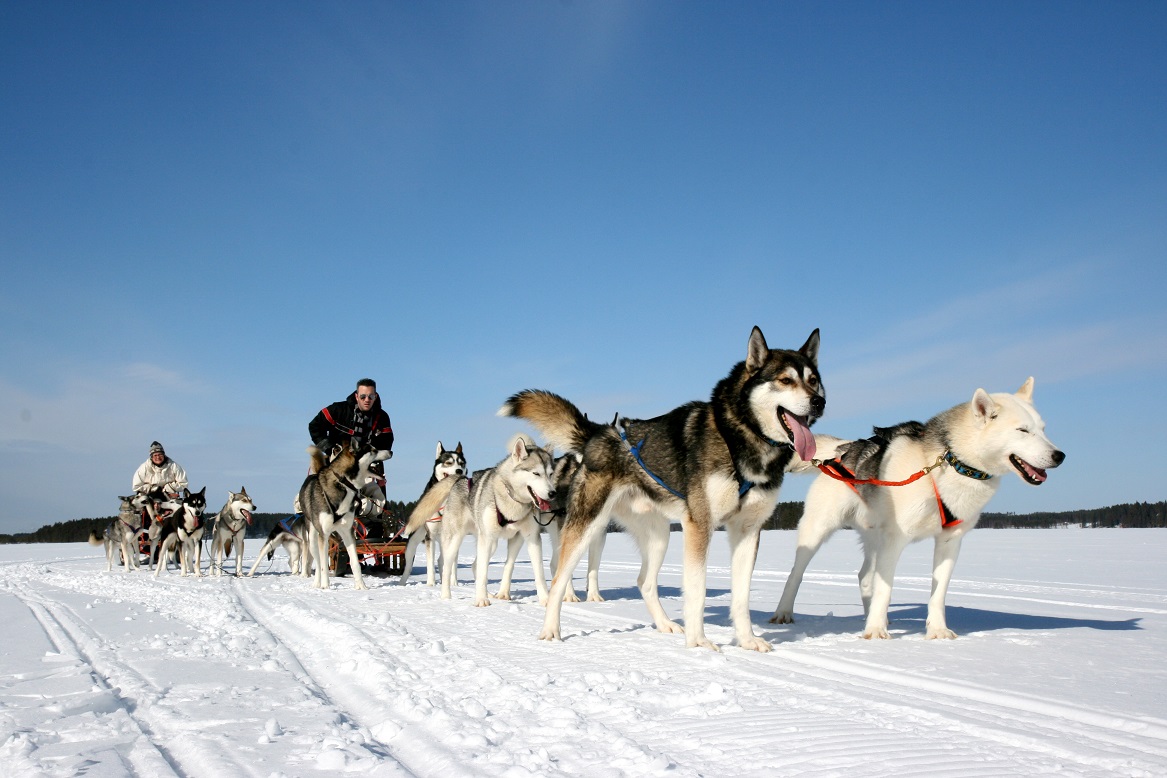 Detailed programme
DAY 1: ARRIVAL DAY
– Transfer from Kajaani airport.
– Welcome drink at the fireplace.
– Welcome dinner including the Finnish delicacy elk meat.
DAY 2: SNOWMOBILE SAFARI
– Full board.
– Guided 3-4 hour snowmobile safari along the taiga forest, 2 persons/snowmobile.
– Sauna time with indoor and outdoor jacuzzis.
– Dinner with local salmon as main course.
DAY 3: CROSS-COUNTRY SKIING & KOTA EVENING
– Full board
– After breakfast: cross-country ski school; learn the national sport of Finland.
– In the afternoon you will have some free time to continue skiing; easy tracks at Kalevala Ski-centre and on the lake side are suitable for beginners. Ski tracks for persons with more experience are available too.
– Dinner in "Kota" teepee at the hotel shore. Enjoy a tasty reindeer meat dish around the open fire.
– Late evening saunas & jacuzzis. You'll get a Finnish sauna treatment with birch branches.
DAY 4: HUSKY SAFARI
– Full board.
– Start your 2 hour husky safari. Everyone will get the chance to drive a husky sleigh, 2 persons/sleigh.
– Sauna time
– The main course of the dinner will be a special delicacy, bear meat.
– The evening will continue with DJ and dancing till the early hours.
DAY 5: SNOWSHOEING & WINTER FISHING, & OLDEN DAYS DINNER
– Full board with late breakfast.
– 3 hours guided snowshoe & winter fishing tour starting at the hotel.
– Time for sauna and relaxing in the afternoon.
– In the evening you will be served an "Olden Days Dinner".
Forget about etiquette, white tablecloths and fancy eating. Eat with your fingers or wooden spoon and enjoy the dinner like in the olden days.
DAY 6: GOODBYE FINLAND
After breakfast transfer to Kajaani airport.
Good to know
We reserve all the rights to change the order of the activities if necessary due to the weather or other conditions.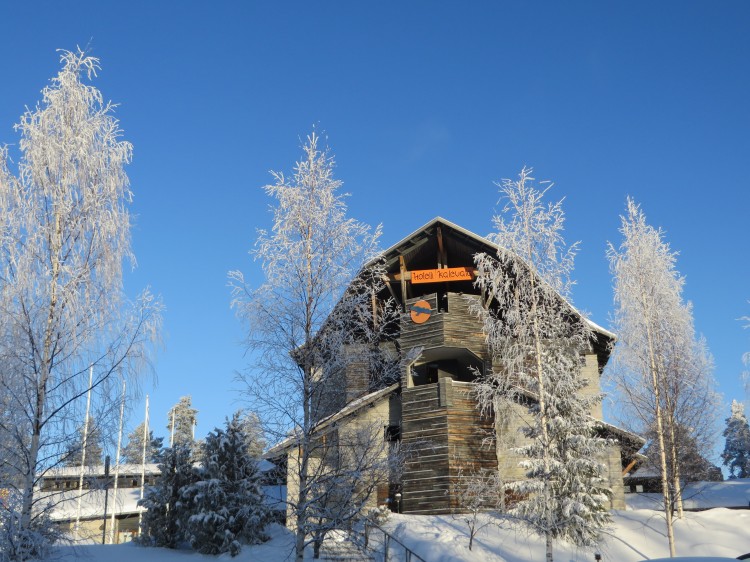 Ask for more information