Kayaking trip
Finland is called the land of thousands of lakes. This trip shows you the one very extraordinary lake in Finland. We have planned an interesting short kayaking trip for you in the mighty lake called Sea of Kainuu, Lake Oulu.
Programme information
Kausi:
1.5.-30.9.
Paikka:
Oulujärvi, Lake Oulu
Kesto:
4 hours
Henkilöt:
2-10
Hinta:
95
Yksittäinen hinta:
Hintaan sisältyy:
A single sea kayak or twin kayak, paddle, life vest, spray skirt. Guidance, kayaking anorak, snack (coffee/hot chocolate or tea and sandwich.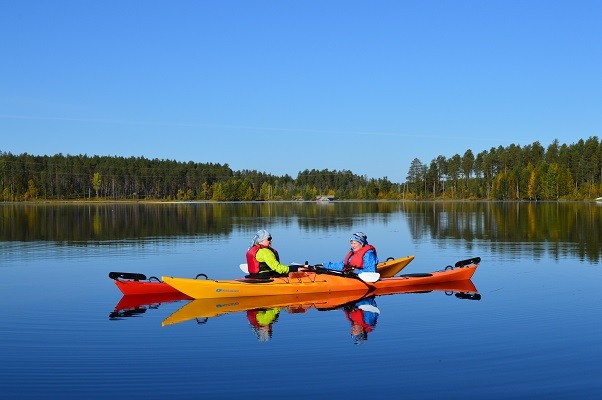 Price / person
starting from
95 €
Programme description
In the Sea of Kainuu are the largest open water areas of all lakes in Finland. There is also a huge amount of remote islands, beautiful sandy beaches and shelters where we serve nice picnic lunch during your trip. Kayaking trip is a great way to experience the Kainuu nature view from the water element. The trip is specially unforgettable in colorful, calm and cool autumn evenings.
Detailed programme
Meeting in Paltamo, at the Metelinniemi pier. Introduction of instructor and the group, instructions for the paddling trip and fitting on the safety equipment. Tour begins! See the Sea of Kainuu, beautiful islands and the largest open water area without a horizon. Easy paddling about two hours, taking wonderful pictures and nice snack on the sandy beach. Paddling back to the piers after approx. 4 hours as a whole.
Good to know
The participants are responsible for their own travel insurance which is suitable for kayaking in arctic conditions.
By an additional cost: Transport from Kajaani airport, bus or railway station to starting point and back, accommodation.
Ask for more information
Hikes´n Trails
Kayaking trip
Price / person starting from
95 €
Hikes´n Trails