Kayaking trip to Julma Ölkky canyon
Finland is called the land of the thousands of lakes. This trip shows you the one extraordinary lake in Finland. I have planned a very interesting short kayaking trip for you in the mighty canyon lake called Julma Ölkky. You will see and hear also amazing tales of ancient rock painters and their beliefs about the powers of the nature, life, death and the afterworld.
Programme information
Kausi:
29.5. - 30.10 every day with request
Paikka:
Hossa, Julma Ölkky
Kesto:
4 hours
Henkilöt:
4 - 12
Hinta:
(Minimum charge 380€ / smaller group)
Yksittäinen hinta:
95€
Hintaan sisältyy:
Guidance, kayaking equipment, life vests, waterproof anorak and trousers, sandwich and hot chocolate/tea during the trip, light insurance for this trip.
Participants have their own outdoor equipment and suitable clothing due to the weather conditions and activities on the water element.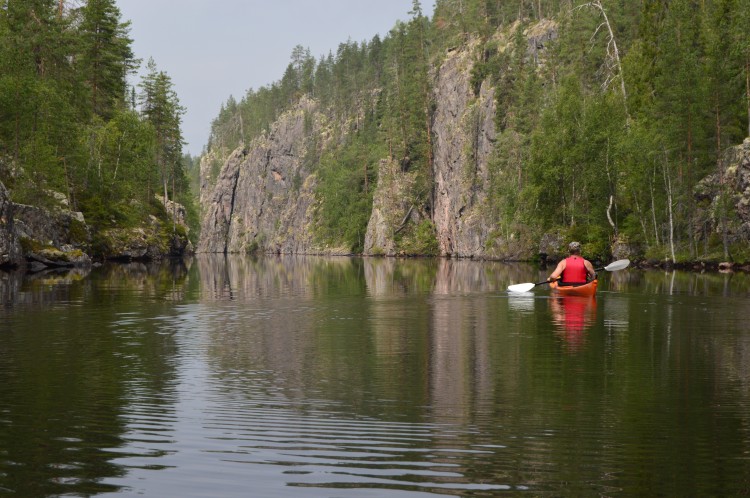 Price / person
starting from
95 €
Programme description
Canyon lake Julma Ölkky in Hossa is the largest canyon lake in Finland. The trip is nice break on your way to Lapland and easy way to see one of the most touching places in eastern Finland. This physically easy trip is tailored for whole family from the age of 10.
The trip includes all you need: Lake kayak for experienced paddlers or easy sit-on-top -kayak for beginners and children, kayaking equipment, life vests, paddling anorak, hot chocolate and sandwich is included in the price.
Detailed programme
Meeting at the Julma Ölkky pier. Introduction of instructor and the group, instructions for the paddling trip and fitting on the safety equipment. Tour begins! See the 4000 years old rock paintings on the wall of the canyon and hear the tales of ancient Finnish ancestors who came here after reindeers, elks and fish from the Ural river in Siberia. Easy paddling about 2 hours, taking wonderful pictures and nice snack on the top of the cliffs. Paddling back to the piers after approx. 4 hours as a whole.
Good to know
Level: Easy. Participants are required to have a basic fitness and swimming skills. Previous kayaking experience is not required. Maximum distance is ca. 6 km.
By an additional cost: Transport from Kuusamo or Suomussalmi bus / railway station to starting point and back, accommodation.
Languages: finnish, english, swedish
We reserve all the rights to change the order of the activities or the content of the program if necessary due to the weather or other conditions!
Ask for more information
Hikes´n Trails
Kayaking trip to Julma Ölkky canyon
Price / person starting from
95 €
Hikes´n Trails