FISHING WEEK IN KUHMO, TAIGA TOWN OF HUNDRED RAPIDS
The Finnish-Russian borderlands are dotted with many lakes, rivers and ponds. Kuhmo has been called "the town of hundred rapids" as there are 118 rapids suitable for fishing. Catch in Kuhmo are pike, pikeperch, grayling and brown trout. Kuhmo is easy to reach by using one's own car. Distance from Helsinki is 595 kilometres and due to low traffic one can drive fluently and safely to Kuhmo.
Programme information
Valid
10 th of June - 1th of September (no valid 11.-29.7.)
Place
Hotel Kainuu
Duration
five nights/six days
Persons
2- 6 person
Price
565 €/ person in twin room
625€ / person in single room
685 € / person in superior room with sauna
Price includes:
Accommodation in chosen room types with breakfast and daily sauna
Meeting with a local fishing guide and three hours guided fishing tour in rapids in first day.
Five days fishing permits on the rapids, info package Kuhmo`s rapids and lakes.
1 X fish dinner
Extra charge:
Finnish state fishing license, 18 €/person
Return transfer from Kajaani airport 100€/person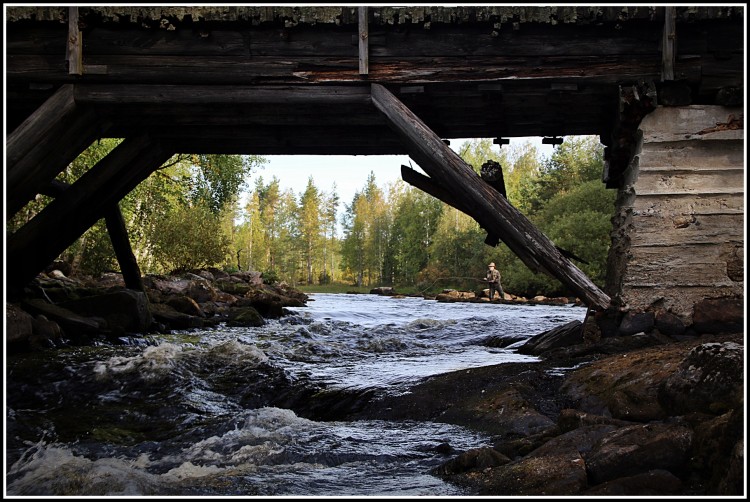 Price / person
starting from
565 €
Programme description
Many of the rapids have easy access, for example Pajakkakoski rapids (450 meters) is situated only 800 meters from Hotel Kainuu and can easily be reached on foot. There is a stone pier, built for the dragging old tar boats. Another good fishing site, rapids of Lentuankoski locates 13 kilometres from Hotel Kainuu. The rest rapids give you the opprtunity to find uncrowded sites to fish in your own pease in the middle of the evergreen taiga forest and enjoy the nature.
We recommend catch and released fishing.  Flyfishing and spinning are our fishing methods.
Detailed programme
Day 1
Arrival and accommodation. Little supper is waiting for you in our fishing lobby.
Day 2
A local Buffet breakfast. Meeting with the local fishing guide (appr. one hour), who introduces the fishing possibilities for the upcoming week and gives you Finnish state fishing license (extra charge) and rapids license as well as the Information Package. After the meeting guide takes you to one rapids (appr. three hours)
Day 3
Fishing trip to the River Pajakkajoki -day. After hotel breakfast departure to the River Pajakkajoki with the guide 11 a.m. from reception. We start a guided boat tour from nearby the hotel. Possibility fishing separate pike places towards Pajakkajoki-river. During three rapids and seven kilometer river we enjoy the picnic lunch. Transfer back to hotel with car. Duration of the fishing five hours.
Day 4 – Day 5
Breakfast and sauna daily. Fishing at your own space.
You can reserve your own sauna time in hotel, if you'll fishing late in the evening.
Farewell dinner from local fish in enjoyed at the hotel's restaurant.
Day 6
Departure. Opportunity go fishing early in to the morning.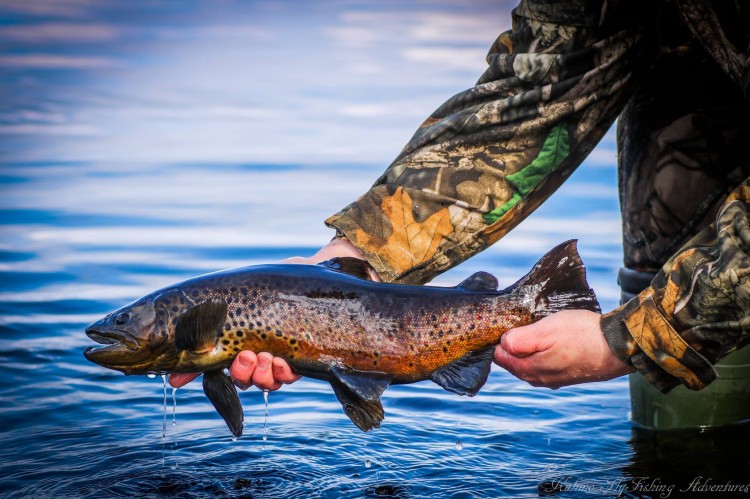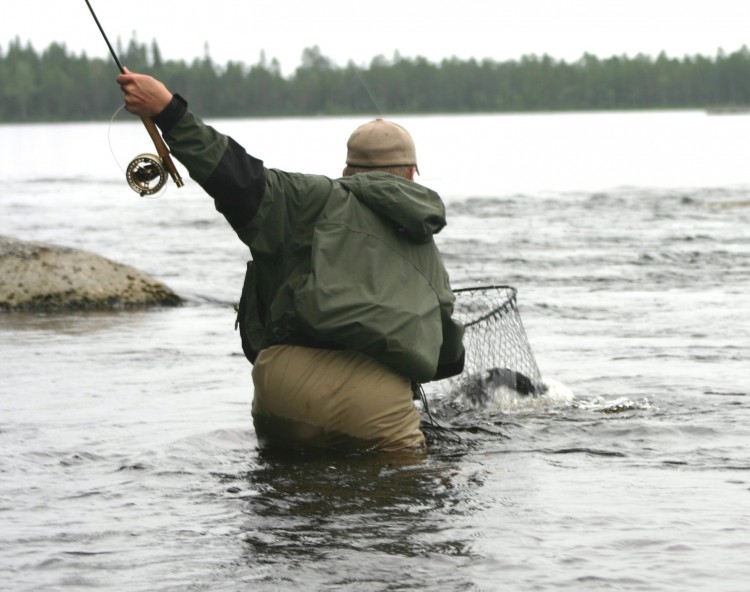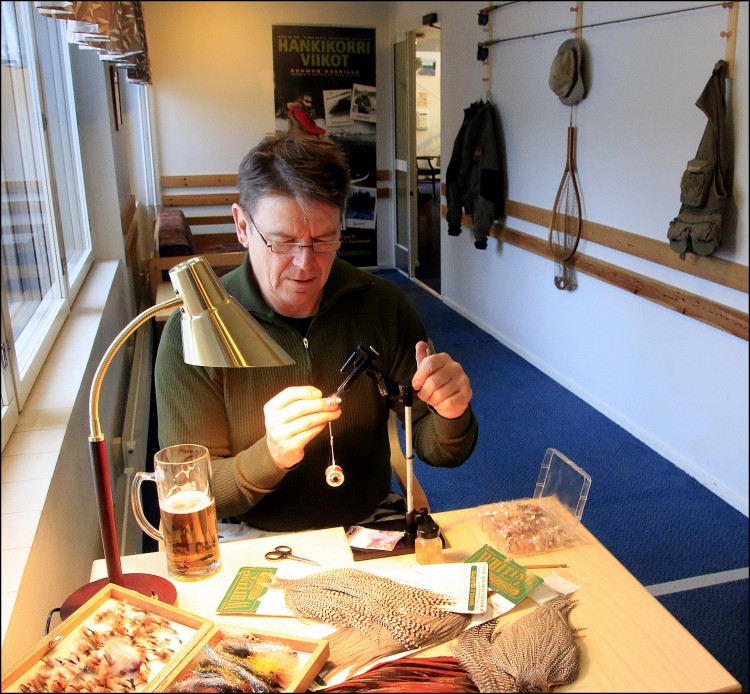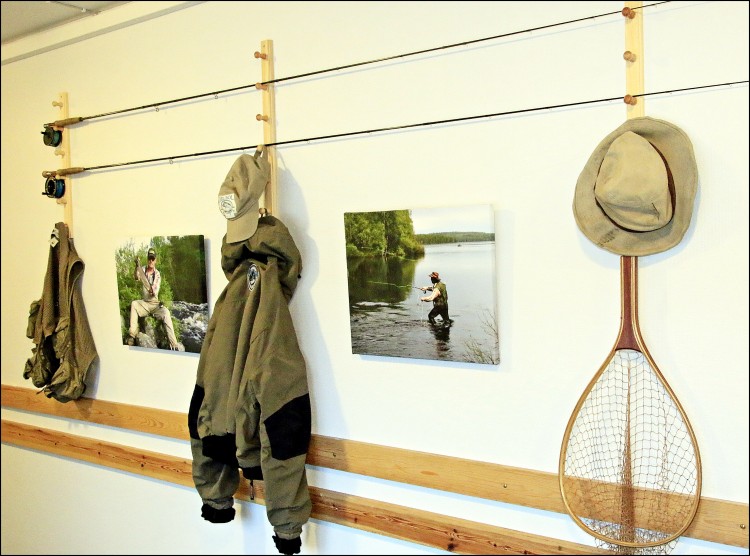 Good to know
Optional activites
– Take a way lunch -service, 8 €
– two hours "Fly Tying" 20 €/person, incluning teaching and materials.
– Rapids floating in the Pajakkakoski rapids
– Extra days for a fishing guide: 4 hours 200 € and 8 hours 360 € (1-6 person)
More information about fishing and rules, www.kuhmonkosket.fi and www.kalallakainuussa.fi
Ask for more information
Hotel Kainuu
FISHING WEEK IN KUHMO, TAIGA TOWN OF HUNDRED RAPIDS
Price / person starting from
565 €