Dinner for groups
Tasting our food prepared in our own kitchen. Our chef prides prepare food that fills the stomach and the heart. Welcome to the atmospheric restaurant.
Programme information
Season:
all seasons
Place:
Spahotel Kiannon Kuohut
Persons:
min. 20 persons
Menu:
saladtable, available fish and meat, breads, homedrinks, dessert and coffee/tea
Price:
we make an offer for your group, ask offer from hotel reception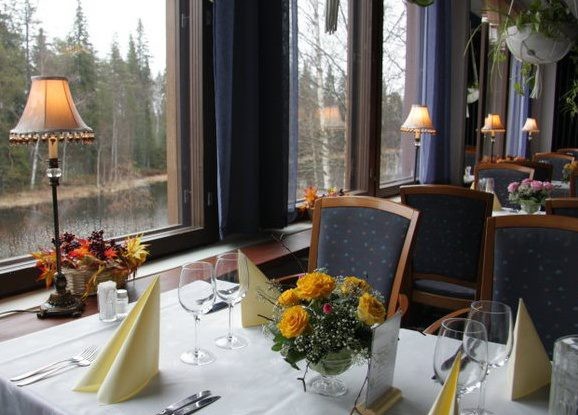 Programme description
Our restaurant can seat 200 guests.
The Menu is designed to incorporate local food traditions ana Finnish specialty ingredients, such as: forest berries, mushrooms, venison and fish.
We can cater for variety of food allergy and dietary restrictions, more information is avaible from the hotel staff.
You can enjoy your meal with international wine, beer, spirits or any other drinks.
The restaurant is avaible for private functions and can be divided in smaller sections to suit your requirements.
Dinner is suited for groups timetable.
Remember order two weeks before.
Good to know
Remember order two weeks before.
Tell your groups foodallergies.
Ask for more information
Hotel Kiannon Kuohut
Dinner for groups
Hotel Kiannon Kuohut