Black Grouse and Capercaillie are large forest birds, which courting dances is interesting to follow. Boreal Wildlife Centre offers opportunity to photograph these magnificent birds during the breeding time.
Programme description
These birds are rather difficult to see and photograph. The best chance is during mating season in spring. Black Grouse mating starts normally in the middle of April and lasts till mid May. Black grouse has mating time also in September. Capercaillies mating time is shorter, it normally takes place is end of April – beginning of May.
Photographing Capercaillie and Black Grouse will happen from a tent hide. To the hide you will enter in the previous evening and the photography will take place in the sunrise when the courting dance starts.
Programme information
Season: End of April - beginning of May (Black Grouse also September).
Place: Boreal Wildlife Centre, Viiksimo, Kuhmo.
Persons: 1-12
Price: Black Grouse 120€/person and Capercaillie 160€/person.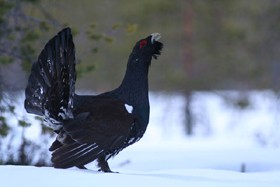 Ask for more information