Arctic Wilderness skills Course
Are you planning a trip or expedition to remote Arctic areas in winter? Hikes'n Trails wilderness winter skills is an all-inclusive one week course in Finland near the Russian border.
Programme information
Kausi:
From 1.1. to 30.3.
Paikka:
Kuikka Basecamp, Kuhmo
Kesto:
7 days, 6 nights
Henkilöt:
6-26 persons
Hinta:
1080€/person with 6-14 pax, 990€/person with 15-20 pax, 890€/person with 20-26 pax.
Yksittäinen hinta:
Hintaan sisältyy:
Return transport from Airport to Kuikka Base Camp, guidance, course program due to the itinerary, accommodation in bunk beds, bunk beds in shared rooms, sleeping bags and liners. Meals.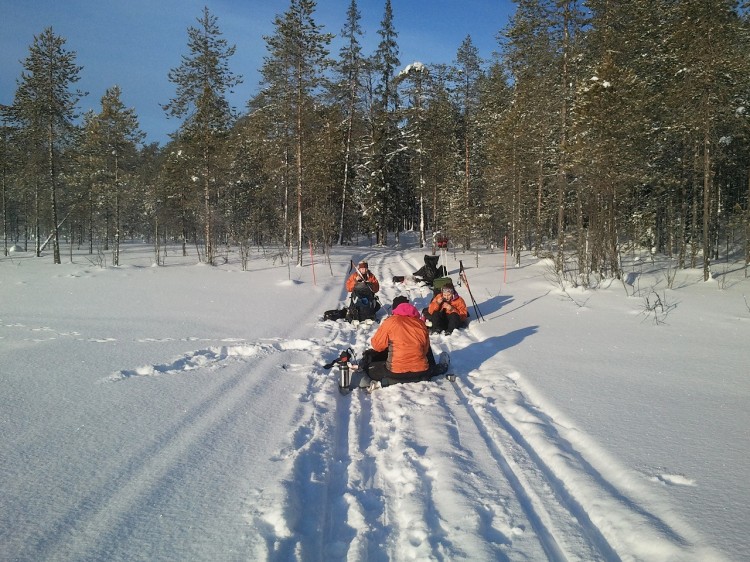 Price / person
starting from
890 €
Programme description
Outdoor Learning style course includes all you need to know when planning an Arctic backcountry skiing tour or if you just want to challenge yourself or your group on once in a lifetime experience.
During this all inclusive course we accommodate in nice and tidy rooms in former timbers log house just beside the Russian border. There is opportunity to sleep one night in own snow-shelter or tent in Arctic conditions.
Detailed programme
Day 1. Arrival to Kuikka Base Camp old timbers house. Meal, introduction, sauna, accommodation.
Day 2. Breakfast. Planning an expedition to the Arctic area: Ten steps to a safe, unforgettable and unique experience. Basics of Arctic conditions, snow knowledge. Emergency shelters and different kinds of snow shelters. Lunch. Ice fishing. Dinner. Sauna and shower.
Day 3. Breakfast. First-aid day in wilderness. Lunch. Orienteering skills. Introduction of Snow Scooters. Dinner. A night trekking trip in darkness with snowshoes on the ice covered lake. Good opportunities to see the Northern Lights. Sauna and shower.
Day 4. Breakfast. Day with the snowshoes and a sled; 5km tour with different kind of snowshoes. Introduction of equipment you will need in arctic. Lunch. Cooking with different stoves and making fire. Fixing your own snow shelter. Dinner. Night in snowshelter.
Day 5. Breakfast. Leading skills, being a member of a group, motivation and mental health: Day with a mental trainer and a mindfullness coach. Cross Country skiing trip with sledges. Lunch. Building a tent village and shelter from the Arctic wind. In the evening Teamwork: Heating up the smoke sauna. Ice swimming experience. Dinner.
Day 6. Breakfast. After one hour transport we meet the huskies. One hour husky sled tour in beautiful views in Kainuu area. Picnic lunch. Transport back to kuikka Base Camp. Sauna and shower. Dinner.
Day 7. Breakfast. Time to pack up the luggage. Transport back to Airport.
Good to know
We reserve all the rights to change the program if necessary due to the weather or snow conditions or safety reasons.
Ask for more information
Hikes´n Trails
Arctic Wilderness skills Course
Price / person starting from
890 €